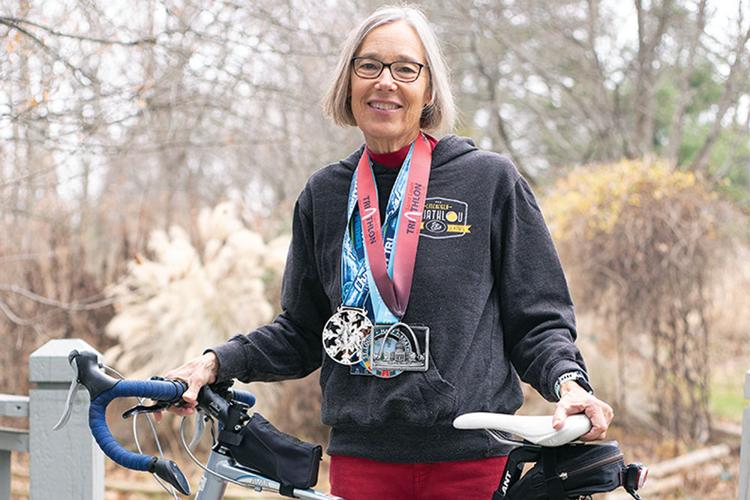 Longtime Kirkwood resident Liz McCane is proof that it's never too late to try something different, set new goals and do what you once considered impossible.
The 65-year-old athlete who loves to swim, bike and run, is currently in training for one of the toughest endurance races of all — an Ironman triathlon. Just six years after completing her first triathlon, McCane is now training to take on Ironman Florida in November 2020. Participants have 17 hours to finish the race, which consists of a 2.4 mile ocean swim, a 112-mile bike and a 26.2 mile run, a total of 140.6 miles.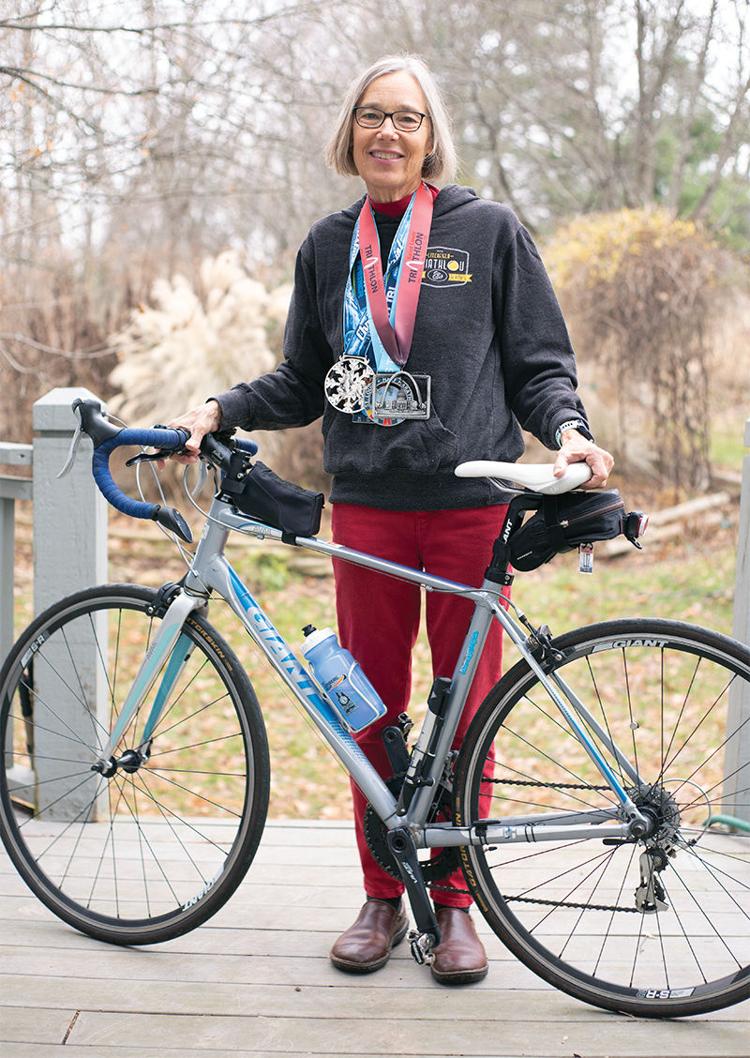 It's something she never thought she would — or could — do.
"All you have to do is start small," McCane said.
And that's exactly what she did.
McCane's entry into the world of triathlon was six years ago when she and a friend decided to do the Sunset Hills sprint triathlon. Sprint triathlons typically consist of less than a half or quarter mile swim, a 12-15 mile bike and a 3-4 mile run.
As a lifelong athlete who swam competitively in college, McCane had the swimming part of triathlon covered long before she entered her first race. She also played field hockey and lacrosse in college. After college, marriage and two children, she started running to stay in shape. When a friend suggested doing the Sunset Hills Triathlon together — McCane was 59 at the time — she didn't have any reason to say no. She just didn't expect to enjoy it so much.
"A friend talked me into it, and I thought it was going to be 'one and done,'" she said. "I never anticipated that I'd keep doing them, but I did another, then another and here I am."
She participated in more local sprint triathlons, took on a little more in Olympic-distance triathlons and then worked up to half Ironman distance races, which consist of a 1.2 mile swim, 56-mile bike and 13.1 mile run, a total of 70.3 miles.
In 2018, she completed Ironman 70.3 Coeur d'Alene in Idaho, where she and her husband Jim have a second home and spend several months of the year. In 2019, she completed Ironman 70.3 Boulder in Colorado, placing third in her age group of women ages 65-69.
Roughly two dozen triathlons and hundreds of miles after that first one in Sunset Hills, McCane now has her sights set on finishing a full Ironman distance triathlon (2.4-mile swim, 112-mile bike, 26.2-mile run) and is training for Ironman Florida on Nov. 7, 2020.
"Things that were impossible start to become possible," she said.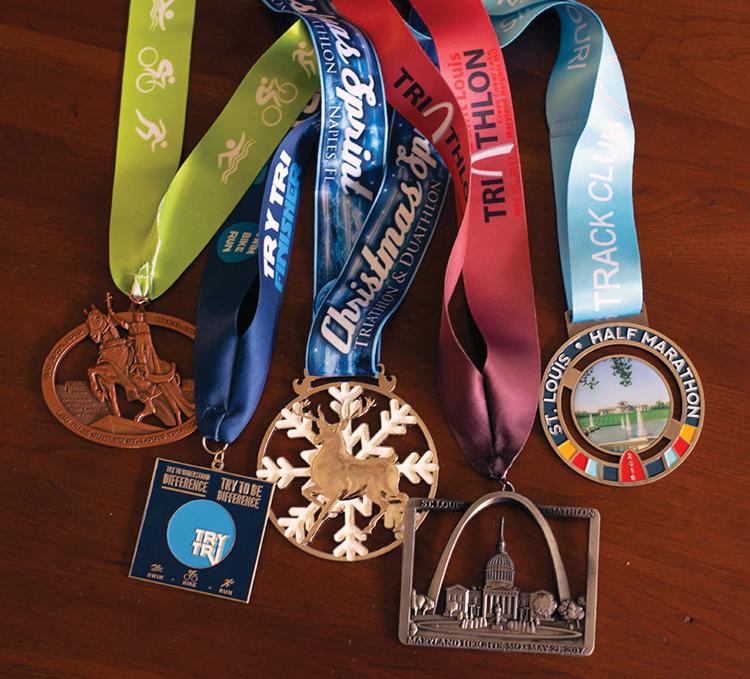 More Than Triathlon
When she's not swimming, biking or running, McCane also loves playing pickleball. She plays pickleball twice a week at the Kirkwood Community Center when she and her husband are in town, and she also spends a lot of time hiking during the months they spend in Idaho. She also makes time for strength training. When they're back home in Kirkwood, she also enjoys volunteering at Powder Valley Conservation Nature Center.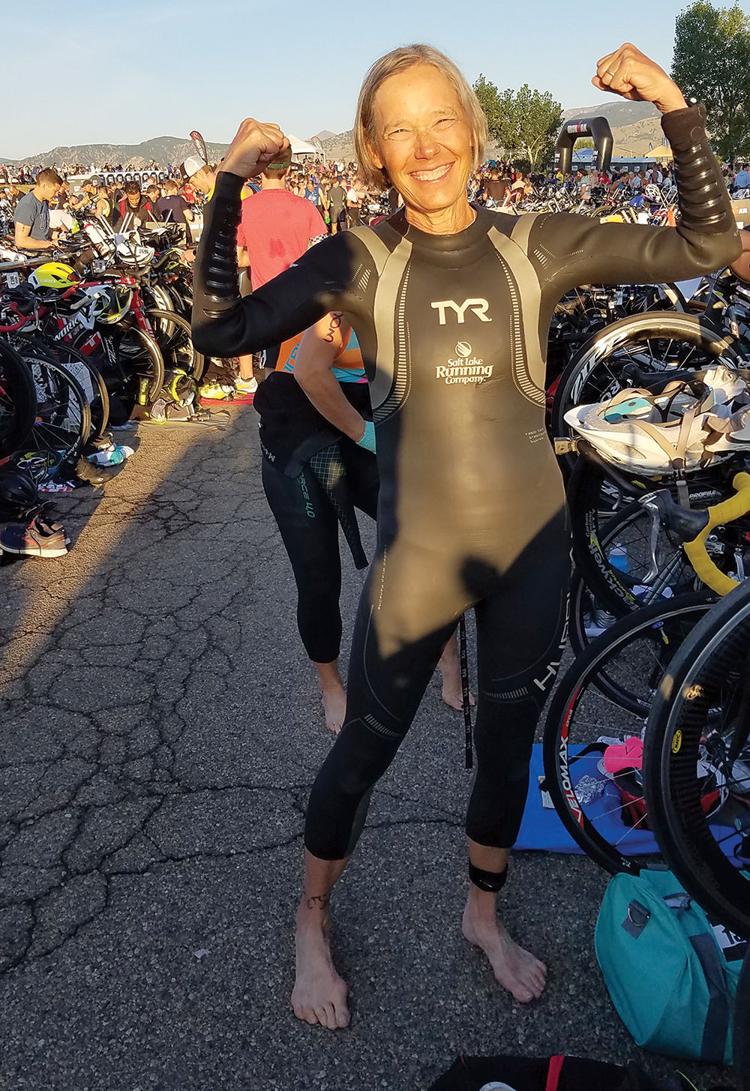 A Little Inspiration
McCane is an advocate for older adults staying active. She encourages other senior citizens to check their Medicare plans, as some include free memberships to local gyms and exercise facilities.
McCane said continuing to exercise helps her feel good, ward off aches and pains, and boost her physical, mental and emotional health. It helps keep depression at bay, and there's also a social wellness component in exercising with friends and meeting new people through group activities.
"I feel so much younger than my age, and I can still do everything I want to," said McCane, who is now retired from years of running her own business, "Nature on the Move," which provides hands-on experiences with animals and wildlife to help students in the region become lifelong conservationists.
"I want to be a role model to others in showing that you can stay active," McCane said.
But you don't have to do an Ironman to do that, she quickly added.
"You don't have to do anything huge," she said. "You just have to start slow and small, even if that's walking to the mailbox and back. Set a small goal and then build gradually. When I started running again, I would set a goal to run to the next mailbox, and then the next. We're all on our own journey."
Keep Going
No matter what happens on her journey to Ironman Florida or how that day unfolds, McCane plans to keep moving and putting one foot in front of the other.
"As soon as I finish a race, I'm signed up for another one," she said. "I don't have a reason to stop."