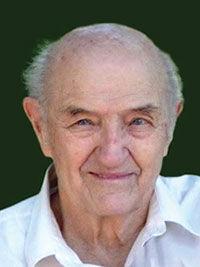 Poe, Allan H., passed away peacefully in his home on Oct. 16, 2022.  Allan was born in Marion, Kansas, on Sept. 25, 1927, to Nelson and Emma (Prather) Poe. Allan is survived by his brother, Harold Poe; his dear children, David (Cathy) Poe, Annette (Tom) Margosian, and Kevin (Marti) Poe; grandchildren, Thomas Poe, Rachel (Michael) Jeter, Eric (Rita) Poe, and Kurt (Natalie) Poe; and great-grandchildren, Weston, Dominic, Lucas, and Lucille Jeter. Allan was preceded in death by his beloved wife of 66 years, Pauline (Keazer) Poe; brother, Ivan Poe; dear granddaughter, Danielle Poe; and loving parents.  
Allan was born and raised in the beautiful Flint Hills of Kansas, growing up at the Clover Cliff Ranch in Elmdale. He enjoyed his time outside working the ranch with his family, spending the majority of his childhood exploring the many acres of land on horseback. Allan met the love of his life his senior year of high school at a rival basketball game. Allan knew the first time he laid eyes on her that he would marry her.  
After high school, Allan attended Kemper Military School in Boonville, Missouri. In July of 1945, Allan volunteered for the Navy, where he served until the following year when he was discharged and began his education at Carnegie Institute of Technology in Pittsburgh, Pennsylvania. 
Allan and Polly married in 1948. They shared a love like no other — a true love story.  In their 66-years of marriage, they were inseparable. They shared several hobbies; golf and traveling, to name a few. Allan particularly enjoyed ham radio. This became more of a passion than a hobby. W0JGH,  or "the Jolly Good Ham," as he came to be known by his ham radio buddies, spent decades communicating with other hams around the world.  
After retirement from his 25-years at McDonnell Douglas, Allan and Polly become globetrotters as they traveled the world together; Scotland, Norway, Russia, Africa, and Germany, to name a few. With each trip, they brought back a trinket or two, so much so that they had an entire room in their home dedicated to their travels. In 2015, Allan participated in an Honor Flight, a day that became a forever memory for him as he toured the World War II memorial with his son.   
In Allan's later years, he was known to be the technology guru of Aberdeen Heights as he and Polly were charter residents.  When he was not causing mischief, you would find him involved with anything and everything he could be involved in at Aberdeen.  Mr. Poe was known and loved by all the staff and residents of Aberdeen and will be dearly missed. W0JGH 73.
Allan's life was truly a life well lived. His legacy as the patriarch of the Poe family will live on through his children, grandchildren, and great-grandchildren.  
Services will be held at Chapel Hill Mortuary, 10301 Big Bend Road, Kirkwood, Missouri 63122, on Sunday, Oct. 23, 2022. Visitation from noon to 2 p.m. with service to follow at 2 p.m. In lieu of flowers, donations may be made in memory of Allan to PSH Danielle Poe Lax Memorial Scholarship, 801 S. Hanna Road, Manchester, MO 63021.