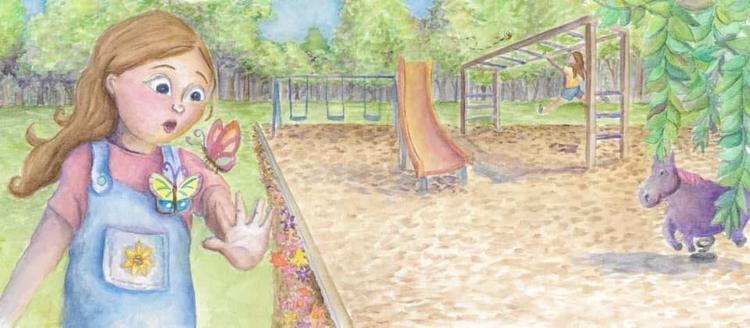 "So she decided to try again. 'Legs forward, legs back, legs forward, legs back.' With her chanting, the swing began to move, slowly at first, then faster until her toes touched the clouds and she could see all of the playground below."
"If at first you don't succeed..." It's an age-old saying used to encourage those who have given up to give it one more shot. It's also the core message of "Alex and the Butterflies," a new picture book penned by Webster Groves transplant Aubrey Betz.
In her college application essay — which earned her a spot at Webster University — Betz wrote about time spent with her grandparents as a child, before her grandfather was lost to cancer. Together, they watched tiny ants lifting a piece of cheese, a nest of birds learning to fly and other feats of nature Betz soon realized had deeper meaning.
Betz decided the lessons were worth sharing. "Alex and the Butterflies," — named after her niece — sends the title character on a magical journey to witness amazing acts of nature and teach kids that they can break free of perceived limits.
"Last Christmas, I wanted to do something as a gift for my niece that was a little bit more meaningful than buying another doll. I decided I wanted to write her a book," said Betz. "When I was thinking about what kind of book, I thought, 'what better lessons to try to impart to my niece than those memories I had with my grandparents?"
The story follows Alex, who believes she is too little to participate in the same playground antics as her older sister. After a group of butterflies take her on a series of adventures, she realizes what she saw can be applied to her own life and decides to try anyway.
"She realizes, 'oh, those ants were little but they could do it. On the swings, she doesn't succeed at first, but then she remembers the baby birds," said Betz. "Really, it's focused on a positive mindset — this idea that you can do it;  you're not too little; you're not too shy. It's all about determination."
Even the butterflies have meaning. When her grandfather passed away, a butterfly landed on her grandmother's shirt and remained there throughout his service. 
"Now, we acquaint butterflies with my grandfather," said Betz.
While her first draft was illustrated by her cousin and printed at FedEx, Betz' family was so impressed with the final product that they convinced her to take her story to professional illustrator Allie Daigle. Betz now has a Kickstarter opened to fund the professional development of her book. If she reaches her funding goal by Sept. 30, her book will be produced.
"This message is one that will always be important. But, with so much uncertainty in the world today, what better time to give children the tools to gain a solid footing and become stronger and more resilient?" said Betz. "If you've ever heard a child say, 'I'm too little,' 'I'm too scared,' or 'I'm too shy,' I hope this book finds its way into their worthy hands and inspires them."
Betz has partnered with the Mighty Oakes Heart Foundation for the campaign. Should her goal be met, all those who have pledged have the opportunity to receive their copy of "Alex and the Butterflies," or donate it to a child in a hospital.
Learn more about the project on the Kickstarter page or Betz' author page on Facebook.