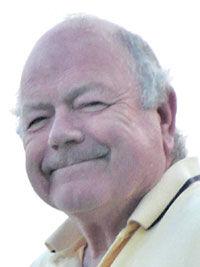 Wheeler, Alan Clement, was born Sept. 24, 1940, in Concord, New Hampshire, and passed away unexpectedly on Nov. 2, 2021, at Missouri Baptist Hospital in Town & Country, Missouri.
Alan was the eldest child of Elmer Perley and Marion Noble Wheeler. The family moved to Kirkwood, Missouri, in 1947. He is survived by his sister, Jean (Townley) Redfearn of Camden, South Carolina; his daughter Erin (Will) Boyle of Glendale, Missouri; granddaughters Caitlyn (Catie) and Alana (Lanie) Boyle; extended family: loving partner Christy Franchot James, her daughters Constance James and Martha (Scott) Zimmerman, grands Matthew and Meagan; and a host of cousins, nieces, nephews, and friends. Alan was predeceased by younger brother, Jim.
A strong student, Alan attended Kirkwood schools, graduated from Thomas Jefferson School in Sunset Hills and Harvard University, and earned his master's and doctoral degrees in statistics and applied mathematics from Stanford University. He taught statistics and operations management courses at Washington University in St. Louis, Southern Methodist University, SIU-Edwardsville and UMSL, and for a dozen years served as vice-president for internal auditing at the Federal Reserve Bank of St. Louis.
Alan was an active volunteer, especially in the area of promoting support and accessibility for people with disabilities at local events such as Fair St. Louis, the Veiled Prophet Parade, Greentree Festival and others. He served as mayor of Town & Country and was committee-man for Bonhomme Township Republicans, and president of the Bonhomme Rep. Club.
A passionate philatelist and fan of all sports, he loved everything about penguins, loons, flamingos, Snoopy, Wheel of Fortune, and Sudoku. He had a fervor for "proper" verbiage and grammar. He loved people and was always sincerely interested in "who" they were. His acute recall of people and events could be disarming.
Private inurnment service will be at the Church of St. Michael and St. George. The family will receive friends on Friday, Nov. 19, 3-5 p.m. at the Racquet Club Ladue. In lieu of flowers, donations in Alan's memory appreciated to Kirkwood Historical Society, 302 W. Argonne Dr., Kirkwood, 63122; or Peter & Paul Community Services, 2612 Wyoming St., St. Louis, 63118. A service of Lupton Chapel.