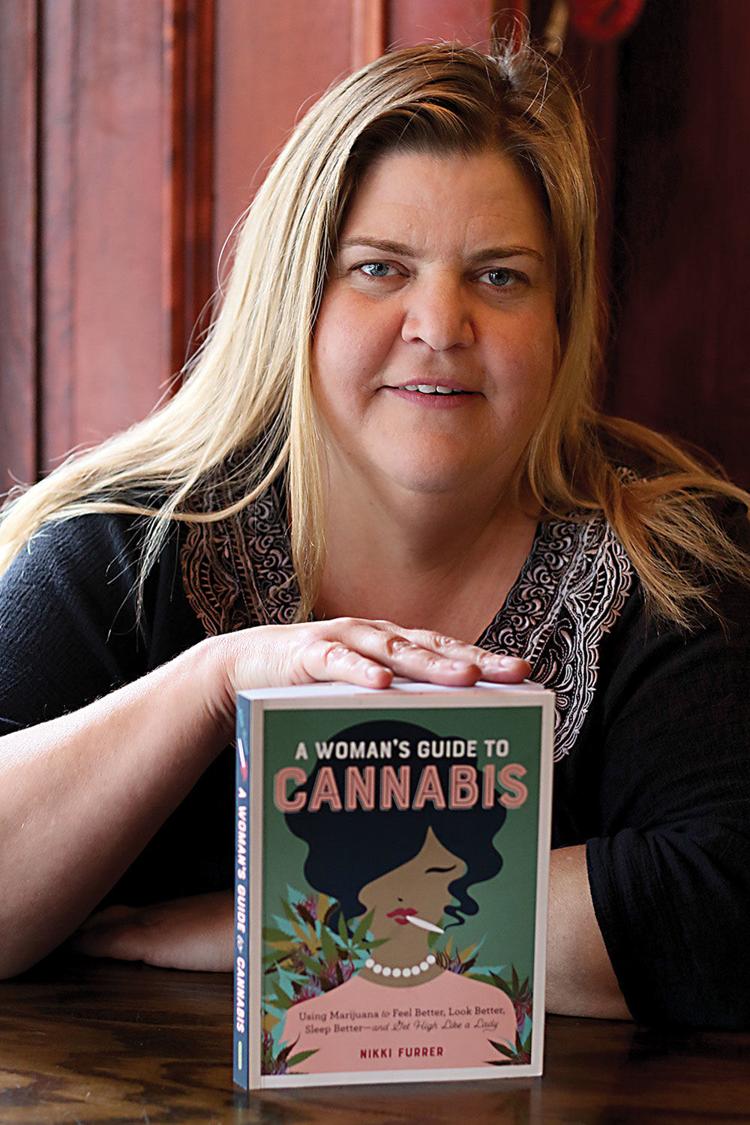 Valentine's Day could bring some unusual delights on Feb. 14. According to Nikki Furrer, beaus may want to consider cannabis caramels or crazy cordials for their sweethearts this year.
This past November, voters approved medical marijuana for Missouri. City and county prosecutors have announced they will no longer bring charges for possession of marijuana involving less than 100 grams. These developments could mean it's time to do some kitchen time with cannabis, Furrer said.
To aid in such culinary endeavors, Furrer recently published, "A Woman's Guide to Cannabis," which includes a chapter on recipes utilizing cannabis. These concoctions include Cannabutter Tips, Hysterical Fit Truffles and Classic Pot Brownies.
Furrer, who ran a bookstore in Old Orchard in Webster Groves, now finds herself doing her own book signing events, instead of hosting such activities. She likes to swap cannabis stories at these events and to provide answers and advice on legal pot parties.
Question: Is it okay to have your dog Buddy, Benji or Baxter at the party?
Answer: But, of course. Furrer even provides recipes for canine cannabis treats in her edibles chapter.
"Dogs can participate in cannabis Valentine parties – but not the kids," cautioned Furrer. "Dogs are a fraction of the size of humans, and small pups should have no more than 5 milligrams of Cannabidiol (CBD).
"If you do get your dog too stoned, there's always White Castle," laughed Furrer. "When I worked at marijuana dispensaries in Denver, there were customers who came in for dog treats to calm them and to address anxiety on the advice of their veterinarians."
Furrer admitted that she has to pinch herself sometimes to reconcile herself to the new cannabis reality. After all, it was not that long ago that possession of too many joints could land you some extended time in the joint.
Ten states have now legalized pot for recreational use and 33 states have now okayed medical marijuana. Former U.S. House Speaker John Boehner, once a hard-line Republican against pot, now offers seminars on how to invest wisely in the emerging pot industry.
"People have become more aware that marijuana is not addictive and it's not a gateway drug to harder stuff," said Furrer. "But it's still necessary to get a medical marijuana card from a doctor to buy at dispensaries in states that are allowing it for medical treatment.
"I was surprised at the margin by which voters passed it in Missouri," Furrer added. "It wasn't even close."
Local Sales Scene
Area cities such as Crestwood are already holding meetings in which dispensaries and growing facilities are discussed. Cities are looking at zoning issues and trying to get a handle on taxes and fees on marijuana dispensaries that could benefit city coffers.
Furrer said her plan is to run two dispensaries in the area. She said she is confident that her book and her previous work in Denver at Live Well and at Karmaceuticals will give her a leg up on her applications to the state Department of Health and Senior Services.
"They start accepting applications in August and licenses will be issued at the end of December," explained Furrer. "I want to find locations where the SUV moms and the yoga pants ladies can be found. I will not locate near schools or where children frequent.
"Cities cannot openly stop you from locating within their boundaries, because pot dispensaries are a legal business," said Furrer. "But they can confine you to areas zoned 'light industrial.' As a business person, I would look for a friendlier city to locate in."
Marijuana is not legal at the federal level, although U.S. law enforcement has eased up on prosecutions for "small amounts." Furrer said she wishes our Congress would decriminalize pot, but said it's obvious our Congress "can't agree on much of anything."
Because pot is still illegal at the federal level, doctors cannot actually write prescriptions. They can issue notes or cards recommending that their patient be able to use medical marijuana. Qualifying conditions include chronic pain, migraines, psychiatric disorders, terminal illnesses and more.
The Woman's Guide
Furrer said her book, "A Woman's Guide to Cannabis," is selling well. She was pleased when members of Pudd'nhead Book Club showed up at a recent signing event. She ran the store, Pudd'nhead Books in Webster Groves, until it closed in December 2012.
Furrer said she tailored her book for women, because she thinks men are more comfortable with using pot. She said women need more of an introduction to marijuana, and have needs for medical marijuana that aren't so relevant for a male audience.
"Women can benefit from the book, because they have health needs that men don't have," said Furrer. "This involves addressing menopause and menstrual cramping situations."
Nevertheless, most of Furrer's book is gender neutral with chapters on a range of maladies that cannabis can address and how to use it. She also offers chapters on how to stay out of legal difficulties and how to cultivate a relationship with a good "budtender."
Furrer grew up in Webster Groves and her mother, Marie, still lives in the town known for stores in Old Orchard that once catered to "the hippie crowd" back in the 1960s and 1970s.
"My mother was not real excited about my book project at first, but she has mellowed about it," said Furrer. "I am not going to tell anyone whether cannabis caramels had anything to do with that."
Word of Caution
Marijuana as a recreational drug is still illegal in county municipalities. Police Chief Ron Compton of Crestwood cautions that possession laws are still on the books in his city and offenders can be prosecuted in municipal court, even if other jurisdictions choose not to prosecute cases involving less than 100 grams of marijuana.
Webster Groves police officials also said ordinances outlawing recreational pot remain on the books in their city.
"The growth, manufacture, sale or possession of marijuana for recreational use is illegal by state statute and by ordinances in Webster Groves," said Lt. Andrew Miller, public information officer with Webster Groves Police. "Persons in violation of these laws within Webster Groves may be subject to arrest."