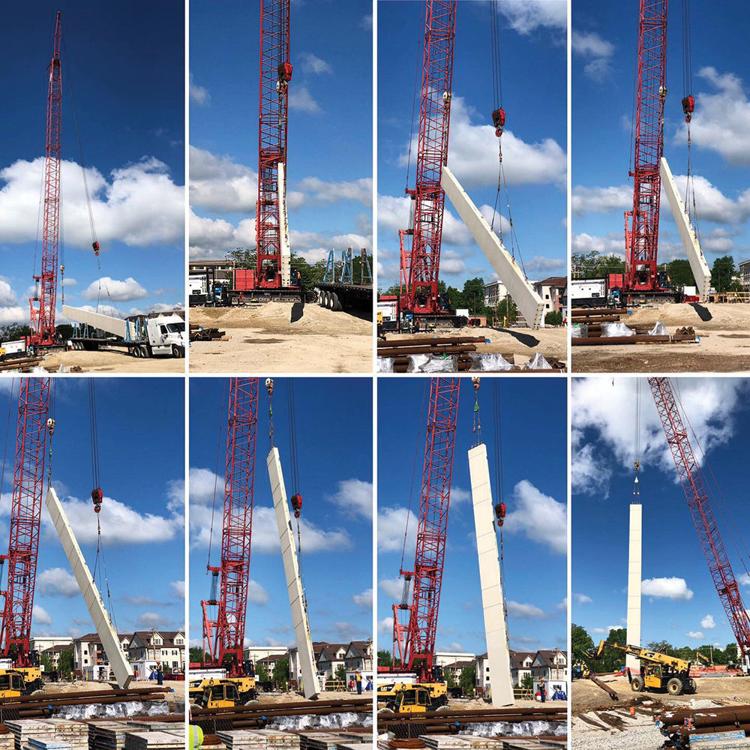 It's worth driving by Monroe and Taylor to watch construction of Kirkwood's new Performing Arts Center, even if the most exciting phase is just wrapping up: installation of 76-foot-tall, precast concrete panels that make up the walls.
Anselmo Testa, Kirkwood resident, is principal designer at Jacobs, the firm that provided the design and conceptual engineering for the project. Testa says the overall design is driven by a "see and be seen" concept and combines two features: a concrete shell wrapped in a glass casing. The concrete shell defines the theatre seating, proscenium stage, and fly loft. The glass curtain wall encloses a two-story atrium and lobby that will become a "lantern" during the evening.
If it looks different than Kirkwood's other historic buildings, well, it is. The Kirkwood Train Station has its thick limestone walls and slate roof, and the new Performing Arts Center its pre-cast concrete and glass envelope. For some continuity among the buildings, and in reference to the train station and city hall facade, the concrete was given a limestone hue during casting.
But let's revisit those impressively tall panels. Precast concrete is becoming increasingly sophisticated and versatile; it accelerates construction schedules and reduces the number of trades on the job-site.
These particular panels were fabricated in Iowa and are among the tallest in the country to date. Each panel is 76 feet tall and 16 inches thick. They have a 4-inch exterior concrete face, 4 inches of insulation, and an 8-inch concrete interior face. The thickness provides structure as well as thermal and acoustic insulation from the nearby train tracks.
So, why 76 feet? The height allows the theatre to have a fully functional fly-loft as well as proper sight lines for folks in balcony seats. Each panel was set in place by crane and held there with a brace.
Adjacent panels have integral steel plates that are welded together. The concrete provides both the skin and structure of the theater. Pretty cool.
Construction will continue through the summer, a show before the season even opens.