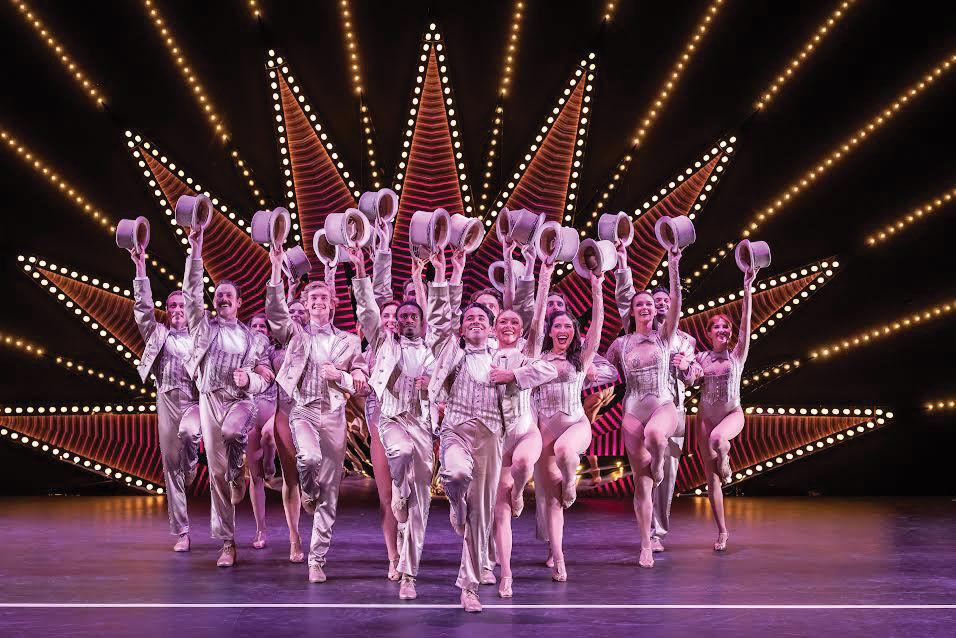 As vibrant and heart-tugging as it was when it forever changed Broadway 47 years ago, a fresh interpretation of "A Chorus Line" by Stages St. Louis demonstrates why it remains a singular sensation. This troupe will make you fall in love all over again with this musical theater masterpiece.
Director Gayle Seay's affection for the show is obvious. After all, Stages' current artistic director knows what it's like to be a showbiz hopeful. She's a veteran dancer and actress who performed in major dance shows like "Cats" on Broadway, national tours and in several companies of "A Chorus Line."
Seay conveys why the musical is timeless and uncommonly rare. Through her recreation, she honors icon Michael Bennett, who conceived and originally choreographed and directed the show. This is the fourth time "A Chorus Line" has been presented at Stages.
This show's choreographer, Dena DiGiacinto, ensures everything is meticulous in the high-energy, invigorating dance numbers. You're reminded of the effortless whirl, the "jauntily sauntering, ambling" that marks this special show.
With its focus on professional dancers who shared their hopes and dreams with a director as they auditioned for a chorus part in a musical, the ways "A Chorus Line" struck a universal chord in 1975 continues to resonate in a very different world today.
On a bare stage, this triple-threat cast makes each role their own, plumbing their characters' emotional depth with their precise movements and thrilling combinations.
After 24 dancers start out, 17 vie for eight spots. You anticipate outstanding songs and dance, but the book co-written by James Kirkwood Jr. and Nicholas Dante is integral and so well-crafted, it taps into the ambitions we can all relate to, no matter what profession.
It has all "the feels" — funny, warm, joyful, anxious, bitter, wistful. You understand the awkward and gawky standing alongside the sleek and assured.
The original local connections are surprising. Fourteen of the 19 dancers asked to the first rap session in New York City in 1974, organized by Muny alums Michon Peacock and Tony Stevens, had performed summers in Forest Park.  
When the show eventually opened at Joseph Papp's Public Theatre on April 15, 1975, 13 of the 26 in the cast had been Muny dancers. The current cast features local actors Ronan Ryan, Caitlin Stebelman, Leah Hofmann, Kelsey Cheaney, Elinor Harrison, Liz Friedmann and Justin Payton Nelson.
It doesn't matter if you have never tapped a time step or completed a plie from the first position — you can identify with their struggles and their experiences growing up that shaped their career path and who they became.
Bennett dedicated the show to "anyone who has ever danced in a chorus or marched in step — anywhere."
That is the beauty of "A Chorus Line," and that is why it is considered a landmark in musical theater. At the time, it was an unprecedented commercial and critical success. In 1976, it won nine Tony Awards from 12 nominations, including Best Musical, and received the Pulitzer Prize for Drama. On Broadway, the show ran for 15 years, from July 1975 to April 1990. 
"A Chorus Line" is now the sixth longest running show in Broadway history, having been eclipsed by "The Phantom of the Opera," "Chicago," "The Lion King" and "Les Miserables."
How it connects to people is part of its everlasting appeal. The lyrics by Edward Kleban tapped into the gypsy life of dancers — even using the word peripatetic — but also anyone who has felt like a square peg trying to fit into a round hole.
The music by the legendary Marvin Hamlisch is dynamic and distinctive —blending yearning and striving ballads with exhilarating up-tempo beats. "One" is the foundation for the greatest finale/curtain call of all time. Music Director John Samorian smoothly conducts with a sure hand.
Except for Ashley Klinger who plays vocally challenged Kristine, the ensemble has strong voices. Don Pippin took care of the vocal arrangements. Standouts include Lauralyn McClelland as Cassie, whose "The Music and the Mirror" is a showstopper, garnering a long ovation, and Megan Elyse Fulmer as Diana, leading a poignant "What I Did for Love."
As confident Mike, Victor Carrillo Tracey sets the zippy tone with a lively "I Can Do That" solo. Danny McHugh, as the assured director-choreographer Zach, is more empathetic, less haughty.
Emilee Hassanzadeh is a sassy Val in "Dance: Ten: Looks: Three" in the perennial crowd pleaser, and a favorite is the jovial puberty centerpiece "Hello Twelve, Hello Thirteen, Hello Love," expertly crafted and engagingly performed, with Ronan Ryan as conflicted Mark and Bryson Jacobi Jackson as a spry Richie ("Gimme the Ball.")
The creative team has honored so many elements of the original show — Costume Designer Brad Musgrove was inspired by Theoni J. Aldridge's recognizable outfits.
Sean Savoie, whose lighting designs on local stages has been recognized with multiple St. Louis Theater Circle awards and nominations, reaches new heights. He was inspired by Tharon Musser's original designs, and it's stunning.
Celebrating the artform that is the American musical and the magic that is live theater, "A Chorus Line" is a fitting coda to one of Stages' best summers ever.
Stages St. Louis presents "A Chorus Line" through Oct. 9 at the Ross Family Theatre at the Kirkwood Performing Arts Center. It is intended for mature audiences.
For more information or tickets, visit StagesStLouis.org or follow Stages on Facebook and Instagram.