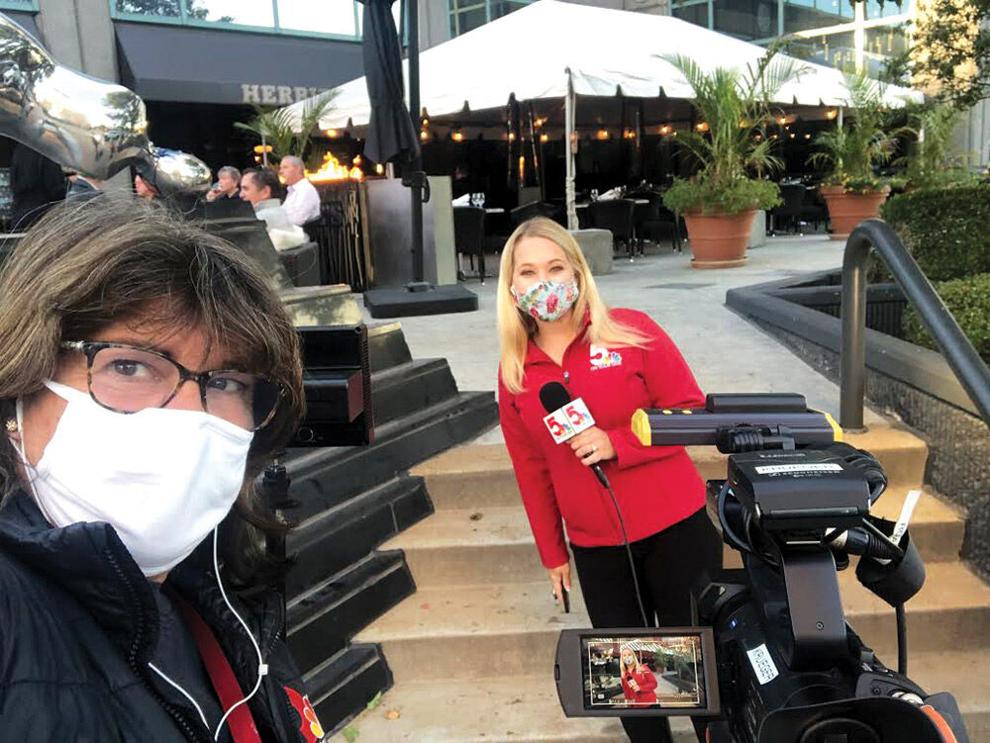 Kirkwood's Terri Krueger recently was honored by her hometown city council for her 41-year career as a "trailblazer" for women in the news business.
Krueger has shined behind a camera covering news for KSDK/Channel 5, providing images for everything from  professional sports to crime, to other news and fun features.
Krueger had to be pretty sharp to get her foot in the door in an industry once dominated by men. She managed that at the age of 22 by taking a grunt job for Channel 5's "Newsbeat" show on May 14, 1979, just two days after graduating from Mizzou. The job included finding humorous material for legendary TV broadcaster John Auble and his "Dumb Awards."
"I had some crazy good times with Newsbeat's Auble and Dick Ford," recalled Krueger. "Both Dick and John were veterans in the business, and there was always something to learn from them. It was a hectic Monday through Friday, 10 a.m. to 7 p.m., job.
"When my day for Newsbeat was done,  I would ride along with the night crews to watch and learn from them," added Krueger. "I also did that on the weekends. It was a good way to see what a TV news photographer job was really like in St. Louis."
Her experience with the night crews prepared her for the opportunity to pick up a camera and start shooting stories. Some rules were set right away about doing a "man's job," including no gripes about her 120-pound frame having to lug 100 pounds of camera equipment. She would more than prove her worth over the next four decades at the station.
"Being the first female news photographer wasn't my goal — getting the job was," said Krueger. "Much like being the first female in the Cardinals' football locker room. The NFL was allowing it and the Cardinals allowed it, so if the station followed the league protocols, I couldn't refuse that assignment."
Krueger said some male sports reporters weren't happy about the idea, but no one ever gave her guff about her presence in what was once an all-male sanctuary.
"The front office and Cardinal staff always treated me great," said Krueger. "Both Coach Stallings and Coach Hanifan always greeted me with a 'Hello, young lady.' I think that helped. I was in that situation because of my job, not because I demanded to be let in. I tried to be professional and earn respect."
Shooting sports stories was just part of the job. Krueger may have had an edge because of an internship she took at KMOX radio in St. Louis during the summer of 1978 while she was a journalism student at Mizzou.
She received two hours of course credit. Of far more importance, Krueger was able to witness the work of some of the best sports broadcasters in the business including Jack Buck, Bob Costas, Dan Kelly and Bill Wilkerson.
Krueger's longtime Channel 5 colleague Deanne Lane said Krueger became one of the best in her field and paved the way for other female journalists and videographers.
"Terri was a trailblazer in journalism in St. Louis," said Lane. "She was the first woman on the street with a video camera. It has been an honor and pleasure to work with her. Terri saved me under deadline many times. She is the consumate professional and a dear friend."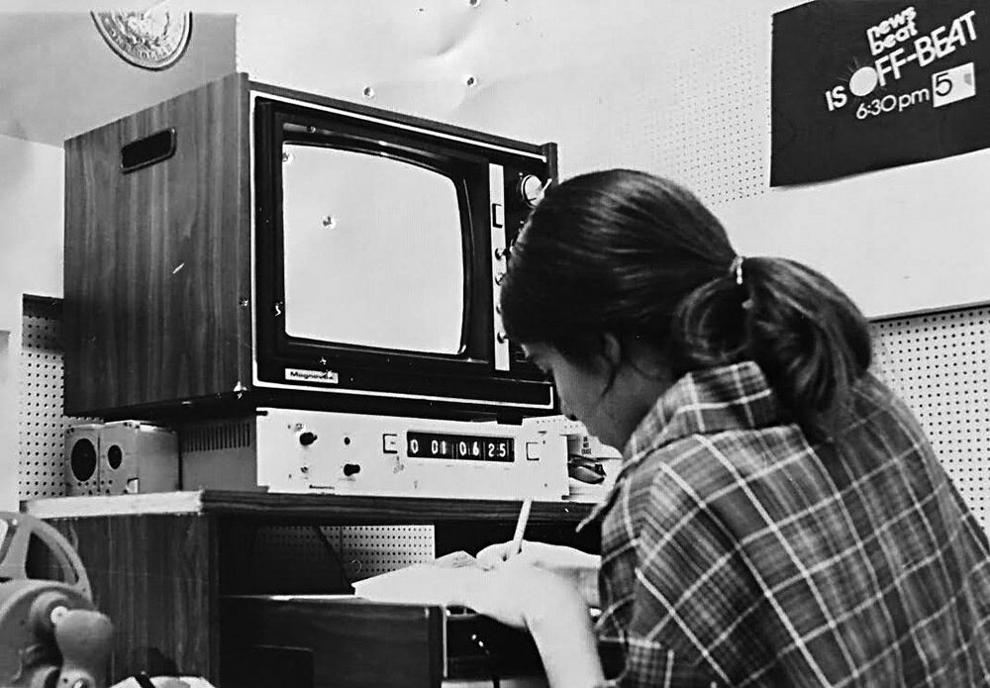 Never Get Used To It
When it comes to shooting the sometimes grisly crime scenes in the news, Krueger said she never really got used to that side of the business. For her, it started with the gangland shootings and car bombings among mob families in St. Louis in the early 1980s. 
"Early on I probably saw more things than a person would want to, but as someone once explained to me, when looking through the viewfinder of a camera it seems more like you are watching something on TV," Krueger explained. "The camera acts as a buffer  in a way. It's probably a good thing."
On a car bombing story at the Mansion House parking garage near the St. Louis riverfront, Krueger was escorted by police to a scene where investigators sifted through the hot ashes of what remained. She said that kind of access was rare, unforgettable and newsworthy.
"I really do hate that term, 'If it bleeds, it leads.' It's old and worn out, and it's not what we try to do day in and day out," Krueger insisted. "Unfortunately,  we have had to cover way too many shootings these past several years in St. Louis. Too many involve innocent children. You don't get used to that."
Krueger found it painful to work the mass shooting at Kirkwood City Hall in 2008. She was leaving a nearby grocery store that February night and was startled by a commotion of ambulances and police cars. She called the station and they told her what was happening.
"I knew so many (people) involved that night," recalled Krueger, nearly a lifelong Kirkwoodian who graduated from Kirkwood High School in 1975. "Cookie (Thornton, the assailant) was a year ahead of me at Kirkwood High, and I also knew people on the city council. I felt too close to all of it. It hurt to have your hometown be in the national spotlight for something so tragic. 
"It all was a reality check that such things can happen anywhere," she added. "The shock of that night, the candlelight vigils, the memorial services and community conversations are things most of us will never forget. And, we shouldn't."
New Technology: Better?
Krueger has been an eyewitness to a technological revolution in news coverage throughout her years in the industry.
She started with film and moved onto videotape. At the end of her career, she was shooting and recording stories with smart phones and digital cameras. The news product is now edited on laptops. 
"At it's best, the new technology offers instant information when something is happening," said Krueger, who will turn 64 on Saturday, Jan. 30. "You no longer have to wait for the evening news. A TV station needs to use its website, station app and social media accounts to get a story out.
"At it's worst, you now have to be so careful with what you read, who you trust and what you post," added Krueger. "People say a lot of things and have agendas. Some posts may not even be from real people. Pictures and posts can be false or lead you into certain directions. It's kind of scary."
Krueger concedes the news business is just tougher now. The technology is mind-boggling. Things move much faster. Deadlines are constant and nerve-wracking. The public is skeptical. Add to all this COVID-19.
"It's been stressful because besides doing our job, there are new rules to follow: social distancing, masks to wear," she said. "Near the end I felt that I was staying just a few steps ahead of COVID. I was actually making plans to retire when the pandemic hit, but decided to stay knowing I couldn't walk away from what would be the story of my lifetime."
Krueger has now taken that retirement walk, stepping down from her post as news photographer, editor and photojournalism at KSDK on Dec. 31, 2020, after more than 41 years with the station.
She is sad the pandemic story is far from over. She admires and misses her colleagues who have taken on a new technology — Zooming — and are in tricky places trying to do their jobs. 
"As for me, my family lives close," said Krueger. "I have a granddaughter. I'm looking forward to spending more time with all of them. I love Cardinals baseball and I hope to get back in the stands one day. My bucket list is a mile long, so once this pandemic is over, I'm ready to start checking things off."