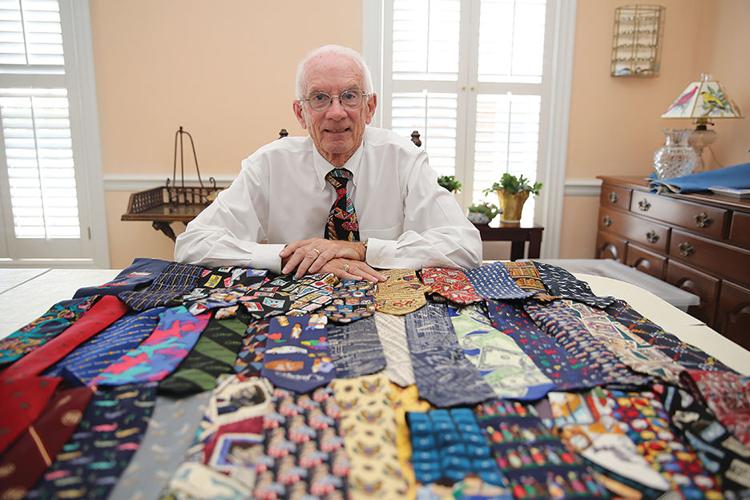 Kirkwood resident Ron Evens likes neckties. So much so that he has over 500 ties in the collection that he started in the early 1970s.
It started when his wife, Hanna, told him he had gotten "boring" with his ties, and encouraged him to branch out a bit.
"So, I started collecting ties," he said.
"When I traveled to New York, I would go to Fifth Avenue; in Chicago, I would go to Marshall Fields; and in New Orleans, I would go to Queen Street.
"My goal was never to pay a lot for a tie, so I would get them on sale and over the years, I collected quite a few," he said.
His collection is neatly arranged in large plastic tote boxes in which he has placed cardboard dividers to separate the categories.
Sports, Winnie the Pooh, Disney, animals, business, finance, hobbies, places, science and The Beatles are just a few groups.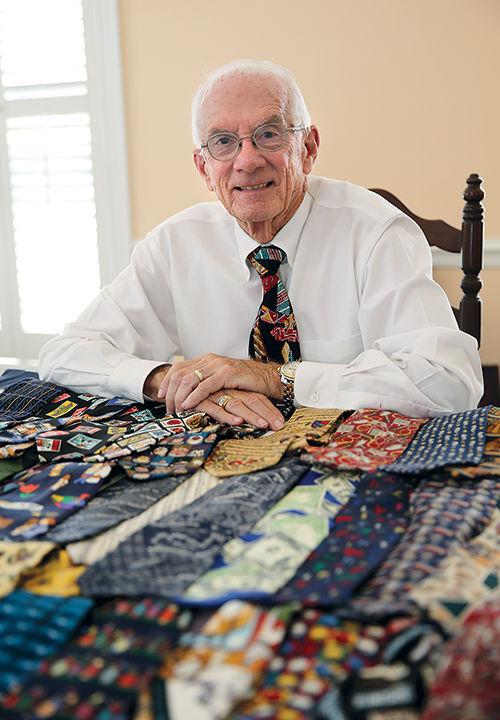 Evens, who was previously president of St. Louis Children's Hospital and Barnes-Jewish Hospital, and chairman of radiology at the Washington University School of Medicine, enjoys selecting and wearing these ties for any occasion since finding the right tie is no problem.
He even has ties signed by baseball great Stan Musial.
"Stan was a good friend, and I have several ties signed by him," Evans said. "One, painted by Norman Rockwell, was the cover of the Saturday Evening Post, and where he got the slogan, 'The World's Greatest Hero.'"
A colorful tie depicting runners and titled "The LaSalle Banks Chicago Marathon" lies with the sports ties.
"I ran marathons," Evens said, smiling.
He owns 52 Christmas ties, so finding one for that holiday is no problem, nor are Easter ties. He has ties adorned with bunnies and eggs – one even with Russian Faberge eggs.
"Thanksgiving ties are hard to find," he said, holding up two, one with pilgrims and one with turkeys.
"Someone did a series of ties based on Beatles songs, and here is one," he said, holding up a tie covered with colorful hearts. "This one is called 'All You Need Is Love.'"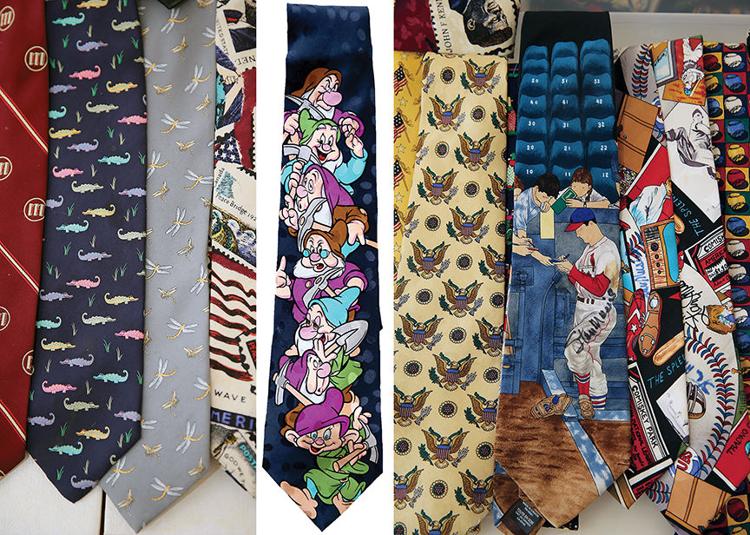 Evens has ties for church events, including weddings, with the standard bride and groom, but then there are other couples like hippies and gorillas. One tie has crosses and another features doves for peace.
"Hanna doesn't let me wear this one," he said, displaying a tie featuring The Last Supper on a velvet-type background, reminiscent of the paintings of Elvis on black velvet generally found at flea markets.
And, yes, he has Elvis ties too.
Being affiliated with medical institutions, it goes without saying that Evans has a plethora of medical ties. One features the caduceus, the symbol of healing; others have the Barnes-Jewish Hospital, Mallinckrodt Institute, Washington University and Children's Hospital logos – that one with colorful images of children.
"Here is one of Mr. Röntgen's hand," Evens said. "He's the guy who discovered the X-ray.
"There are companies in town that, if you give them a logo, they will make a tie," he said.
Some are one-of-a-kind hand-painted ties by Professor Robert Daskal from the Chicago Institute of Art.
"He has his own tie company, and he hires art students to hand paint these ties," he said.
One of Evens' sports ties is a fish, and it represents an interesting story.
"I was in San Francisco several years ago on business and the president of the company wanted to salmon fish," he said. "This guy owned his own boat, and he took me and my son and a few others out in the Pacific.
Evens and one other fellow were the only ones who caught a salmon, and Evens' fish was about 4 feet long, "from my nose to my toes," he said.
When the group returned to dock at Fisherman's Wharf, a photographer from the San Francisco Chronicle was waiting, and took pictures of Evens and the other man with their fish.
"He said it would be on the front page of the paper the next day, so the next morning I went down and got the paper and sure enough, there on the front page was a picture of me and the guy who caught the other fish," he said.
"I took it back to the room to show the family, and I said 'See, here it is,' and one of my daughters said, 'Dad, do you know who that guy is?'
"And it was Jerry Garcia of the Grateful Dead," Evens said. "Everyone was kind of scroungy, but we were on the boat with three of the Grateful Dead!"
Evens, however, does not have a Jerry Garcia tie – at least, not yet.