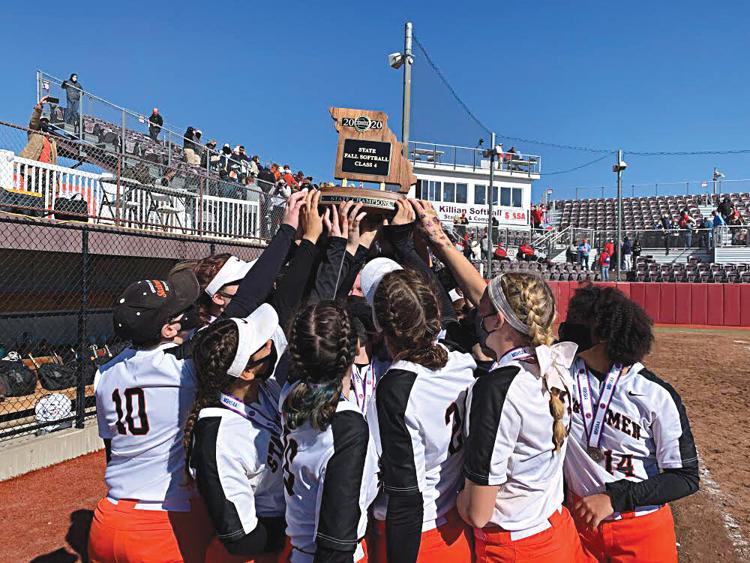 For the first time in Webster Groves High School sports history, the girls softball team is celebrating a state championship.
"It sure is the first. And we believe it's the second state championship for girls sports behind the soccer team from a few years ago," said girls varsity softball coach Bryan Gibson.
Gibson had to wait 16 years before finally realizing a dream of coaching his team to a Missouri Class 4 state championship. The big win came on Oct. 30 in a title game played in Springfield, Missouri, against a formidable opponent in Webb City High School. Though Webster never trailed in the game, it took an extra inning before the Statesmen could celebrate a 5-4 win and a their first state title.
The win was especially sweet given that not long ago, team members weren't even sure whether COVID-19 restrictions would allow them to play. Gibson said the season was delayed for about four weeks before St. Louis County finally gave them the nod to play. The Statesmen then played 12 games in just 14 days.
Junior first baseman Ivy Clark was out last season with a torn ACL. Clark was one of eight Webster players to combine for 12 hits against Webb City.
"I came back this season not knowing whether we would be able to play at all. As it turned out, this season will be something I will never forget for the rest of my life," Clark said.
Game Highlights
The Statesmen got off to a great start against the Cardinals of Webb City, going up 2-0 in the top of the third. Behind the strong arm of four-year varsity pitcher Maddie Buske, Webster took a 3-1 lead into the bottom of the seventh inning. The Statesmen were three outs away from claiming the title.
But Webb City third baseman Brianna Batson delivered a real scare when she smacked a two-run homer to tie the game at 3-3. Buske then got three batters to pop up to send the game into extra innings.
After two outs in the top of the eighth, Webster's Carissa Castro singled and was driven home off the bat of senior Taylor Knapp's double. Freshman Ava Fitzgibbon then added an insurance run with a double, making the score 5-3.
But the Cardinals came back in their half of the seventh. With one run already in and runners on second and third with two outs, Buske again faced Batson, the same player who had homered against her in the bottom of the seventh. 
This time, Buske got Batson to pop up into foul territory. Webster third baseman and junior Myah King had to run a long way before making the game-ending catch.
"Maddie threw a great pitch. I was determined to get it because I knew we needed this out. It was a game-winning catch," King said.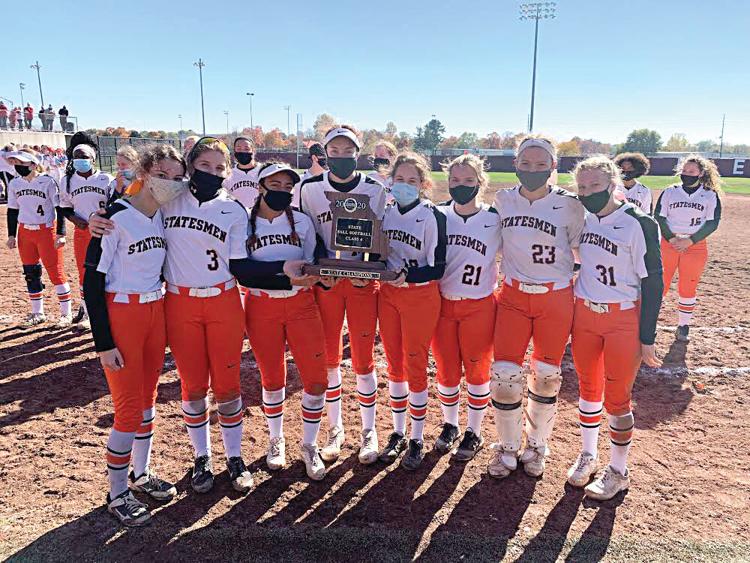 It All Came Together
Coach Gibson had nothing but praise for all of his players. He described them as mature, smart  and capable of playing great ball both on defense and offense.
Buske, a four-year varsity pitcher, was named a Second Team All-State player last year. Last week, she was selected First Team All-State pitcher. Buske will be attending Aurora University near Chicago next year.
"She is one of the top pitchers we have ever had at Webster. She's pushing 400 strike outs for her career. She has had a fantastic high school career," Gibson said.
The Statesmen boast two additional First Team All-State players in catcher Hannah Jansen and shortstop Kelly Collins. Jansen drove in two runs against the Cardinals with a third inning double and picked up another RBI in the seventh inning with a single.
Third baseman King hit a home run and delivered the winning hit in extra innings to defeat Rockwood Summit in the semifinal game. King said it was a great feeling to win, and a great feeling "to have played with such a great group of girls.
"This is a very athletic team. We all, or most of us, play summer ball — we play all year round," said King. "We've been playing for a long time and we're dedicated. It's not that we reached our peak this year, but the team was at a point that we could make great plays, make the routine plays ... we could do it all."
Ivy Clark is a junior who will be saying goodbye to eight senior players on this year's championship team.
"My freshman year I was the only freshman on the team. It seemed like everything was building up to this year," said Clark. "This year was highly anticipated. We've had so many good players go through the program, but this year it all came together."
Coach Gibson said his players have missed out on traditional school celebrations in honor of their state title achievement. But with students, in part, returning to high school next week, he said plans are underway to recognize the team's historic achievement.
He said he and Webster  Groves High School Athletic Director Jerry Collins have picked out a spot at Roberts Gym for placement of a "State Champions" banner and team photo.