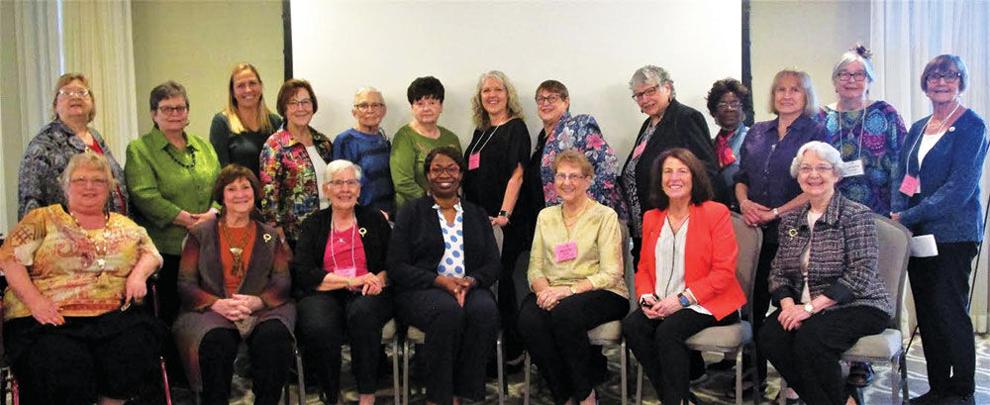 The Kirkwood-Webster Groves branch of the American Association of University Women is commemorating the group's 50th anniversary by tallying gender equity advancements propelled through research, education and advocacy.
One way Kirkwood–Webster Groves members honored the milestone was by hosting guest speaker Missouri Judge Robin Ransom, the first African-American woman appointed to the state's Supreme Court, at a special brunch Oct. 16 at Greenbriar Hills Country Club in Kirkwood.
"We celebrated our branch's five decades of working for opportunities and equity for women, and one of Missouri's outstanding women, at the same time," said Marsha Koch, co-president of the Kirkwood-Webster Groves branch.
The Kirkwood–Webster Groves branch is one of five total in the St. Louis area. Jeanne Webdell, co-president of the local branch, said it was granted its charter at the Missouri State AAUW meeting in April 1971.
Koch said the group supports gender equality by presenting programs in education and economic equity, as well as advancing women in leadership. They work closely with local universities on issues, such as Title IX, human trafficking, voter education, pay equity, sexual harassment and discrimination.
They facilitate salary negotiation workshops, too. The group also awards annual scholarships to St. Louis area high school seniors pursuing studies in one of the STEM disciplines: science, technology, engineering and math.
Members also participate in a pecan fall fundraiser and special events, such as Equity Action Day, Women's Equality Day and Kirkwood Greentree Festival.
Webdell said she joined AAUW after graduating college.
"I found AAUW very beneficial because I worked in the male-dominated field of police work, and I enjoyed the exchange of ideas with other women," she said. "I like being able to make a positive difference in the world, connecting with other people who are working on issues I care about, and the friendships — some for almost 40 years."
Koch, who joined AAUW when her daughter was a year old, said she wanted to improve women's rights and change culture so her daughter would have more opportunities.
"As a member, I've met so many fascinating, interesting women in a wide variety of careers, who inspired me to work for women's rights and who have become lifelong friends," she said. 
Koch and Webdell said some of the branch's major achievements include: presenting copies of the "Show Me Missouri Women" book to five grade schools and two middle schools in the Kirkwood School District; the annual Elf Workshop for Kids during the 1990s; awarding nearly 20 scholarships to high school senior women in the past eight years; and producing and distributing 800 "100th Anniversary of the 19th Amendment Women's Right to Vote" yard signs throughout the community and schools in 2020.
The branch's longest-standing project since 1971 has been contributing to AAUW's Educational Foundation and Legal Advocacy Foundation, both of which awards millions in development fellowships, community action grants and legal cases regarding discrimination each year in the United States and globally.
"We as women should always feel that we are fantastic as we are, without worrying about what we were, who we will be or who we want to become. We should enjoy and embrace today because we will never have the moments of today again," Judge Ransom told approximately 60 brunch attendees regarding career paths and choices.
Ransom, a St. Louis resident, was appointed to the court in 2021 by Gov. Mike Parson. Prior to that, she served on the Missouri Court of Appeals for the Eastern District from 2019 to 2021, and served on the St. Louis Circuit Court from 2008 to 2019.
She began her legal career as a public defender in St. Louis County in 1992. She became a prosecutor in St. Louis County in 1995, and in 2002 was appointed as a juvenile family court commissioner in St. Louis. Also in 2002, she was appointed as an associate justice by Gov. Bob Holden.  
The judge also tutors children for a church literacy program. She is a member of the Juvenile Officer Performance Standards Work Group and the Missouri State Foster Care and Adoption Board, as well as a mentor  for non-profit The Literacy Project.
Kirkwood-Webster Groves branch of the AAUW hosts monthly educational meetings and programs regarding issues that impact women's lives. These meetings are open to the community, and currently held via Zoom videoconferencing.
Webdell said future programs include redistricting, balance for women's health, racial issues, and women in various careers and leadership.
AAUW was founded in 1881, and has more than 170,000 members and supporters in the United States. Membership is open to graduates who hold the associate, baccalaureate or higher degree from a qualified college or university. Seventeen AAUW groups or branches are active in Missouri.