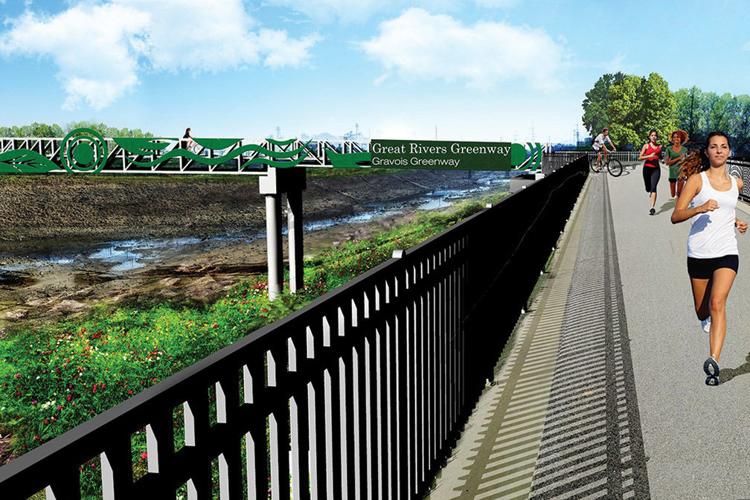 Hikers, bikers and runners have a lot to look forward to in 2019 as work continues on projects to link area trails. Those links will enhance what has now become a nationally-recognized network of greenways.
In December, construction crews started work on the first phase of a project to expand the Gravois Greenway. This involves connecting Grant's Trail to the River des Peres Greenway.
When complete, the project will link together three greenways and create 21 continuous miles for walking, riding bikes, pushing baby strollers and using wheelchairs in the great outdoors.
Crews began by working on bridge abutments and on approaches for a new 303-foot pedestrian bridge that will span the River des Peres. The abutments must be built higher and the approaches lengthened, to not only keep the bridge out of the floodplain, but also to ensure that the greenway is accessible under Americans with Disabilities Act (ADA) guidelines.
To accommodate construction, the River des Peres Greenway is closed between Alabama Avenue and Interstate 55. Germania Boulevard will be temporarily reduced to two lanes in the same area so crews can build a higher concrete barrier wall between the road and greenway.
Greenway users will need to find an alternate route while construction is underway. This closure is expected to last about six months.
"We want to make sure people who use the greenway are aware of the temporary closure," said Lonny Boring, Great Rivers Greenway Senior Project Manager. "There are a lot of utilities in this area and extreme care must be taken to build the new bridge over the River des Peres. We are working closely with our partners and construction team to minimize inconvenience for people who walk, ride bikes or drive in this area."
In addition to the bridge over the River des Peres, plans call for a 600-foot pedestrian bridge to take greenway users over Bayless Avenue and an underpass beneath the Weber Road on-ramp to northbound Interstate 55.
"It has taken a lot of planning, partnership and creativity to connect these two greenways," said Boring. "We've had to design a route that not only lies within a narrow corridor of land, but also parallels a major interstate highway.
"Other challenges include an active rail line, high-volume roadways, above-and-below-ground utilities and a river crossing," Boring added. "We are grateful for all the partners who helped us work around these challenges so we can deliver the greenway connection the region has been asking for."
Another Linkage
Great Rivers Greenway is involved in a long-term project that will be of interest to hikers and bikers who use the Meramec Greenway out of Kirkwood, and who look forward to a westward expansion. The project will be of more immediate interest to those using the trails at Route 66 State Park and Eureka.
Great Rivers Greenway and the Pacific River Walk Trail Project are working together to purchase the necessary property to build a park and trail along the Meramec River connecting Eureka and Pacific. Also involved is the Meramec Valley Trail Association.
Meramec Valley Trail Association has the mission to connect communities along the river valley in Franklin County. This can be achieved with a natural surface trail starting at the trailhead in Pacific, crossing throughout the Meramec River Valley, then connecting to the Ozark Trail at Meramec State Park in Sullivan.
This new section of natural surface trail will provide the link between two trail systems combining to form more than 500 miles of continuous trail from St. Louis to near the Arkansas border.
The connection will lead to greater access to the Ozarks for people living in St. Louis, increase usage along the entire Ozark Trail, and provide an economic boost to local business entities along a trail – a trail that may some day come to rival the Appalachian Trail in popularity.