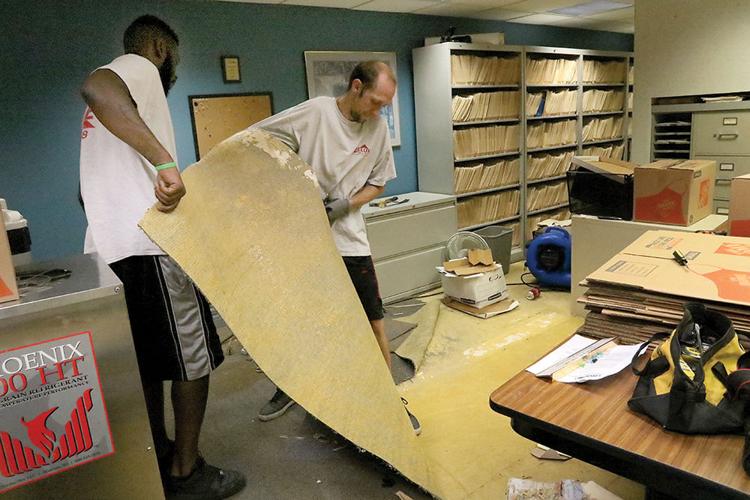 When one of Missouri American Water's 20-inch main water lines along Watson Plaza Drive broke Saturday, Aug. 10, excess water of 6 to 8 inches flooded the lower level of Crestwood's Government Center at 1 Detjen Drive.
As a result of the incident, a precautionary boil water order also went into effect Saturday by 10 a.m. for an estimated 5,500 households in portions of Crestwood and Sunset Hills. It was lifted Sunday.
Additionally, the floodwater problem interrupted non-emergency phone services for the Crestwood Police Department for a brief time Saturday morning until those calls were transferred to an alternate phone number. The city's emergency phone service was immediately transferred to St. Louis County 911 infrastructure when the flooding occurred.
Crestwood City Administrator Kris Simpson said a large Missouri American Water tank adjacent to the government center completely drained.
Thousands of gallons of water burst through a steel door and went into the government center building's lower floor where records and computers are kept. Code enforcement and the city's permitting office is located in that lower level, as well as the office of the Crestwood fire chief.
Simpson said damaged city records are being retrieved by a restoration contractor and will be freeze-dried.
"The success rate at recovery is very good, I am told. They should be returned over the next several weeks," he said. "For the most part, the records were non-essential, old paper records."
He said cleanup costs will be covered by Missouri American Water's insurance through direct billing by contractors to the water utility.
"Replacement of any damaged electronics or office equipment will either be handled by Missouri American Water's insurance policy, or the city of Crestwood's, depending on the finding of fault. If our city insurance covers it, the city pays a $1,000 deductible," said Simpson.
Despite the unexpected damage, Crestwood City Hall opened Monday with regular business hours.