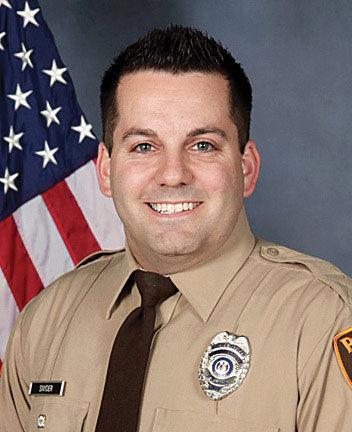 The trial of a man charged with killing St. Louis County Police Officer Blake Snyder in 2016 began earlier this week in St. Louis County court.
Trenton Forster's trial started Monday, Feb. 4. Although Forster, 20, is on trial for first-degree murder in the shooting death of Snyder, his public defender told the jury they should choose second-degree murder because of his "diminished capacity." They argued Forster's instability, mental illness, suicidal thoughts and drug use at the time the crime meant he was incapable of committing premeditated first-degree murder.
Snyder, 33, was shot and killed while responding to a disturbance call involving Forster in the 10700 block of Arno Drive in Green Park on Oct. 6, 2016. As Snyder approached Forster, who was in a parked car on the street, the teen opened fire. Snyder fell to the ground, and another officer shot and wounded Forster, who was 18 years old at the time.
Prosecutors are arguing Forster should be convicted of first-degree murder, presenting evidence of his anti-police talk, drug abuse and purchase of a gun in the week before the shooting. At the time of Snyder's killing, Forster's family publicly said he struggled with drug addiction, and offered apologies and condolences to the officer's family.
The trial is expected to run throughout the remainder of this week and possibly into next week.
If convicted of first-degree murder, Forster would get an automatic sentence of life in prison without the possibility of parole because prosecutors agreed not to seek the death penalty. A conviction of second-degree murder would mean a life sentence, which is calculated as 30 years in Missouri, but with the possibility of parole. Forster, of Affton, also faces charges of assault and armed criminal action.