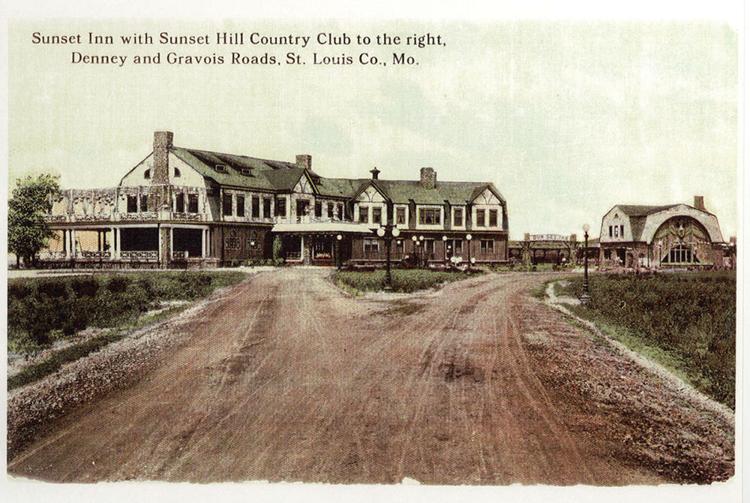 First there was a beautiful vista for sunsets. Then there was a Sunset Inn. Finally, there was a Sunset Country Club, which for more than a century has sat on a hilly area above "the resplendent valley of the Meramec."
The first known words written about the site came in 1913 and noted that the club "commands a view for 20 miles or more of glistening dales – and the hazy peaks of the Ozark mountains ... No place in the world is more beautiful."
These words were found by local golf historian Jim Healey in a publication from last century called "Forward St. Louis." Healey readily admits that the description of the club location may be a little exaggerated, but there are, in fact, some fine sunset views on the grounds of the club at 9555 S. Geyer Road.
"The legends and the lore of Sunset Country Club have always been good and entertaining, but not always 100 percent accurate," said Healey. "That is part of the charm and the fun of what is a great club with a great story."
Healey helped tell that story in 2010 when he was enlisted to write the club's centennial history. Healey has been writing golf history for more than 40 years and he never tires of talking about golf clubs in St. Louis.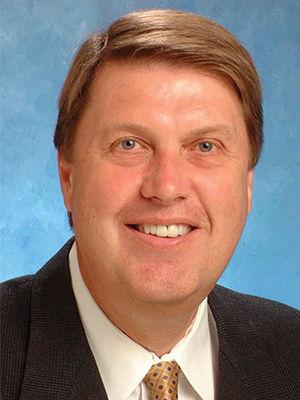 "There is a very popular legend in St. Louis that August Busch Sr. started the Sunset Country Club after he was refused membership in the St. Louis Country Club," said Healey. "The idea is that he was a beer man and he was not good enough for the elite boys club.
"It's quite a legend, but it's just not true," said Healey. "It's been repeated in the Post-Dispatch in its articles and editorials so many times, that it must be true, but it's not. It reminds me of what Jimmy Stewart said in the movie about Liberty Valance: 'If the legend and the facts contradict themselves, always choose to print the legend.'"
According to Healey, August Busch Sr. was nominated for membership at St. Louis Country Club, but it was never voted on. However, August Bush Sr. was already very involved in starting what is now Sunset Hills Country Club a full year before he was proposed for membership to St. Louis Country Club.
Legend Or Not
Legend or not, there is truth in the story of the Busch family's role in establishing the Sunset Hills Country Club and leaving a lasting imprint upon it. The history starts when Adolphus Busch saw Prohibition and an anti-saloon movement on the horizon, so he purchased land in 1910 out on Gravois Road for a dining club to be called the Sunset Inn.
The dining club had a gala opening with 700 guests in 1911, the same year that Sunset Hill Country Club filed articles of association with the county court. Not long after that, August Busch Sr., Eberhard Anheuser and Jesse Carleton were named as club founders.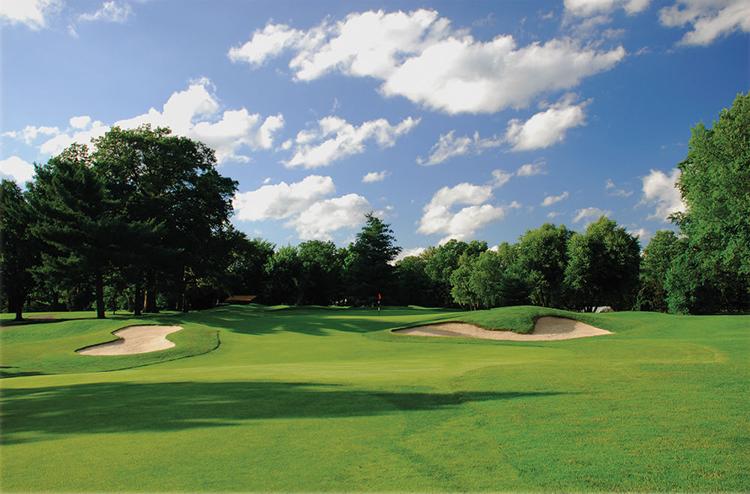 "Eberhard Anheuser really was the man giving the push for a country club," said Healey. "The Busches weren't really golfers, because they were more interested in wild game hunting. Busch Sr. gave a lot of his stuffed animals for display at Sunset Inn and some of them found their way to the club."
On Sept. 16, 1917, the course opened for play with nine holes and an initiation fee of $10. The full 18 holes opened later that same year.
The course was designed by the Scottish-born Foulis brothers — Robert, Jim and David — who were well known for having designed other prestigious courses in the area. When the course was completed in the spring of 1917, it was hailed as "one of the most beautiful and best designs in the country."
Within two years, a pool was built for $20,000 along with a caddie house, lockers, showers and individual pool cabanas for members to rent.
"It grew into a real solid club, as it remains today," said Healey. "It has a strong German history behind it, and Sunset has always been very much a family club."
An important turning point in the club's history came in 1945 at a special meeting. Members approved purchase of the club and property from Anheuser-Busch and Alice Busch. The A-B Board formally agreed to sell the enterprise to the Sunset Golf Club, Inc.
"Alice Busch (Mrs. August Busch Sr.) was instrumental in the existence of the club," said Healey. "She staved off purchase offers for parts of the grounds for apartments. She also wanted the club to continue to exist long after her.
Interesting Anecdotes
In his centennial book for Sunset Hills Country Club, Healey covers such items as the club's first saltwater pool, the great eagle lost to history, the phenomenal Busch stuffed birds and a famous member named Musial.
Healey notes that:
• Sunset Pool has been credited as the first outdoor pool west of the Mississippi River. It was certainly an unusual pool for its water content high in sulphur, iron and salt. However, its well water source had to be abandoned when it was found to be contaminated.
•A massive, wrought-iron eagle with beautiful stain-glassed panels honoring the centuries-old Hohenzollern Family of Prussia and Germany once adorned the club's locker room for women. It was lost to the wrecking ball when the locker room was replaced.
•The Sunset Birds of the club have been on display for more than a century. They were originally presented to the Sunset Inn by August Busch Sr. and reflect his passion for hunting and also the taxidermist skills of Frank Schwarz in the early 1900s.
•Cardinal baseball great Stan Musial and his good friend, Biggie Garagni – Stan's partner in the Musial & Biggie's Restaurant – joined Sunset in 1954. Despite being such an accomplished fielder and hitter, Musial never found golf a game to his liking.
Author Healey said he loves the history and tradition found at Sunset Hills Country Club. Healey said that a number of private clubs in the St. Louis region are struggling with membership declines, but he said the club with the strong connections to the master beer baron will, undoubtedly, stay the course.