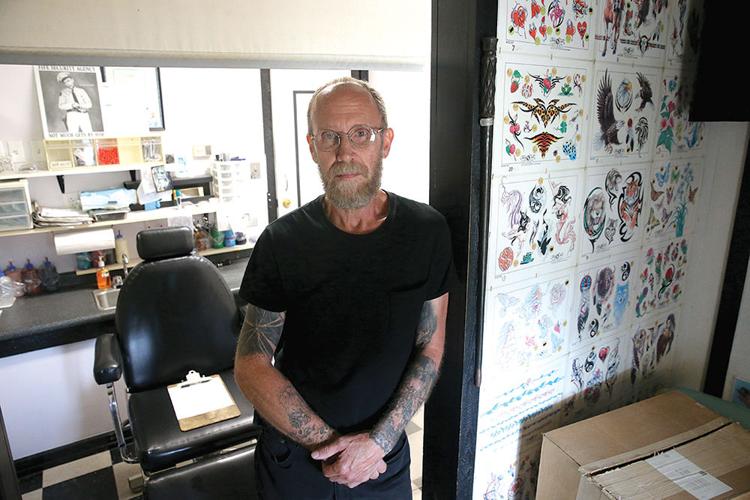 In 1990 I was into participatory journalism. So, when the Times asked me as a cub reporter to write some feature stories about businesses in the readership area, I naturally gravitated to South County, where I grew up, and a tattoo shop, Craig's Tattoos at 341 Lemay Ferry Road in Lemay.
Decades ago, I sat down in the barbershop-like chair and let Craig Shutzius carve a Hopi Indian symbol in my right shoulder while the Times photographer snapped pics for the story. Nearly 30 years later, my tattoo is a faded blob, but Shutzius and the tattoo shop are still inking away.
I sat with Shutzius in that same chair while he reflected on the changes that have transformed what was once an oddity into a booming industry. Shutzius is a self-professed old schooler and luddite. But at 65, he has a sense of his history in tattooing.
"I've been doing this for 41 years, and I've seen everything," Shutzius said, his frame a little withered but still looking the same after a few bouts with cancer.
"I started at Trader Bob's in the '70s when it was the only tattoo parlor in town. Back then, there were no tattoo conventions or apprenticeships. You trained yourself on your own skin," he said.
He had the ink to prove it. Parts of his body resemble a mechanic who has experimented too much on his own car. He proceeded to elaborate about the various generations of tattooing.
"Tattooing has always been an art form, but it was more basic," said Shutzius, who considers himself a "traditional Americana" tattoo artist, a simple and bold genre of tattooing that flourished right after World War II. "But now it's much more sophisticated. You see museum-quality pieces on people's skin."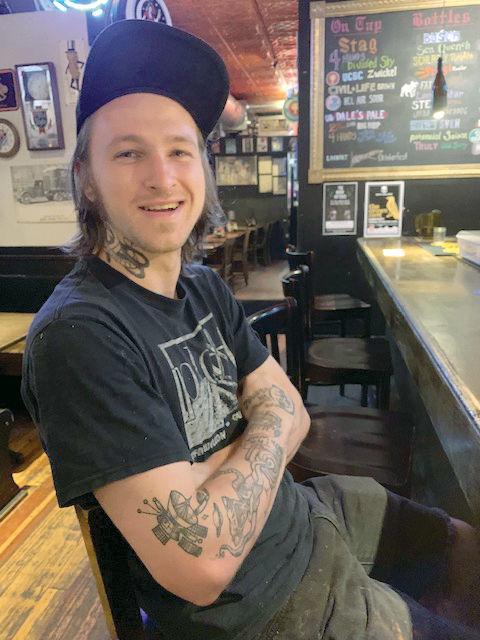 An Ancient Art
Tattoos aren't new. Decoration of a human body has been around for more than 12,000 years. People used tattoos as a method of healing, rebelling, a way of self-expression and religious worship. In the United States, the art form has taken on a different meaning with each new generation.
For the first three decades of the 20th century in this country, tattoos were largely taboo. Soldiers could get away with a tat here and there, but they were mostly relegated to "freak shows" in the circus. Tattoos became more mainstream in the 1940s with returning soldiers sporting "Sailor Jerry" tattoos — simple, bold, colorful designs that took the form of hearts with "mom" in the middle, hula girls and patriotic icons.
Sailor Jerry was actually Norman Keith Collins, who at 19 was inspired by the tattoos of Southeast Asia during his tour of duty in the Navy.
"He was an icon in the industry and many of us were inspired by him," Craig said. "His style influenced many after him."
After World War II, tattooing evolved with each generation, Craig explained. There were protest tattoos and peace symbols in the '60s and '70s, tribal tattoos and Celtic knots in the '80s, and an explosion of female tattoos in '90s.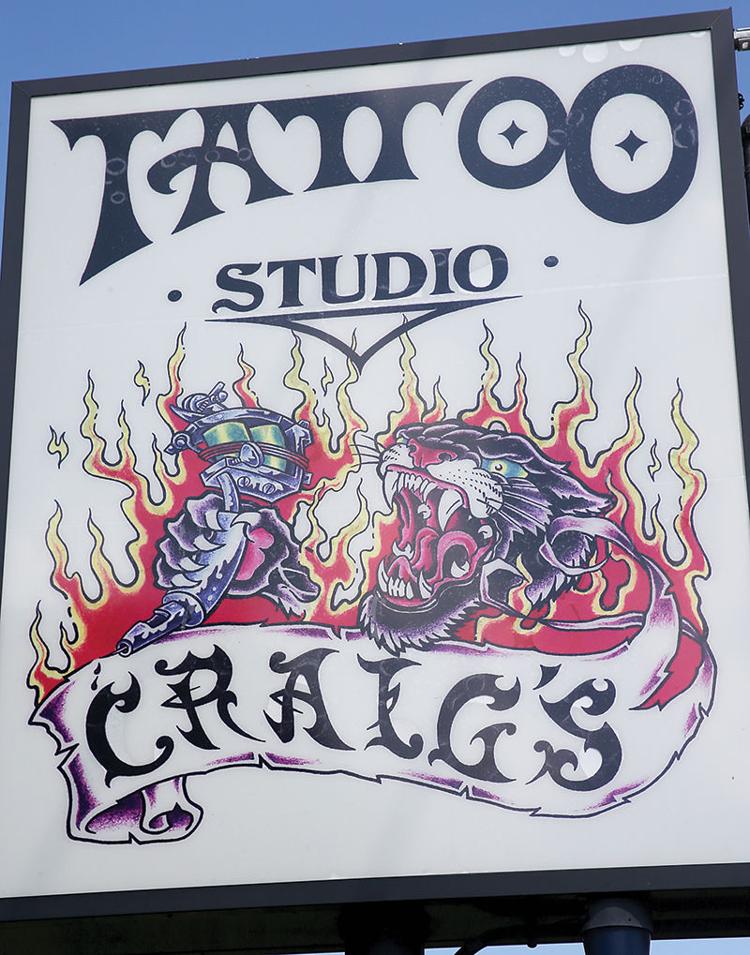 Young And Old
Today, the United States is the third most tatted nation in the world, only behind Italy and Sweden. About 47% of Americans have tattoos, and that number is driven primarily by millennials, the most tatted generation ever. Only 13% of boomers and 36% of gen Xers have tattoos compared to the 47% of millennials.
There is no better place to witness millennial tattoos on display than the Crow's Nest in Maplewood. The ambiance is eclectic with a heavy metal theme woven into the fabric of the food and decor. Known for its album-covered menus, lack of sports, and total irreverence, the Crow's Nest epitomizes the heart of what residents affectionately call "Mapleweird."
Ben Brennan, 25, sits down at the bar and is more than willing to talk about his tattoo journey.
"I decided as a kid it was a cool thing to do and I just kept going," said Ben, whose tattooed sleeve conveys images of "2001 a Space Odyssey," a mutant from "Star Wars," and Star Trekkie images that are hard to place. "But I'm not done yet — I plan to get more."
Addicted To Ink
Brennan isn't alone. Rather than a "one and done" approach, many people see tattooing as an ongoing process of filling up a skin canvas. Some studies have shown that up to 32% of people who got tattoos were self admittedly addicted to ink.
That's where Mary Covington comes in. She owns Morphd, a tattoo removal service in Crestwood.
"There are two types of people who need their tattoos removed," Covington said. "Those who recognize right away that they got something they didn't like, and those that got something personal and it's no longer relevant in their lives."
Covington said her company removes about 10 tattoos a day, taking 5 seconds for a quarter-sized tattoo and 30 seconds for a business card-sized tattoo. Some of her customers simply want the tattoo removed cleanly, while others want "fading" — just enough removed to overlay another tattoo. All of her customers are under 40 years old.
"Believe it or not, we get a lot of our business from tattoo conventions," she said. "But the tattooists give us the stink eye a lot."
A Meaningful Craft
Back at Craig's Tattoo, I truly want to extract a little wisdom from a man who admits "I''m an effing dinosaur." He offered some advice for aspiring young tattoo artists.
"Young people always call me about getting into this business," he said. "Apprenticeships are hard to find. If you want to get into tattooing, you have to have a high level of artistic skill."
We end the interview and discuss ways to fix the blob on my right shoulder, which sun and age has faded into an unrecognizable form.
I wonder if Shutzius knows the subtle importance of the marks he has made on others. Vast amounts of ink spread on skin canvases engaged in the world. Needle-infused meaning and symbols beneath the epidermis.
Skin. It has divided us for centuries. Perhaps tattoos, in some strange way, unify us, across generations, races, perspectives.
Ink on, tat man.