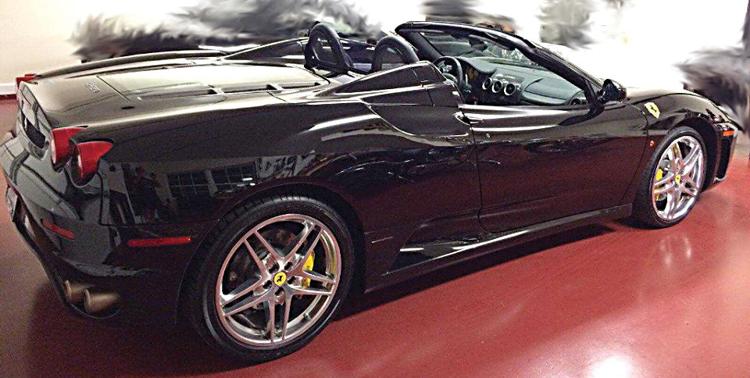 UPDATE: The Sunset Hills Police Department reported Thursday morning, Aug. 15, that the stolen Ferrari has been recovered. The department said no further details are being released at this time due to the ongoing investigation.
Police are searching for a $200,000 Ferrari that was stolen from a Sunset Hills home earlier this week.
The keys to the 2007 Black Ferrari 430 Spider were in the vehicle when it was stolen from an unlocked garage in the 1000 block of Chateau Chura sometime between 9:30 p.m. Monday, Aug. 12, and 4:30 a.m. Tuesday, Aug. 13, according to Sgt. Robbie Hagen of the Sunset Hills Police Department.
In asking for the public's help in locating the Ferrari, Hagen noted the yellow calipers on the wheels and the yellow Ferrari stickers on the car's front quarter panels.
Hagen said most cars that have been stolen or broken into in Sunset Hills in recent months have been unlocked, and many – like the Ferrari – had the keys inside. Police have urged, and continue to ask, homeowners to remove all valuables from inside their cars, including the vehicle's keys.
"Many of these crimes are crimes of opportunity, and we can eliminate a lot of the opportunity by making home and car security a priority every day," Hagen said. "Remove all valuables from inside cars including wallets, purses, firearms, and car keys and car fobs, no matter how well hidden you think they are. Lock the vehicle, lock the doors from the garage to your home if there's an attached garage, and lock your home at night."
Hagen said residents should also leave exterior lights on around their homes at night.
The police department is asking anyone with information to call the Sunset Hills Detective Bureau at 314-849-4400. Hagen said anyone who sees the Ferrari should not approach the vehicle, but call 9-1-1 to report its location.