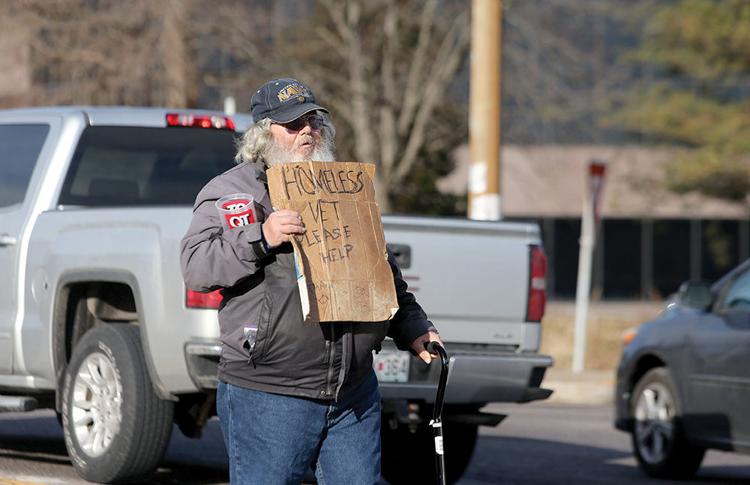 Steve Keithline, who stays at the Biddle House in downtown St. Louis, takes the bus twice a week to panhandle at the intersection of Interstate 44 and Lindbergh Road. The area is on the border of Sunset Hills and Kirkwood, and police from both cities have been called out to address the panhandler issue.
"I go there twice a week and the drivers are mostly nice," said Keithline, "I make about $50 a day for those two days and that gives me enough to eat for the week and to survive."
Keithline said he is a veteran who was in the service from 1978 to 1986. He said he was stationed in Spain, Sicily and Turkey. He said that "like with a lot of other veterans, things have not gone well for me" since he got back to his  home turf of St. Louis.
Keithline said he tried panhandling in St. Charles and was thrown in jail overnight several times. He said that is a problem because it keeps him away from his medicine  he needs to take.  He said all the complaints about panhandlers are ridiculous.
"It's ridiculous because all drivers have to do is ignore us if they don't want to give us a dime. We are not a problem," said Keithline. "I've never seen any drug use or bad behavior out there."
St. Louis County and municipalities have to walk a fine line and be careful that any restrictions on panhandling do not infringe on free speech rights. Residents may be unhappy with panhandling, but they get more upset with tax money being used in lawsuits regarding these kinds of issues,
At an October city council meeting in Kirkwood in which panhandling was discussed, City Attorney John Hessel said panhandlers do have rights under the Constitution with their signs asking for help because they claim to be hungry and destitute.
There is a large volume of case law that maintains solicitation on street corners can be free speech, as long as it does not interfere with traffic flow and traffic safety, according to Hessel.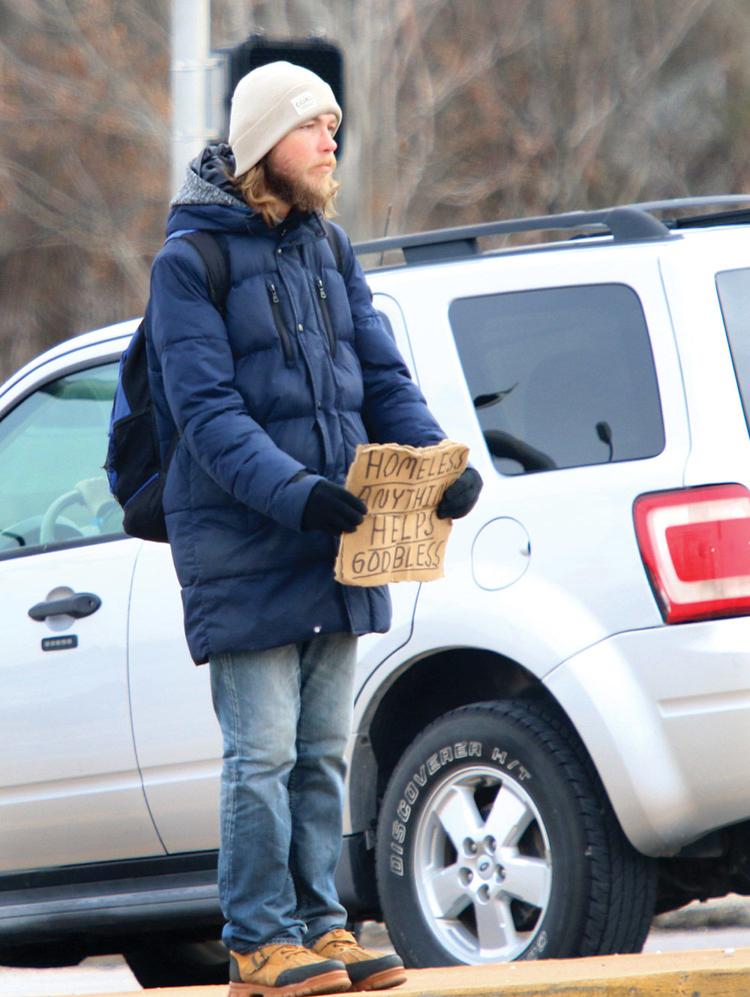 County  Debates Issue
St. Louis County Council members continue to discuss how to get a handle on problem panhandlers at busy county intersections. Residents are lodging complaints with county officials and area municipalities about panhandling.
At a January public hearing before the council in Clayton, Chris Struckhoff of Sappington said the panhandlers pose a problem to drivers and to themselves. She said their needs should be met at public shelters where they could be provided basic services. 
"A shelter is a much better solution than standing out in the cold or sleeping out in the cold," said Struckhoff. "It's  also safer because many times these people are hampering traffic and sometimes endangering their own lives. 
"It can be scary to have people you don't know come up to your car wanting you to roll down your window. San Francisco and Los Angeles are prime examples when vagrancy laws are not enforced. Their cities are a mess. It's a big health hazard and costly to the community."  
County council members Lisa Clancy and Ernie Trakas both have proposed bills under discussion. Trakas's bill would allow police to ticket panhandlers who get too aggressive with drivers. Clancy's proposal calls for the current law regarding vagrancy to be repealed and any replacement done with the county legal staff's advisement.
The discussion regarding vagrancy and panhandling has not only been prompted by citizen complaints,  but also because of a lawsuit by a homeless man ticketed numerous times for panhandling at a busy intersection.
The lawsuit filed against the county claims that Robert Fernandez has had his First Amendment rights to free speech restricted with tickets related to the vagrancy ordinance. The trial in that case is now set for April.
"The number of panhandlers in the area continues to increase, including my exit at 55 and Reavis Barracks Road," complained Lynn LeBaube at the recent public hearing. "It's not unusual for me to see up to three working that exit. 
"There appears to be intoxication and drug use related to those working this exit," added LeBaube. "Despite the national crisis that communities are dealing with as it relates to vagrancy, I believe we should set an example by peeling the layers away of this crisis so we can see the real solutions here."