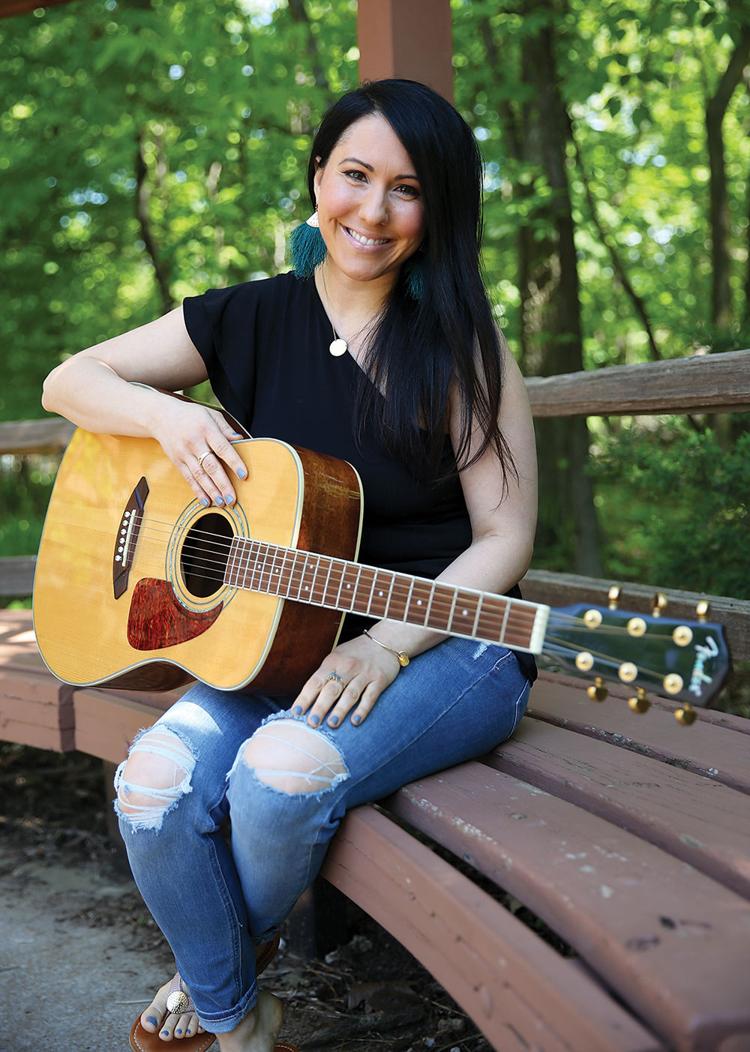 Songwriter Katie Pappas, 36, showed up for an interview at Powder Valley Conservation Nature Center recently with the tools of her trade: an acoustic guitar, a big spiral-bound notebook full of lyrics and ideas, and a boundless musical imagination.
Seated on a bench outside the visitor center on a recent sparkling May morning, Pappas reflected on her 15-year career so far.
It's been a journey that's taken her from her native Florissant, to Nashville, Tennessee, and back (twice), an odyssey guided by her strong Christian faith, interrupted by illness and marked by her share of highs and lows.
Lately, Pappas has been on a high. The soundtrack for "The Least of These," a dramatic film about a martyred missionary that was released earlier this year, featured four songs written by Pappas, including the ballad "Between Here and Heaven."
As Pappas sees her career unfolding, the St. Louis area will always be her home base. For the last few years she's lived in South County. Even so, her musical career still centers on Nashville.
Take, for example, a song she just finished writing, a demo of which she recorded on her iPhone.
"I use all my connections in Nashville," she said. "I'm reaching out to everybody in Nashville. So I'll go there and spend five or six days working on that."
Pappas always knew she'd land a career in music. She remembers writing songs before she was 8 years old. This was about the same time she became a big fan of Mariah Carey, the superstar diva whose soaring ballads ruled 1990s radio airwaves.
"I just had a passion," Pappas recalled. "I didn't just enjoy it. It was in my bones. I thought, 'I need to do something with it.'"
After graduating in 2004 from Southeast Missouri State University in Cape Girardeau with a degree in dietetics, Pappas headed for Nashville, where she found work in a chiropractor's office. With zero connections in the notoriously competitive music industry she faced an uphill struggle that even experienced music professionals would've found daunting.
"So when I wasn't working at the office, I would either be writing by myself, or I did a ton of co-writing," Pappas said.
Usually, young Nashville songwriters focus their energies on honing their craft while trying to connect with industry insiders through events such as talent searches and songwriter showcases at local clubs. But Pappas didn't take that path.
"I had to learn my journey, and my journey was not other people," she said. "God really took me around the path that people usually do."
In the chiropractor's office where she worked, Pappas began getting to know various patients who worked in the music industry. One of those patients was a well-known Christian music producer named Bryan Lenox.
Lenox took Pappas under his wing, providing pointers on the songs she wrote and much-needed professional feedback.
Lenox, who's taken a break from music while he deals with a chronic debilitating illness, described his working relationship with Pappas as "inspiring and fun," according to a text he wrote.
After meeting at the chiropractor's office, Pappas "sent me some songs," Lenox recalled. "And when I listened to them she had promise and after that she kept getting better and better and now she's amazing."
So when Lenox was asked by the producers of "The Least of These" to help put together the film's soundtrack, he right away thought of Pappas, whose songs "had a great connection emotionally."
Like the vast majority of people trying to forge a career in the arts, Pappas makes ends meet with a day job — in her case, as a freelance home manager. She helps overwhelmed St. Louis homeowners organize the stuff they own and purge the stuff they don't need.
On the whole, Pappas said, it's a good thing she's back in the St. Louis area, instead of still living in Nashville.
"When I was there, I would compare myself too much to everybody," she said. "And when I did that it just didn't work for me. And when I moved back here, that's when things actually happened for me."