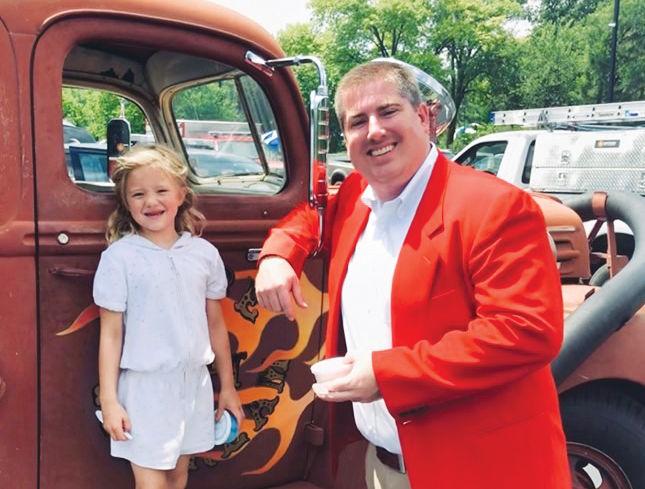 What better way to solve the world's problems than during a July ice cream social with creamy desserts in hand, a 6-year-old hostess, a mayor and a vintage 1946 fire truck?
That's the creative thinking of Taylor Duncan, the self-proclaimed "Show-Me Ice Cream Girl" from Waynesville. So, she asked Crestwood Mayor Grant Mabie to gather over ice cream to have a sweet conversation in the Crestwood City Hall parking lot, 1 Detjen Drive, on July 9.
Taylor is on a mission to meet and eat ice cream with all 950 mayors in Missouri, all while learning about their cities. She caucused with Gov. Mike Parson over orange sherbet last September. So far, she's met with 123 mayors.
She set this goal upon learning through her homeschool lessons that the ice cream cone was invented at the World's Fair in St. Louis, and is Missouri's official dessert. With help from her mother, Therese, she started her crusade last August.
In October, she quizzed Fort Leonard Wood's commanding general, command sergeant major and garrison commander about what they liked best about what they do, even discussing military traditions involving the U.S. flag.
Taylor and Mabie, along with Crestwood residents, enjoyed homemade dipsticks, ice cream cups and sandwiches, and Italian ices from the Fire & Ice Cream Food Truck, a vintage 1946 Ford Fire Truck.
Crestwood Fire Department personnel were on-site to provide tours of their truck and giveaways for all children.
To follow Taylor's journey, visit www.Facebook.com/showmeicecream. It's rumored that cotton candy ice cream is the flavor Taylor chooses most often.