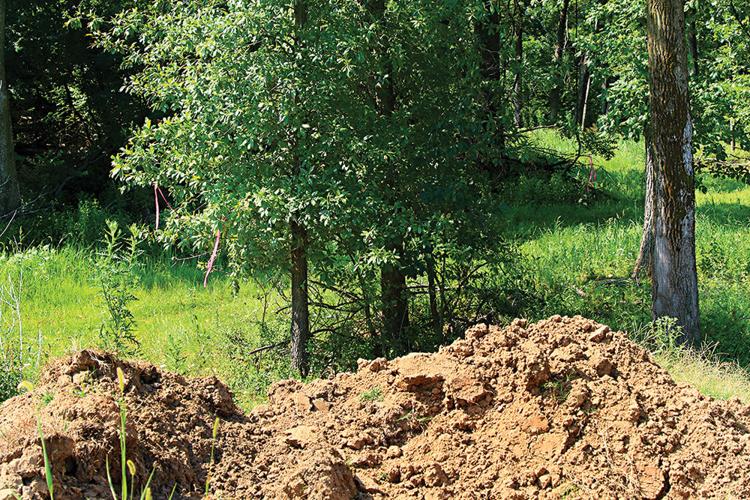 Michael Burton, a leader in the fight to stave off development at the former Tower Tee Golf and Recreation Complex in Affton, has a new focus.
Burton and other residents are seeking a buffer zone of land between Tower Tee and the new development that McKelvey Homes has under contract, within the southern confines of the Resurrection Cemetery and Mausoleum, located at 6901 Mackenzie Road.
The section being considered for development is not part of the active cemetery; it is the section across from Deerwood Drive, heavily wooded and full of wildlife, just north and adjacent to the former and future Tower Tee complex.
Burton said he has talked with McKelvey Owner and President, Jim Brennan, about leaving a 30-yard buffer zone between Tower Tee and the new project.
"My goal is to keep a chunk of land a green space/forest above Tower Tee for the wildlife," Burton said. "The deer, turkey and other wildlife (are) a huge part of Tower Tee."
Burton also went door-to-door this month to get an idea of how much of a tree buffer zone the Hurstgreen Lane residents want between them and the possible new houses. Burton said they asked for an average of 125 feet. Hurstgreen is an east-west subdivision street closest to the cemetery's southeast corner along Mackenzie Road.
Burton said Hurstgreen residents don't want to lose the scenic and wildlife views that attracted them to buy homes there. Burton said Brennan told him he's not interested in clear-cutting the site because more trees remaining on each parcel translate to more money per homesite.
Brennan confirmed that he is considering a buffer zone, but he refused to reveal any project details, saying it would be premature to do so at this stage.
St. Louis County Council Member Lisa Clancy, District 5, confirmed the lack of detail.
"I do not yet have enough information about the development, and I will not make any conclusions until residents have a chance to be heard," she said. "I will work with residents and the developer to make sure that any proposed development works for the people of Affton."
Brennan said his crews are busy testing and developing a master plan for the site. He said McKelvey will share the plan with the community later this year, before going to St. Louis County for approvals. Brennan did say that the two aerial towers on the site, one for KPLR Channel 11 and one for KSHE 95 FM, are not part of his project. 
Brennan cited a demand for new homes within nice communities in the Affton and South County areas and said that McKelvey is very excited about this project. 
"I'm personally happy with the development. I want more new houses in Affton," Burton said, adding he wants these to be built responsibly, with attention paid to issues like runoff and how the development will impact area first responders and the school district.
Erica Chandler, director of communications for the Affton School District, supplied the following statement: 
"The potential housing development at Resurrection Cemetery is another sign that developers are seeing the Affton community as a desirable location for families with children. This speaks positively not only of our schools, but also of our community as a whole. 
"Affton School District has commissioned a demographic study to research the impact this, along with the 38 homes built across from Affton High School and other developments, could have on our district and region, which will help inform our enrollment projections and future planning efforts."