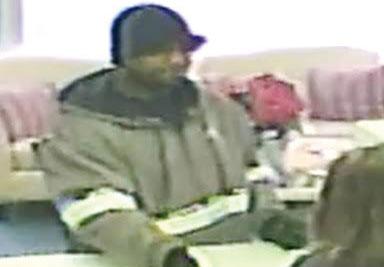 Sunset Hills police are asking for the public's help in locating and identifying a man who robbed the Community Quick Cash on Watson Road on Monday, Dec. 3.
The robbery happened at about 2 p.m. when a man entered the Community Quick Cash, 10214 Watson Road, and demanded money, according to the Sunset Hills Police Department.
No weapon was displayed or implied, and no one was injured.
The suspect left the business with an undetermined amount of cash. A gray jacket and black knit cap were found behind a nearby business, and the suspect was last seen driving a black, four-door Nissan Sentra east on Watson Road, police said. The Nissan was missing its right front hubcap.
The suspect is described as a black man with a mustache, roughly six feet tall and 35-40 years old. He was wearing a gray jacket with the words "Rocawear" across the back, a black knitted cap with a bill, dark colored pants and dark colored shoes with white soles.
Anyone who recognizes the suspect or has information about the crime is asked to contact the Sunset Hills Police Department at 314-849-4400.