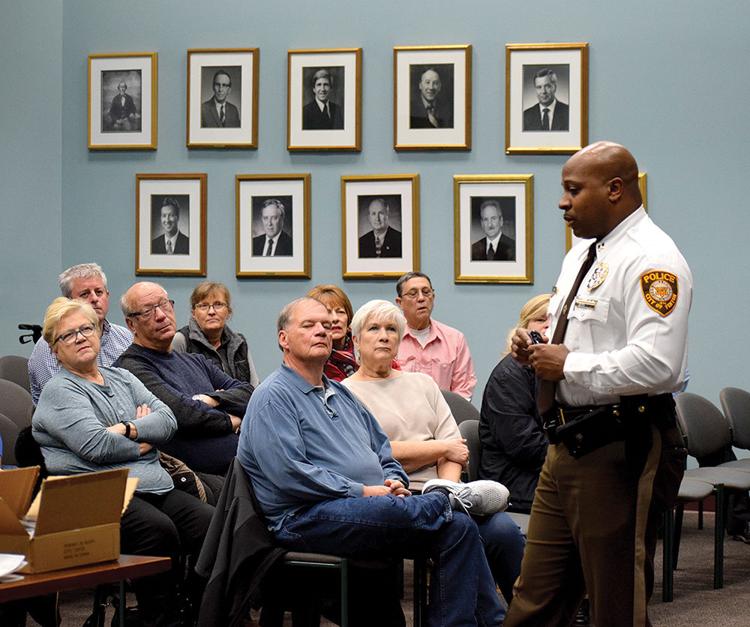 New security and crime-fighting tools were announced by St. Louis County Fenton Police Precinct officers during a Nov. 20 town hall forum at the city's chambers.
Fenton Police Capt. Norman Mann said new body-worn and in-car cameras soon will be launched. He also outlined the variety of officers protecting Fenton, who represent a collective average of 14.5 years of police experience. Additionally, he revealed Fenton-specific crime statistics, and explained how officers are working in unique ways with local homeless individuals to reduce the number of larcenies and trespassing incidences.
"Fenton is as safe to live and work in now as it was five years ago," said Mann, citing that the Gravois Bluffs shopping area is a magnet for crimes.
However, he stated criminals intentionally prey on areas where they think people feel comfortable and become lax about personal safety steps and behaviors.
He reported 96 percent of local crimes are property-related versus person-related.
The new body cameras — made possible through Proposition P funding — to be worn by officers will be uniquely embedded inside their uniforms and outer wear so they can still operate in rain or harsh weather. The cameras were developed to be activated by the officers themselves, and are sensor-triggered by police vehicle lights/sirens going on, when officers start running or when officers draw their guns.
Mann also communicated officers will be using new taser devices that allow them to deploy two bursts before having to reload necessary cartridges.
"We'll be better able to handle multiple suspects, and the new taser should help reduce potential injuries for both officers and those being apprehended, when we don't have to go hands-on," added Mann.
Indicating that police "can't arrest their way out of homelessness community problems," Mann admitted they are not ignoring the issue, either. He said they're attempting to develop an internal database regarding repeat homeless individuals to match them with family assistance or community services offered by entities, such as United Way, so they can get the mental health or substance recovery help needed. He said officers even have pooled their own money to provide a motel room for one homeless person.
With the holiday season approaching, officers remind that it is best to be at home when receiving retail deliveries or to arrange to have online purchased items to be delivered to shipping centers.
For overall personal safety, Mann recommends locking residential doors, not leaving valuables in autos, not leaving key fobs or purses in vehicles, closing garage doors when unattended, being vigilant to phone-based scams, not meeting people in private places to exchange online purchases, and establishing the daily 9 p.m. routine of checking on these matters.
Officers said a current scam involves receiving phone calls about missing court dates and arrest warrants being issued; a person's warrant then "can be released" by sending $2,000 to the caller.
Mann also confirmed they entered into a partnership with the doorbell company Ring to establish quick ways to request access to footage from residents' recordings when criminal incidences occur and to issue police alerts through the Neighbors by Ring app. Officers consider this community camera plan the "next generation of neighborhood watch programs."
St. Louis County Auto Theft Unit detective Jacob Maechling told attendees a vehicle is stolen every 25.5 seconds in the United States. He added that 75 percent of stolen autos are due to owners leaving the keys in them.
"Wheel thefts are big right now, and many people are making it easy for criminals to steal their cars because they are warming them up with colder weather here," said Maechling.
He said another popular stealing technique is for criminals to watch who leaves vehicles running at gas or convenience stations while going inside the centers.
Maechling said it is vital to not leave vehicles unlocked, particularly with gift packages or valuables showing. He said using The Club steering wheel locks do deter criminals.