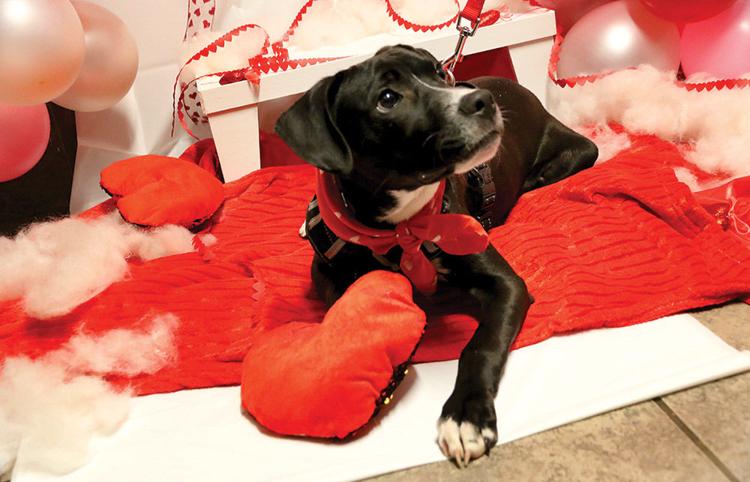 Whiskers and wags in addition to traditional V-Day kisses sounds splendid to local animal lovers. 
To adopt a new furry friend during this season of love, consider checking the Crestwood Animal Shelter, otherwise known as "The Little Shelter That Could." Founded in 2009, the independent shelter formerly was the city's animal control location. The city still owns the building and leases it to the nonprofit organization for a minimal annual amount. 
"We can assist with reconnecting found local animals with their owners through using our microchip reader, but if those owners aren't located, we'll help find a loving home for them," said Lisa Gallina, Crestwood Animal Shelter president. 
"We also adopt out animals pulled from overcrowded animal control facilities or relinquishment situations on a case-by-case basis. Our passionate volunteers believe our Crestwood community deserves a safety net for homeless domesticated animals," she added. 
Puppy love and cat camaraderie are celebrated each day through mini 'paw-ties' among this caring group.
This no-kill adoption center, located at 9225 Whitecliff Park Lane, is operated by approximately 50 volunteers of Friends of Animal Control and Rescue, a Crestwood-based 501(c)(3) organization dedicated to the care and welfare of animals.  
"We couldn't do it without our volunteers. We have two cat shifts a day, and three to four dog shifts, too, plus substitute volunteers and those who help with special events," Gallina said. 
One of those devoted volunteers is Crestwood resident Jessica Cook. Cook has been donating her time for about a year.
"I love everything about helping this shelter. While we don't get a paycheck, I'm getting paid in a different way because my heart is full every time I'm with the shelter animals," Cook confirmed. "I wanted a million cats and I obviously can't have that. Volunteering for animals who need extra attention is the next best thing."
Although Cook covers a night shift in the cat room at the shelter, she said she makes a beeline to the center any time she's having a rough day. 
"It's so much fun to let 10 cats out in the same room to play and love on them — it's the best," she said. 
More volunteers are always welcome and needed, Cook said, even those with crazy life schedules. She said it still helps to have fill-in volunteers who can't make repeating daily or weekly commitments.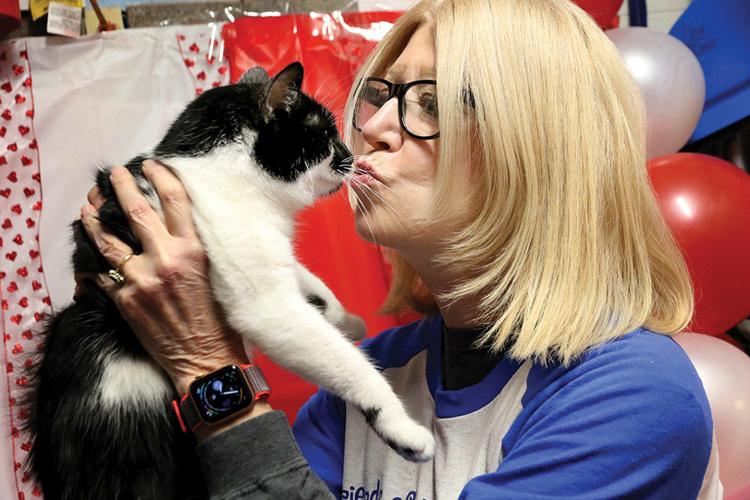 Feb. 15 Adoption Event
While the Crestwood Animal Shelter doesn't have standing public hours of operation, its volunteers hold once-a-month adoption events. Interested pet parents also can follow the group's postings on Facebook or check the adoptables tab online at www.crestwoodanimalshelter.org, and make appointments to meet available pets by emailing to mustanggirl9401@yahoo.com or calling 314-691-3020.
This month's adoption event will be Feb. 15 from 11 a.m. to 2 p.m. at the shelter. 
Adoption fees are normally $150 for dogs and $80 for cats. Adopters should inquire about adoption fees for puppies and kittens. In honor of 2020 Valentine's Day, shelter volunteers will decrease adoption rates by $20 on Feb. 15. 
During 2019, Gallina said they adopted out 63 cats and 15 dogs. In 2018, they adopted out 50 cats and 28 dogs. 
"The dedication of the volunteers is incredible," reflected Gallina. 
To be considered as a pet foster 'paw-rent' for this small shelter, one must be 21 years of age or older. 
"You just need to fill out the foster application and someone from the Foster/Adoption Team will contact you," she said. 
"Like Having A Newborn"
One recent foster parent was Crestwood Alderwoman Mary Stadter, who supported the shelter group getting a grant to establish its initial independence. Just last October, there arose a desperate need to rescue a 3-week-old kitten that needed around-the-clock bottle-feeding or face being euthanized in his untimely situation.
Stadter, a financial donor of the shelter and former volunteer for Kirkwood Wildlife Rescue, was called on by the shelter's leaders to consider temporarily fostering the kitten. 
"It was like having a newborn in the house again, with 2:30 a.m. feedings. It was only supposed to be until he was five weeks or so old, and could be adopted," she recalled. 
"But after six weeks, I was really attached to him. It was like he was in a love affair with everyone in our whole house, including our other cats. It was our first time fostering, and now Pumpkin is a wonderful member of our family as a happy 'foster failure.' We got him on Halloween, he's orange, and that was just a name that stuck, and so did he with us," she said. 
Stadter said she's had such pleasant experiences with the shelter group, she will support their efforts "for as long as humanly possible."
This considerate group of four-legged admirers functions solely on donations and fundraisers; last year, they hosted a trivia night, bingo event and a pet pictures with Santa setting.