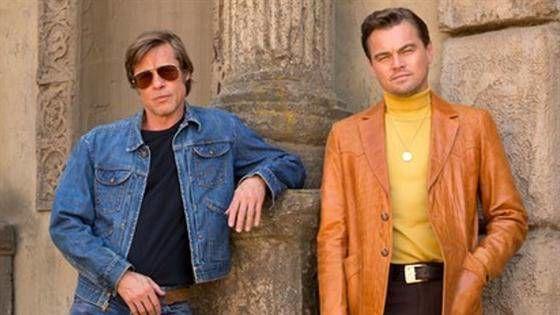 Editor's Note: Rated R for language throughout, some strong graphic violence, drug use, and sexual references.
The Plot: Los Angeles 1969. Those groovy '60s were in full swing – free-spirited hippie chicks, foxy ladies dancing the Boogaloo, Frug and Watusi at the Playboy Mansion's pool parties, and show business types living an envious life of presumed luxury in the Hollywood Hills. The biz is changing and fading TV western star Rick Dalton (Leonardo DiCaprio) and his longtime stunt double Cliff Booth (Brad Pitt) are trying to stay viable. Dalton's new neighbors in Benedict Canyon are actress Sharon Tate and her husband, director Roman Polanski, leasing a house once occupied by music producer Terry Melcher (Doris Day's son), and Dennis Wilson of the Beach Boys. The notorious Manson Family, who are squatting at the Spahn Movie Ranch, are intertwined with real and fictional characters.
Lynn's Take: Brilliantly realized with a virtuoso cast, writer-director Quentin Tarantino's "Once Upon a Time... in Hollywood" is his richly textured magnum opus, his ninth and most complete film.
The sprawling and ambitious memory piece revisiting the golden age of Hollywood features multiple fascinating storylines. Tarantino, an unconventional storyteller, uses some true-life characters and fictional composites.
Framed by a stunning backdrop of what L.A. looked like 50 years ago, this film is also a remarkable visual and cultural treasure trove. As Cliff cruises to the studio backlots in Rick's Cadillac Coupe de Ville, we see a splendid recreation of Hollywood hotspots and movie marquees. Musso and Frank's Grill! El Coyote!
With the precision of a museum archivist and the keen eye of a film historian, Tarantino immerses us into nostalgia, focusing on the mechanics of moviemaking and the episodic content of network television. The meticulous detail is impressive -- every item is chosen for a reason, from the cocktail shakers of whiskey sours to pit-bull dog food.
Splendidly showcasing the lifestyles of an industry town, we are immediately engaged. And costume designer Arianne Phillips' retro flair nails each character's personality.
Tarantino's trademark dialogue crackles with inside tidbits, historical facts and well-placed humor. His distinctive zippy conversational style highlights the exchanges between good friends, as Cliff feeds Rick's fragile ego, and the two actors are so fluid in their delivery.
Even the small scenes are relevatory. Beautiful actress Sharon Tate (a splendid Margot Robbie), depicted as sweet in her vignettes, is shown watching one of her movies with paying customers -- a wonderful glimpse at the woman behind the historic headlines.
Whether or not you are familiar with the heinous deeds of the very creepy and cult-like Manson Family, the way that the group is portrayed here builds suspense so disturbingly as it's nearly unbearable. A sense of dread permeates every scene featuring one of those wayward guys or gals. The story isn't as prominent as you might think, especially if you have seen trailers, but nevertheless has a major impact – and imparts those uneasy feelings early on, as something's always off-kilter.
The technical elements are at such a high level of achievement, with three-time Oscar winning cinematographer Robert Richardson's beautifully lit crisp artistic work award-worthy and production designer Barbara Ling a shoo-in for year-end accolades. Every needle dropped on a vinyl record, every black-and-white commercial airing on a vintage TV set and all the illuminated neon signs as twilight falls on Aug. 8, 1969 create a mood that meshes perfectly into this rooted-in-reality fantasy world Tarantino has conjured up.
As for his signature soundtracks, Tarantino is a master at song selection and punctuating moods with music. This may be his finest curated work, the best integration of sight and sound yet. He has carefully chosen Top 40 songs blaring from car radios or the pop darlings of the day on the home stereos to reflect these moments in time.
But all the accoutrements would mean nothing without a first-rate cast, and his knack for mixing old stars with fresh faces is another element to marvel at, and it pays off handsomely.
The first union of Tarantino veterans Leonardo DiCaprio ("Django Unchained") and a never-better Brad Pitt ("Inglorious Basterds," "True Romance") is a magical match. DiCaprio's heavy-drinking vain has-been actor pairs well with Pitt as a journeyman stunt double with a sly nonchalance that creates an air of mystery about him. The handsome actors are given weathered looks, which lends their roles a gravitas, an intriguing combination of lightness and darkness.
DiCaprio's best scene is a long-winded chat with a precocious child actor, then over-acting as a guest star on a new TV western, only to flub up a scene, have a meltdown in the trailer, get it together and return with a noteworthy intensity.
Well-cast Al Pacino is a Hollywood agent and regular Kurt Russell is a stunt man, with Timothy Olyphant portraying nice-guy actor James Stacy and Damian Lewis as Steve McQueen. Bruce Dern, who replaced Burt Reynolds after he died, has a cameo as ranch owner George Spahn.
Newcomer Mike Moh is a terrific Bruce Lee and both Dakota Fanning a chilling Squeaky Fromme and Emile Hirsch a surprising Jay Sebring.
The offspring of Hollywood A-listers can be spotted too – Margaret Qualley, Andie McDowell's daughter, is Pussycat; Maya Hawke, daughter of Ethan Hawke and Uma Thurman, is a flower child; Rumer Willis, daughter of Bruce Willis and Demi Moore, is actress Joanne Pettet; and Harley Quinn Smith, daughter of director Kevin Smith, is one of the Family.
Tarantino has been a polarizing figure since directing his first film, "Reservoir Dogs," in 1992, but there is no denying his skills and talent, nor his love of movies – and the whole process. This film is as much a valentine to Los Angeles and old-school Hollywood as it is a multi-layered singular vision, and perhaps his most disciplined film to date. He still meanders with those free-wheeling riffs and I'm not entirely sold on how this wraps up.
Yet, whatever issues people have – and it's not flawless – one must concede it is original, and that is a rare thing these days.