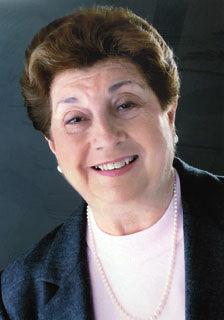 Schiller, Mary Ann. We are saddened to share that Mary Ann Schiller, former administrative assistant to the Affton School District superintendent, secretary to the Affton Board of Education, and namesake of the district's administration center, passed away on Oct. 28, 2018. She was 85 years old.
Mary Ann (Alvarez) Schiller graduated from Affton High School in 1951, where she met her husband of 63 years, William Schiller. Once named "An Affton Legend," Mrs. Schiller retired in 2010 from the Affton School District after 60 years on the job.
During her time with the district, she served as administrative assistant to eight superintendents and as board secretary to nearly 70 board members. She was a recipient of the Service and Outstanding Achievement Recognition (SOAR) Award in 1997 and was named the Affton Chamber of Commerce Citizen of the Year in 1999.
In 2005, Mrs. Schiller was inducted into the Affton Hall of Fame, and was named a Pioneer in Education by the Missouri Department of Elementary and Secondary Education in 2009. Mrs. Schiller's dedication to Affton School District and our community will never be forgotten.
If desired, expressions of sympathy may be made in Mrs. Schiller's memory to the Cornelia de Lange Syndrome Foundation. Visitation was held at the Hoffmeister South County Chapel, 1515 Lemay Ferry Road, 63125, on Thursday, Nov. 1, 2018, from 4 to 8 p.m.