Former St. Louis County Executive Steve Stenger was sentenced in federal court Friday, Aug. 9, to 46 months in prison, a $250,000 fine, three years' supervised release, $130,000 restitution and a $300 special assessment related to his guilty pleas to three felony counts of honest services bribery/mail fraud.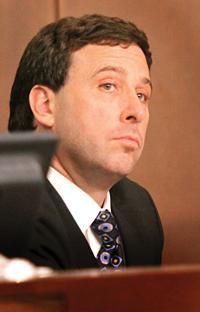 "Steve Stenger abused his power as an elected official to benefit himself," said Special Agent-in-Charge Richard Quinn of the FBI St. Louis Division. "Had the FBI and U.S. Attorney's Office not stopped Stenger from misusing taxpayer dollars for his personal gain, he would have continued to run St. Louis County into the ground. He will now have years in federal prison to reflect on the cost of his greed."
According to court documents and statements made in court, beginning in October 2014, before he was elected as the county executive, and continuing through Dec. 31, 2018, Stenger engaged in a systemic scheme to "defraud and deprive the citizens of St. Louis County of their right to his honest and faithful services by soliciting and accepting bribes in exchange for county contracts and grants."
The purpose of the scheme was for Stenger to secretly use his official position to enrich himself through soliciting and accepting campaign contributions from individuals and their companies in exchange for his favorable official action in issuing government contracts and grants to those political donors, according to court documents.
Stenger directed members of his executive staff, including his chief of staff and chief of policy, and various other high-level county employees to take steps to ensure that his political donors would win in the bidding process for various county contracts.
In doing so, other companies who expected a level playing field in the county's bidding process were victimized, as were the roughly one million residents of St. Louis County.
"For over four years, Stenger treated important county contracts and grants as something to barter away as if they were his own personal thank you gifts," according to Terri L. Dougherty, public affairs specialist for the U.S. Attorney's Office.
In one such example, Stenger solicited and received political donations from St. Louis businessman John Rallo. In exchange for campaign donations and several fundraising events, Stenger told the county's director of operations to award Rallo and his company, Cardinal Insurance, insurance contracts through St. Louis County during 2015 and 2016, according to court documents.
Documents say Stenger further directed Sheila Sweeney, the chief executive officer of the St. Louis Economic Development Partnership, to award Rallo and his other company, Cardinal Creative Consulting, a 2016 consulting contract for $130,000 through the St. Louis County Port Authority.
Additionally, Stenger took official action to ensure that Rallo and his company Wellston Holdings, LLC, obtained two properties in Wellston, which were held by the Land Clearance for Redevelopment Authority of St. Louis County during 2016 and 2017.
Stenger also admitted to steering a 2019 - 2021 state lobbying contract from the St. Louis Economic Development Partnership to a company identified as "Company One" in exchange for political donations and fundraising efforts from the company's owner.
Court documents say Stenger "took steps to hide, conceal and cover up his illegal conduct," which included making false public statements and directing others with knowledge of his scheme to make false public statements.
Assistant U.S. Attorney Hal Goldsmith said Stenger shattered the public's trust through his "illegal pay to play scheme aimed at filling his own political coffers."
"The residents of St. Louis County and St. Louis County government employees have suffered immeasurable harm as a result," he added. "The Department of Justice will continue to aggressively investigate and prosecute public corruption wherever it exists, and work to restore the public's trust in its elected officials."