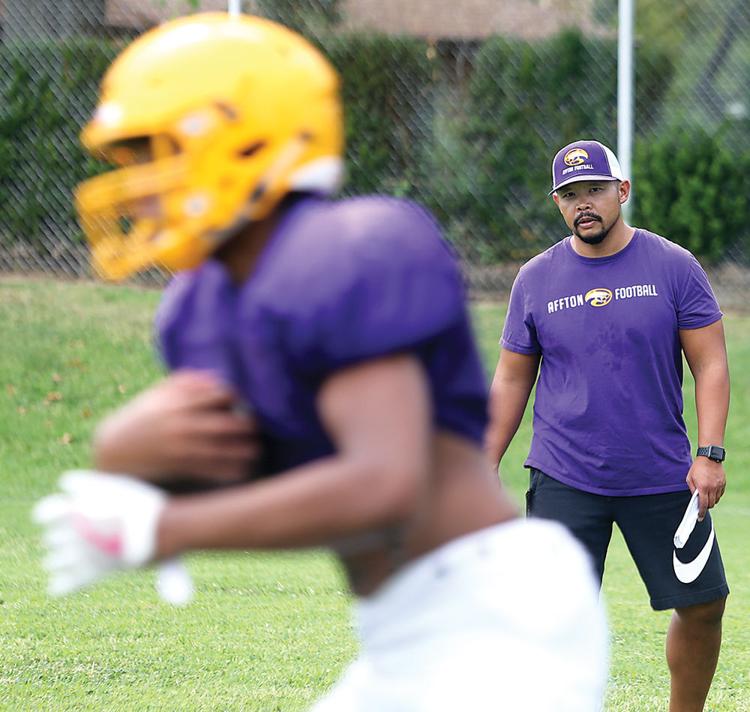 Though he has yet to play a game, Affton High School's first-year football coach Tony Muyco feels like he's already won.
Muyco's first summer practices have gone just as planned. He's gotten players to play with enthusiasm, act as a team, and create team chemistry — something Muyco said was missing last season.
"Our overall objective is to create a new level of energy," Muyco said. "We're trying to build a family culture. They give up for the good of the family. They're playing for the good of the family. It's something refreshing."
The team's mantra is an acronym for the word family — "For about me I love you." Treating each other as family members, said Muyco, promotes team play.
"(Muyco) has brought a whole new level of energy," said Chris Kappler, Affton's first-year athletic director. "He is a player's coach. He is a fan favorite with the players. He does a good job building relationships."
Muyco and Kappler replaced , Affton's head coach for the past 21 years (1997-2018) and also athletic director. Oliver left Affton at the end of the 2018-19 school year. He is now the head football and baseball coach at St. Pius X Catholic High School in Festus. Muyco said Oliver was a "good mentor, and a good friend, too."
Muyco served as an assistant coach for Oliver starting in 2000, most recently as offensive coordinator. He was promoted to his new position last spring. Muyco is Affton's eighth head coach since starting the program in 1957.
"I feel very humble to have gotten the job," said Muyco. "They trust me."
Affton returns four starters on offense and five on defense. Muyco said he plans to run multiple offenses and multiple defenses. His formation will be dependent on the opposition's game plan.
Sophomore quarterback Will Apple leads the offense, with a strong arm and legs.
"Will has been real consistent," Muyco said. "He is versatile. He's faster. He can throw and he can run. We just want him to manage the game."
The backfield also includes senior twins Calub and Cam Moore as well as sophomore Derrick Baker. The slot receiver will be Cam Moore. The wide receivers are senior Alex Hercules and juniors Tony Johnson and Jalen Johnson (no relation). The tight end is Jacob Kelmendi.
The offensive line includes guards Sean Chaplin, a sophomore, and junior Zack Haynes, junior center Caleb Wooden and tackles Alex Edgar, a senior, and junior Trevor Brock.
"We'll have to pound the ball as usual," Muyco said. "We'll surprise some people."
The defense will be competitive. Upfront will be Edgar, Brock, Chaplin, Calub Moore and Kelmendi. The outside linebackers will be junior Cam Hayes and sophomore David Kloeppel. The middle linebackers will be seniors Jacob Kelmendi and Lachlan Harlan. The secondary includes safeties Cam Moore and Tony Johnson and cornerback Jalen Johnson.
Senior Joe Rolwes returns as the placekicker. He will also handle the punting duties this season.
"It's all about the brotherhood and being part of a team with one objective," Muyco said.
And that objective is to improve on last season's 4-6 record. Affton hosts rival Lutheran South at 7 p.m. on Aug. 30. The Cougars suffered a 48-7 season-opening road loss to the Lancers in 2018. The two teams will compete for a traveling trophy.
"We're changing the mindset around here," Muyco said. "We can control the things we can and that's attitude, focus, and effort. It's always about being competitive. We want to do better than last year's record. We're trying to compete better and see what happens."