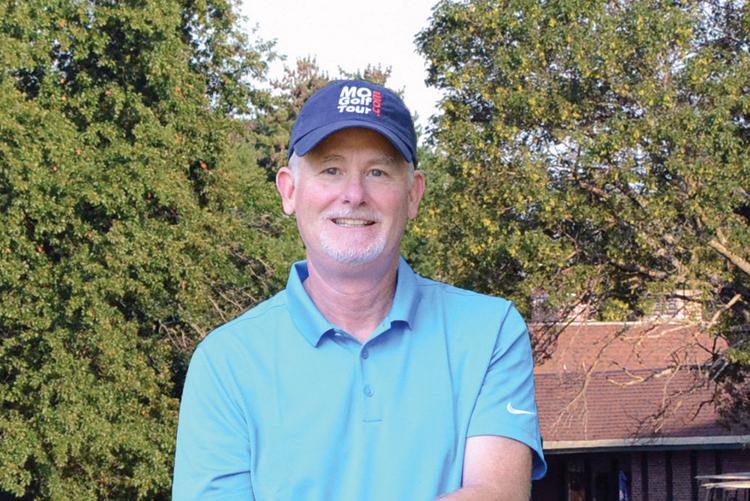 Mark Schupp wants to show off all Missouri has to offer when it comes to golf. To that end, he has created a website – that's not for hackers – called www.MoGolfTour.com where he has reviewed more than 350 courses in the state.
He reviews Show-Me-State courses with ratings from 1 to 5 golf balls, much as movie review websites rate movies with tomatoes or popcorn boxes. All is well in our neck of the woods, where local courses generally get a nice range of golf ball ratings on his new site.
"Algonquin and Westborough are both great courses here," said Schupp. "Most of the courses have welcomed me with open arms, since I am promoting the game of golf. I have been called the Johnny Appleseed of Missouri golf. I'm out spreading the seeds of golf across the Show Me State.
"I love Greenbriar, too" said Schupp. "It's course is not claustrophobic and provides a very well-rounded and high-quality test of members' golfing skills. Greenbriar was extraordinarily welcoming from when I first contacted them about my site. Greenbriar liked the pictures that I took for MoGolfTour so much that they are using them on their website."
Schupp is generous giving out his golf ball ratings for Algonquin in Webster Groves and Greenbriar in Kirkwood. A bit farther south, Sunset Country Club and Tapawingo National Golf Club, also earn Schupp's praise, and rate somewhere between 3 and 4 golf balls.
"Tapawingo is one of the best public courses in Missouri in my mind," said Schupp. "In fact, it made my list of the Best Five Public Courses in the state. All courses have had their issues from time to time, and Tapawingo is no exception.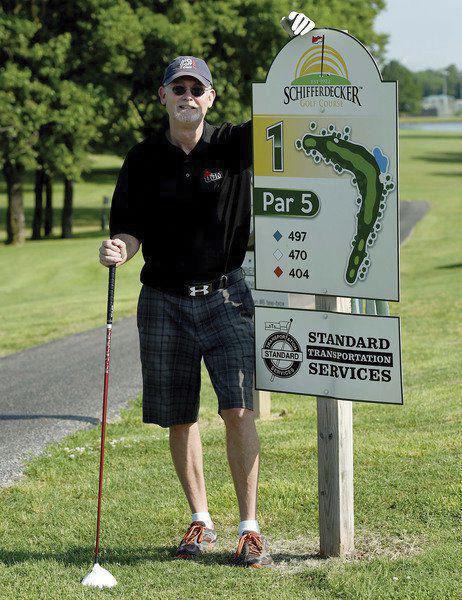 "Yes, they had flooding recently but all 18 holes are open now. Almost every course I have played this summer experienced 'Winter Kill,' so they have had to replace many of their fairways. I am a member at Norwood Hills Country Club and they, too, were affected by this weather condition, but they've rebounded quite nicely. "
More Exotic Courses
Schupp's visits to golf courses in St. Louis County have been relatively tame compared to some of his excursions in the far corners of Missouri.
"I am confident that I have been on more Missouri highways and country roads than anyone – ever," said Schupp.. "There is a golf course in every nook and cranny of our state. Golf fanatics can pick any area of the state and map out a golf trip for as many days as you want to play one great course per day.
"If you're adventurous, include the not-so-great courses just to get a taste of rural Missouri," added Schupp. "If you have never played a sand green course, you should. There are about 10 in the state, almost always in very small communities, like Grant City, Lafayette and Holden. Most people in St. Louis have never heard of these towns."
"Missouri even boasts of a couple of courses that are called Pasture Golf Courses, which also have sand greens, but you probably need to use your pickup truck in lieu of a golf cart," Schupp said.
Schupp said if you only want to play pristine courses, you should probably avoid Redneck Country Club. It's located about 15 miles southwest of Warrensburg in Holden, Missouri. The course is rough and the clubhouse is very rustic in looks, fragrance and vibes with horseshoe pits just outside its doors.
When traveling to rural courses, Schupp said it's a must to eat at local establishments. For example, he said that if you make the trek to the Carthage Golf Course in southwest Missouri, you must have dinner afterward at Lucky J Restaurant and Arena.
The "arena" reference is a rodeo and training facility. As you sit at a table eating a steak, you can watch cowpokes learning to rope calves on horseback. A pretty cool experience for city boy, according to Schupp.
Schupp sold his St. Louis advertising and marketing firm in 2014 and "retired" to begin his golf odyssey. Creating the www.MoGolfTour.com website, keeping it up to date, contacting courses, planning his travel – these things have kept him busier than his job ever he did.
All a labor of love, Schupp makes sure his website viewers get the most-complete information possible on a particular course. He takes note of the quality-to-cost ratio, course yardage, walk-ability, slope rating, type of fairway and rough grasses and green type, along with occasional comments from management and grounds keepers.
Golf, Business, Politics
Schupp is gaining notoriety for his golf website, but he admitted he has a long way to go to achieve the visibility of his wife. State Sen. Jill Schupp, D-Creve Coeur, served in the Missouri House for four terms before being elected to Senate in 2014.
Jill Schupp is running for a second term in the Senate in 2020. Her district runs from I-70 on the north to Manchester Road on the south, and takes in a large portion of Des Peres.
Mark Schupp said he has learned that golf, business and politics can all make for a compatible mix. He said that when he started to travel Missouri to visit 375 golf courses in the state, his wife decided to join him on some stretches for what she called "The Sena-tour."
"While I played golf at local courses in communities like Poplar Bluff, Cape Girardeau, Hannibal and Warrensburg, Jill would meet with the local state senator and travel around their district talking with constituents and business owners," Schupp explained.
"She wanted to understand each community's issues, so that she could really understand her fellow senator's perspective in legislative session," said Schupp. "A couple of times, I played golf with the state Senator and Jill worked."
Interestingly enough, Sen. Dave Schatz, R-Sullivan, actually owns the Sullivan Country Club reviewed on MoGolfTour.com. Schupp said playing with Schatz was " just good fun."
Although Mark Schupp has been urged to do golf websites for Kansas or Iowa, he is actually interested in playing a round of golf with President Donald J. Trump in the near future. He said he has not read the best seller, "Commander in Cheat: How Golf Explains Trump."
"I have heard that his Secret Service handle is Pelé because of how adept he is at kicking his ball," said Schupp. "I actually tweeted Trump a couple weeks ago challenging him to a round, knowing that he claims to be a scratch golfer. I'm a 10 index but am pretty confident I could take him, if I don't allow him to cheat. Have you seen that guy swing? There is no way he is a scratch golfer."