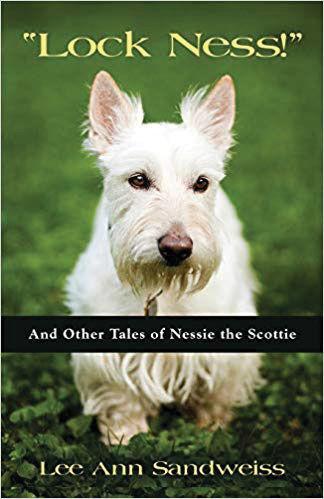 Lee Ann Sandweiss, who describes herself as a St. Louisan currently living in Indiana, has written a memoir about life with her dog titled "Lock Ness! And Other Tales of Nessie the Scottie." Sandweiss adds to a long-standing and growing genre of books about dogs and the people who love them.
Sandweiss writes about the 12 years she and her family spent with their beloved Scottish Terrier, Nessie. She writes with humor and affection about Nessie's habits and personality. The collection of stories, from the night the willful puppy chewed a hole in a new area rug, to the tiny dog facing off against a large deer in the backyard, to the family's sad final trip to the veterinarian's office, illustrate how a dog can disrupt, take over, and enrich your life.
Sandweiss discovered that when you live with a Scottish Terrier, you inevitably begin to acquire household items decorated with images of Scotties. Their collection of Scottie tchotchkes includes salt-and-pepper shakers, a cookie jar, tea towels, juice glasses and socks.
Sandweiss takes readers through to Nessie's final illness. The end of Nessie's story will surely prompt readers who have loved and lost a pet to take a few moments to recall their own difficult goodbyes.   
A portion of the proceeds from Sandweiss' book will benefit the St. Louis Scottish Terrier Rescue, a non-profit that helps provide medical care and places Scotties in loving homes throughout the Midwest.
The book launch for "Lock Ness! And Other Tales of Nessie the Scottie" will be held from 3 to 4 p.m. on Sunday, March 1, at The Novel Neighbor, 7905 Big Bend Blvd. Call 314-738-9384 for more information.