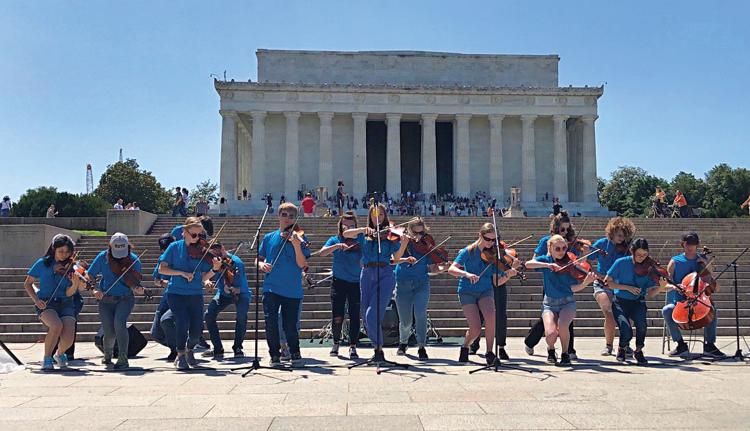 The Lindbergh High School Strolling Strings group, comprising 19 musicians, three chaperones and two directors, travelled to Washington, D.C., the first week in June. The group raised $25,000 through two trivia nights and other smaller events over the past two years to fund the trip.
Known for "strolling" throughout the audience as they play, the group performed on the steps of the Lincoln Memorial, the Gettysburg National Military Park and the Washington, D.C., Veterans Administration Medical Center.
Their performances were well-received by the public visiting these historic sites. The group played a medley of the five Armed Forces songs and during a special moment at the VA Medical Center performance — on the 75th anniversary of D Day — an older patient being wheeled by on a gurney gave a full salute to the students.
On the first day of the trip, the Strollers visited the U.S. Army Strolling Strings group at Fort Myer Military Base in Arlington, Virginia, located next to Arlington National Cemetery.
The Lindbergh students were able to ask questions of the classically trained musicians and watch them perform. The Army group was surprised at the similarities between Lindbergh's student group and their own. The students learned that the Army group performs at the request of the Army Chief of Staff, the White House, and many other governmental entities.