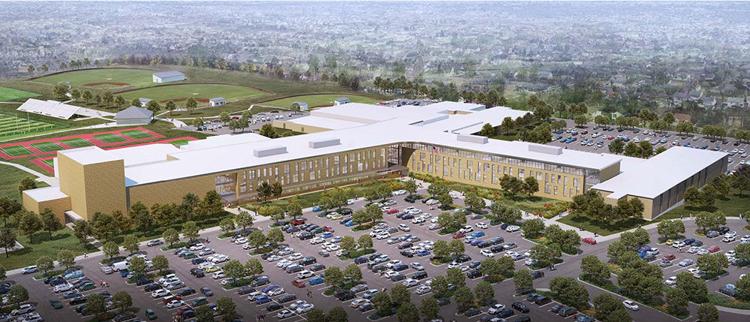 If voters approve, a renovated and reconstructed Lindbergh High School will look much different than it does today, and potential school shooters will have a much harder time getting into Lindbergh Schools buildings than they would now.
The changes would come with passage of the $105 million Proposition S (for schools and safety) bond issue. The Lindbergh Schools Board of Education unanimously voted on Jan. 16 to put the measure on the April 2 ballot.
Passage of Prop S would not bring an increase in the property tax rate. Instead, existing bond payments that were set to run out in 2035 would be stretched out to 2041. The current debt service rate of .833 per $100 assessed value would not increase.
"It is imperative in today's world that we provide secure, safe facilities for all of our Lindbergh students and staff," Superintendent Tony Lake said in a statement. "In addition to providing an outstanding educational experience, our number one priority for every Lindbergh child we serve is to keep them safe while they are in our care."
Lindbergh officials long have worried that the high school is outdated and weak on security.
The bond issue also would provide money to build more secure entrances for visitors at both middle schools and Crestwood, Long and Kennerly elementary schools. Under that system, there would be two sets of locked doors. Visitors would push a buzzer, state their purpose and be allowed into an enclosed area with a camera. Then they would go through the office, where they would show their driver's license, sign in and receive a pass.
The Concord, Dressel and Sappington elementary schools and both early childhood buildings already have secure entrances.
Designed as an "open campus," the high school has more than 60 doors leading outside. Students walk in the same area as vehicles moving around.
Preliminary conceptual drawings show an open campus in a basically L-shaped design on the outside. The capacity would be 2,600 students, about 300 more than the number of students now.
Plans are to renovate some existing sections and build others to connect some of the current buildings. Sections that are in the worst shape would be destroyed. The oldest part of the high school is nearly 70 years old. Systems like plumbing, heating and air conditioning all must be replaced.
Plans also call for moving three maintenance and landscape shops off the high school campus.
A survey taken of about 1,600 district residents shows they might favor such a bond issue. That survey, by MGT Consulting, showed that 91 percent would support such a plan and that 86 percent thought the community would support it.
"In addition to providing a flexible, future-ready space that will serve generations of high school students in our community, Prop S also will ensure that Lindbergh facilities are meeting best practices for safety standards to keep our children safe," Board President Karen Schuster said. "All of these things make the Lindbergh district an attractive location for families, which keeps home values strong and strengthens our community as a whole."