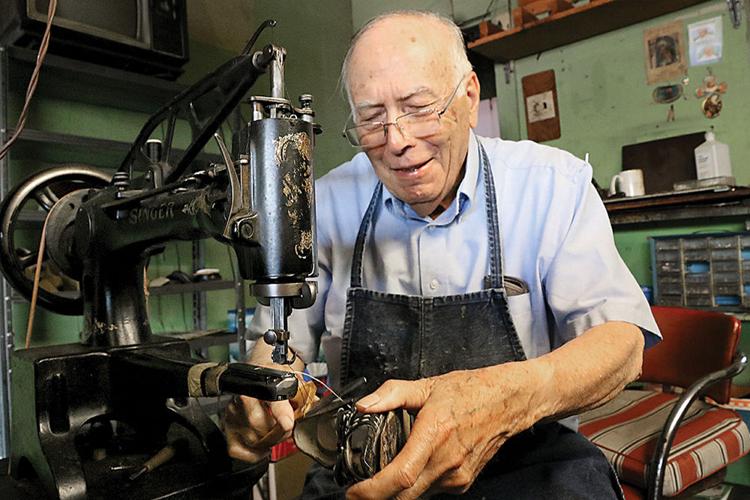 They were once known as "cobblers," and the practice of their trade had nothing to do with peaches, blackberries or brown sugar. They carved out a livelihood for themselves and their families using manual dexterity and attention to detail.
Today, like television repairmen, shoemakers and shoe repairmen aren't nearly as common as they once were, as we "advance" toward becoming a throwaway society. They can still be found here and there, but don't look for John LoCascio at his Gravois Road shop in Affton. After 60 years, he's about to take his well-earned retirement.
"There used to be more than 25 shoe repair shops (in the St. Louis area). Now there's 14. Thirteen, when I go out," said the 87-year-old.
LoCascio learned how to make and repair shoes growing up in Italy, at his uncle's shoe shop. He began working on shoes when he was 10 years old. After World War II, LoCascio emigrated to the United States and took a job in the Florsheim shoe factory in Chicago.
"I was there 10 years when they closed the factory and moved all the equipment to India. Six-hundred people lost their jobs," LoCascio said. "I had a sister (in the St. Louis area) so I came here. In 1969, I found this shop for myself and it's been a good location."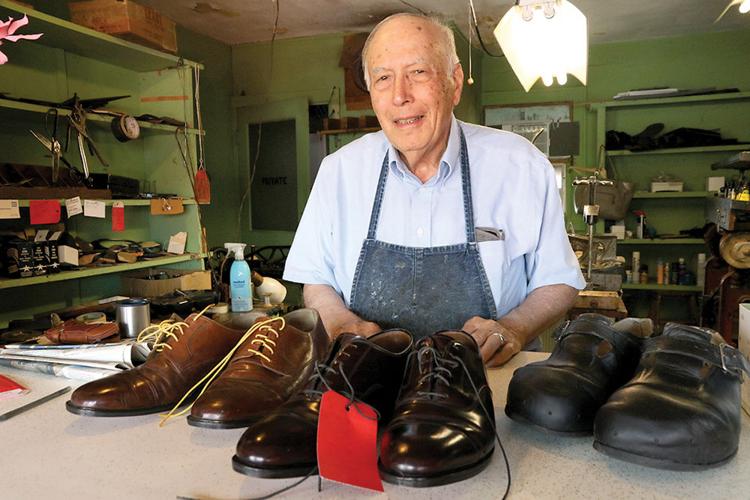 The storefront sign identifying John's Shoe Repair, long a source of pride for LoCascio, is now obscured by a red-on-white banner proclaiming the shop is closing at the end of this month.
Stepping inside the modest shop at 9414 Gravois Road is a trip back in time. A sturdy oak counter separates the workshop from the customer waiting area. Inside are the tools of shoe repair – a tall mechanical stitcher, awls, over-sized sewing needles, spools of thread – laid out on a pair of tables.
A typical business day for LoCascio during his heyday meant working on a dozen to 15 pairs of shoes.
"Then, sometimes, one or two. Or nothing, even," he said.
LoCascio said over the past three or four years, business has slowed considerably. A handful of loyal customers kept him going.
"People change, what they want changes. They want to wear cheap shoes they buy for less than $50 that aren't going to last, then they buy another pair," he said. "You never used to see men wearing tennis shoes all the time, unless they were playing sports. Now, they wear them everywhere.
"But some people still want good, leather dress shoes or work shoes," he added. "Mostly men. They pay $200 or more for them; they're good shoes and they want to keep them. Those are my customers."
John's daughter, Christine LoCascio, who was visiting before returning to Washington, D.C., said watching her dad preparing to close up shop and retire is "kind of sad. It's his hobby, he loves what he does," she said.
LoCascio has had brushes with famous and semi-famous folks during his half-century on Gravois Road.
A few years before leaving for Los Angeles with his Rams teammates, placekicker Greg Zuerlein had LoCascio customize a kicking shoe for him.
"John Goodman's mother has brought shoes in a few times," said Christine LoCascio.
The suppliers LoCascio worked with over the years have closed or moved out of the area, leaving him with one shoe component and accessory company in Milwaukee to depend on.
"That's when I realized it's about time to quit," he said.
Within the next few weeks, a consignment company will take his shoe repair equipment and materials "and sell it someplace in South America, I think."
A handful of unfinished repair jobs are still sitting on LoCascio's shop shelves in want of a heel, a sole or some stitching. He'll put his last professional energies into them in the coming days before shuffling off to retirement "and working around the house."