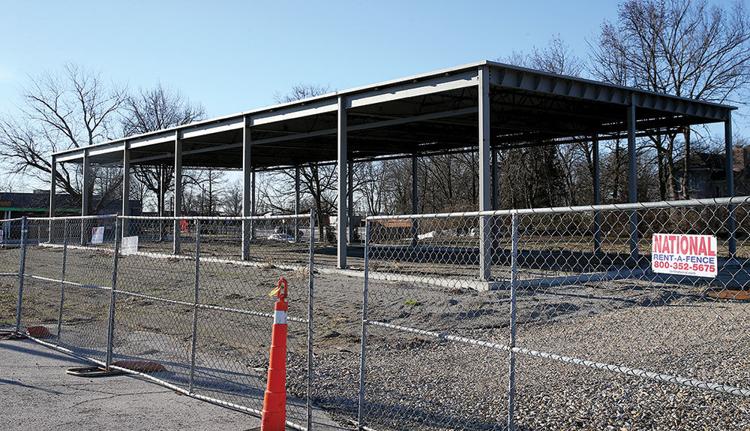 A self-confessed, humbled Steve Saladin on Jan. 8 gained from the Sunset Hills Board of Aldermen a 90-day reprieve to make a go of his three-year plan to build a drive-thru Jimmy John's sandwich shop at 3751 S. Lindbergh Blvd.
The Jimmy John's franchisee won a hard-fought, much-resisted approval to construct the shop in December of 2016, but the project to date has not gotten past the pouring of a foundation and erection of a steel skeleton. The unsightly and some say unsafe conglomeration of concrete, girders and rebar has stood as is for more than a year and generated numerous complaints.
The city declared the site a public nuisance and Saladin, according to City Attorney Robert Jones, addressed some issues. He was then given an additional 90 days to resume construction on the site or remove the skeleton but failed to meet that deadline.
At Tuesday's meeting, the board was prepared to consider soliciting bids for demolishing the structure, anticipating it could cost $30,000 or more. But Saladin publicly explained to the board he has run into capital problems that brought construction to a halt. He told the board he will run the gamut of financing options to get the project under way again, if given time.
Saladin said it was "humbling" to have to come before the board.
"It was never my intention to cause this angst. This obviously has not gone the way I'd have wanted it," Saladin said.
So far, he has invested over $900,000 in the project, which was initially to include a retail building he planned to lease to a prospect. He later sought to draw a medical office business to the site, but the deal fell through.
He asked the board for a "stay of execution" — 90 days to show proof of financing plus 30 days to resume construction.
"Or else, the city will begin demolition of the site. In addition, he will be asked to come back to the next board meeting to provide an update," said City Administrator Eric Sterman.
Mayor Pat Fribis said Saladin will have to report at each board meeting until there is a change in status.
Alderman Dee Baebler was the drive-thru Jimmy John's most vocal critic.
"I have lost faith that this will happen," Baebler said.