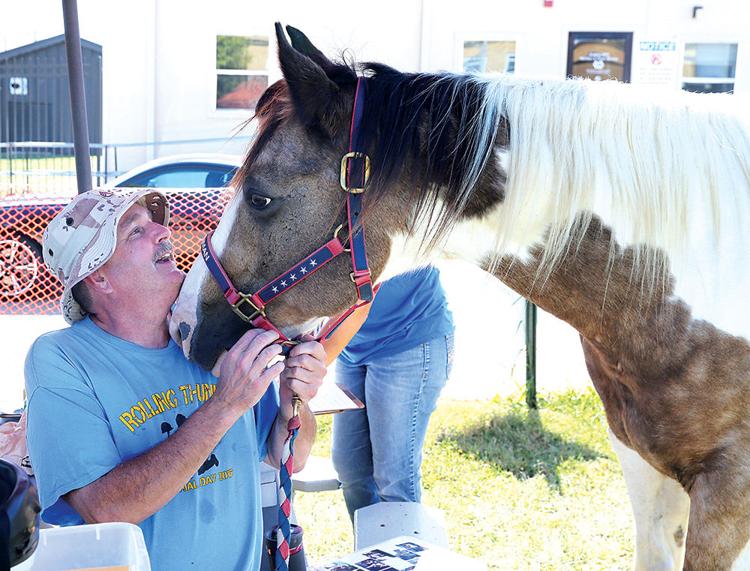 Nick Fjone has helped veterans address physical and mental difficulties for four years at Jefferson Barracks. An equine therapy program volunteer, he knows first-hand how a four-hooved animal can help with vets' healing.
"Therapeutic horsemanship is just a proven remedy for so many issues," said Fjone. "Therapy can involve grooming, feeding, leading and caring for the horses and it reduces stress and just improves overall health."
A veteran himself, Fjone knows a little bit about stress, post-traumatic syndrome and the effects of combat. He served in the infantry in Vietnam in 1969-1970 and was in such hot spots as Hue and the Iron Triangle 20 miles north of Saigon.
Fjone drives from his home in Chesterfield to South County to serve in the equine-assisted therapy program several times a month. He learned about it at a fundraiser party for equine therapy assistance.
"It's actually been very therapeutic for me as a volunteer — the stories I could tell," said Fjone. "One time a counselor brought us a vet who would not speak and was totally withdrawn.
"Without speaking, I just gave him a brush to groom the horse and he took to it right away," recalled Fjone. "After a bit, he handed the brush back to me, looked at me, and said, 'This is the best day of my life.' That really touched me and we both had tears in our eyes."
Psychotherapists note that horses can be an emotional mirror for humans. As herd and prey animals, they have a strong emotional sense used for survival. That heightened emotional sense means they can "read" what humans are feeling and respond accordingly.
Horses also are majestic and can provide unique experiences. Volunteers with the equine therapy program at Jefferson Barracks frequently use the term "miraculous" to describe their interactions with veterans who benefit from the program.
Veterans recovering from trauma, substance abuse or depression often comment on their surprise at being able to bond with something so big. Because of past experiences, they never thought they could ever again feel that connection with another living being.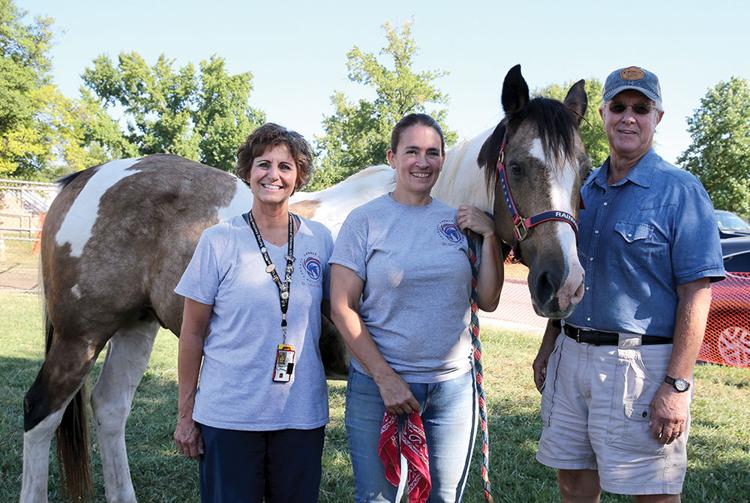 Lots To Brag About
Therapeutic recreational specialist Debbie Touchette is not too shy to brag about what's become the "Equine Saddle Up" program. After the idea was initially hatched, it took several long years to get the program in place.
"We're proud of what we have now," said Touchette. "We are one of the only VA Hospitals that have large horses for riding," said Touchette. "Our rehab patients have had so much success reducing their physical mobility issues.
"However, the program also does so much for mental attitude, socialization, emotional control and self-discipline as well as self-esteem and self -image," Touchette added.
Generally, vets begin the program by learning about grooming and taking care of the horses. That part of "Saddle Up" has a calming effect on both horse and human and builds self-confidence.
Vets then learn how to lead the horse, both right and left; and, in the process, to overcome any fear or anxiety about being around a large, moving animal.
Vets can graduate to saddling up and riding the horse. And, if they enjoy, the entire experience, they may actually graduate to working part-time at a horse ranch or other equine facility. Vets can be in the equine program for as long as three or four months.
Touchette is proud to report that no taxpayer money is used for the therapy program. It's funded by grants and a great many fish fries and Bingo benefit events at VFW Halls.
Another feature that makes the "Equine Saddle Up" program especially helpful for veterans is that the horses come to Jefferson Barracks, the vets do not have to travel to where the horses are stabled.
"We can thank Ann Gioia for that," said Touchette. "As we were putting this program together, she ended up being the only trainer who would bring her horses here. She drives them here all the way from Gray Summit.
"Ann was in on the ground floor in 2012 when we started working on it," said Touchette. "She traveled all over the country to get various certifications. We got it up and going in 2014, so we've been saddling up now for five years."
A Promise To God
"I wanted a horse so bad when I was a little girl," said Gioia, a Webster Groves resident. "My father said that we did not need any 'hay burners.' But I prayed to God that I would someday have horses. I promised God that if my dream came true, I would share my horses.
"So, I am a horse owner now that I am an adult, and what could be better than to share my horses for a program like this?" asked Gioia. "I've seen vets get out of wheel chairs to groom the horses. I've seen vets on walkers lead the horses around and take them right and left."
Gioia recalled "a crabby Vietnam vet" who told her she was too young to know about the war or to tell him anything. However, after he developed an equine relationship, he opened up, smiled and became her friend.
On a recent Tuesday morning, three one-hour morning sessions began at 9 a.m. with a women's vet group; followed at 10 a.m. by recreation for veterans in the outpatient mode; finishing at 11 a.m. with a rehab program for vets with past substance abuse issues.
Andrew Geiger finds the program very uplifting, "just to get outside, and to see all the others enjoy being around horses – and that helps their moods."
Clifford Jarmon said he likes the exercises with the horses that build trust and communication. Daniel Zayas said he's learned to be very comfortable around the horses, and that they relieve his anxiety.
"This is so helpful," said Zayas. "I'm more relaxed actually 'doing' an activity, rather than listening to a lecture."
Grant Buxton, who was sporting a Missouri Tiger T-shirt, said he never rode a horse before he enlisted in the Equine Saddle Up program at Jefferson Barracks.
"I always had a fear of them since I was little kid," said Buxton. "I am riding a horse today and I feel that I've overcome my past fear. No fear."