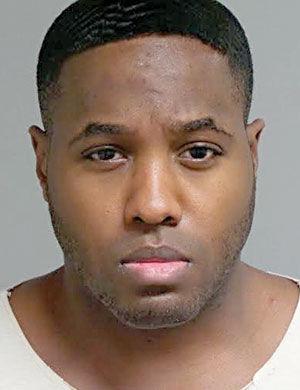 The owner of a hip hop dance studio in Sunset Hills has been charged with statutory rape for allegedly having sex with a student from one of his classes roughly four years ago.
Hip Hop Foundation Fanatics owner and dance instructor Nicholas Gates, 40, of the 1100 block of Goelz in East St. Louis, was charged Jan. 24 with second-degree statutory rape, according to the Sunset Hills Police Department and St. Louis County court records. He is being held on a $25,000 cash-only bond.
The charge alleges that Gates had sexual intercourse with a dance student sometime between Aug. 1, 2014, and Nov. 30, 2015, and that the student was younger than 17 years old at the time. Police said the victim, who is now an adult, recently came forward to report the incident. The statute of limitations for second-degree statutory rape is 30 years from the time a victim turns 18 years old.
Gates opened Hip Hop Foundation Fanatics in 2009 in the former ArtSpace at Crestwood Court, which has since been demolished. The studio is currently located at 12450 W. Watson Road in the Sunset Hills Activity Center.
Sgt. Robbie Hagen with the Sunset Hills Police Department said Hip Hop Foundation Fanatics was "in operation up until the time Mr. Gates was arrested (on Jan. 23), but is not at this time, as far as we know."
The studio's Facebook page hasn't been updated since 2014, and phone calls to the number listed on its website go to a voicemail that does not identify it as Hip Hop Foundation Fanatics. Those calls were not returned.
Prior to opening Hip Hop Foundation Fanatics, Gates helped create a hip hop curriculum for COCA, the Center of Creative Arts in University City. Gates, known in the dance community for his unique and fresh approach to teaching breakdancing, has traveled the country with his dance, choreography, sculpting, design and fashion talents.
In the first season of TV's "So You Think You Can Dance" in 2005, he was the only breakdancer to make it through to the top 25, according to the Hip Hop Foundation Fanatics website.
Gates appeared in the viral music video for "Teach Me How to Dougie" in 2011, and has done choreography and other work with the Black Eyed Peas, Nelly, Carlos Santana, Cirque du Soleil and others. He also worked on Disney's 2010 "Step Up 3" dance movie.
Sunset Hills Police say the investigation is ongoing. Anyone with information on Gates is asked to call detectives at 314-849-4400.