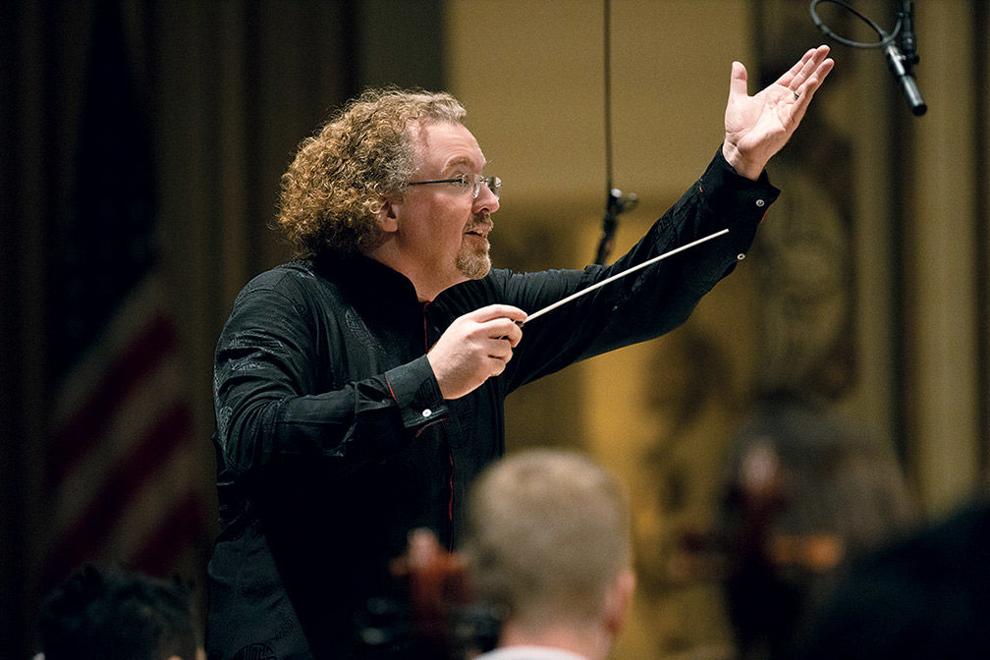 The St. Louis Symphony Orchestra is bringing craft beer, movies and more to its musical menu this year. In its 140th season, the nation's second-oldest orchestra is introducing fresh, new concepts to expand its audience to listeners who may overlook the symphony as a primary entertainment option.
One new concept, "SLSO Crafted," was released in the fall of 2019, but will repeat this spring. Designed as a happy hour where listeners can enjoy classical music with food and drinks, SLSO Crafted explores one masterwork of music per show that is paired with craft beer from local breweries.
In addition to SLSO Crafted, the 2020 St. Louis Symphony Orchestra season brings a film-music concert series and premier Youth Orchestra events. Both features are part of the orchestra's mission to provide access to symphonic music for everyone.
This fresh new musical menu was created by the St. Louis Symphony Orchestra's new music director, Stéphane Denève. In his first season with the symphony, Denève is bringing a significant anthology of ideas and creativity to the musical establishment rooted in over a century of compositional history. Denève's background extends across the globe. A versed traveler trained in seven languages, Denève compares music to food with his role as music director to provide nourishment.
"My dream is that people get curious from one thing to another. That people who come for film then come for a concert, and then the opposite. I think it's very important to offer many different menus and different cuisines from all over the world. I want people to always have an appetite because music is for the soul," Denève said.
As the orchestra's 13th music director, Denève intends to position the symphony to reach new audiences across the city, specifically targeting young people and ethnically diverse groups. Under his leadership, Denève has implemented administrative changes to make the orchestra more accessible to the many groups that are the fabric of the metropolitan area.
Two changes orchestrated by Denève have been lowering admission prices so listeners can enjoy concerts for less than a movie ticket and creating "Stéphane's Seats" where guests can enjoy events at no cost.
"There are no barriers here," said Denève about the symphony. "I feel that when you love something very much, you want to share. You will naturally give some information that will make people more curious about it. It is in my personality to share what I love."
Denève has collaborated with musical cornerstones such as Yo-Yo Ma, Nikolaj Znaider, James Ehnes, Leif Ove Andsnes, Leonidas Kavakos, Nicholas Angelich, Lang Lang and Frank Peter Zimmermann. 
As a recording artist, he won critical acclaim for his works of Poulenc, Debussy, Ravel, Roussel, Franck and Connesson. Denève is a triple winner of the Diapason d'Or of the Year and has won the prize for symphonic music at the International Classical Music Awards. He has worked regularly with young people in programs such as those of the Tanglewood Music Center, New World Symphony, the Colburn School, the European Union Youth Orchestra, and the Music Academy of the West.
Often wearing a Cardinals jersey while directing, Denève works to create relationships in the community by inviting people he meets in his off time to enjoy symphony music. 
Although the traditional concert arrangements of classical ensembles will still serve as the fundamental structure of the St. Louis Symphony Orchestra, Denève's creative ideas will help establish new enterprises in the 2019-2020 season and beyond. His novel designs will provide a catalog of work familiar to the conventional patron and give new listeners a chance to experiment with innovative musical events.
Denève is passionate about his work and purpose at the St. Louis Symphony Orchestra because, to him, "life without music will be a mistake."