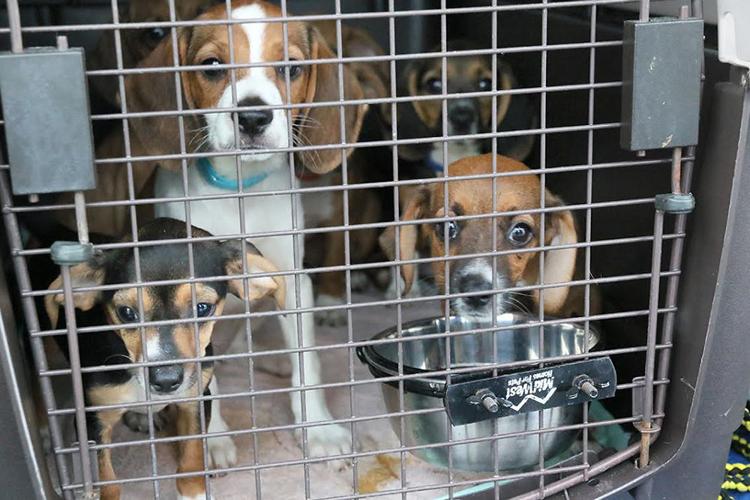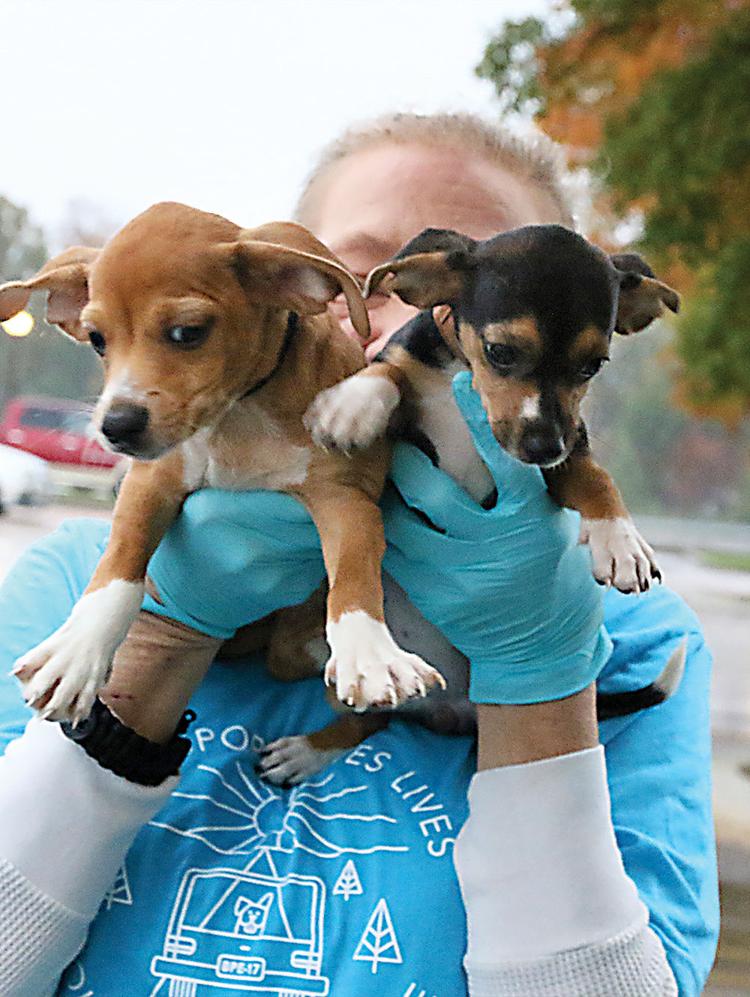 Elana Brewer has spent most of her Saturdays for the past 11 years helping save lives of the furry kind, four paws at a time.
The Fenton resident is a volunteer driver for the Bootheel Paws Express, a nonprofit that transports animals from southeast Missouri to shelters and rescue groups in the Midwest.
As its name suggests, the organization is based out of the rural "Bootheel" area of southeast Missouri where there's an abundance of unwanted, neglected and discarded dogs and cats. Many of them have been dumped on the streets or are waiting on death row in overcrowded animal shelters.
With help from dozens of drivers and animal shelters in several other states, the Bootheel Paws Express transports those dogs and cats to places where they have a much better chance of finding a forever home and there are stricter spray/neuter laws.
Most dogs and cats hitching a ride on the Bootheel Paws Express go from southeast Missouri through a chain of several drivers before arriving at their final destination in Illinois, Kansas, Nebraska, Wisconsin and other northern Midwest states.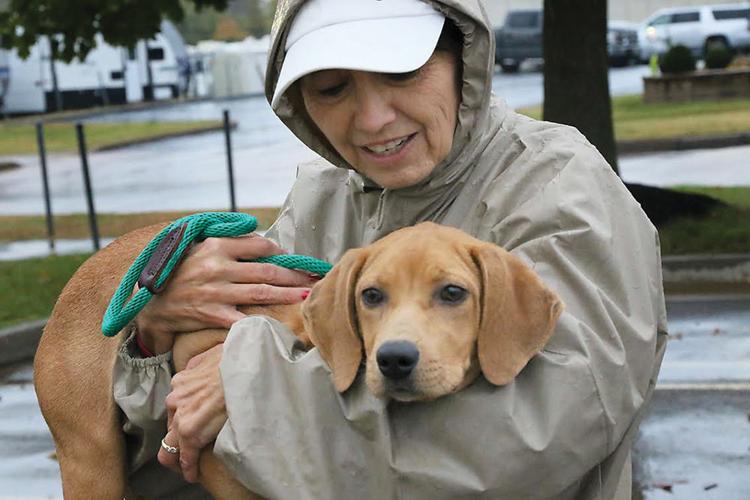 "Most of the animals we transport are from the Bootheel, which is a very rural area and they don't have the same attitude toward dogs and cats as many of us do. While we consider our pets part of our families, they consider them as 'just' dogs or 'just' cats – they see them as disposable," said Brewer, who typically drives the leg from St. Louis to Springfield, Illinois, plus the next one from Springfield on to Bloomington, Illinois.
"The animals that we move have a much, much better chance of finding 'furever' homes," she continued. "Transport is an easy way to help save an animal's life."
All of the animals are vaccinated before crossing state lines and all are adoptable. Coordinated transfers take place every two weeks (though there are some emergency ones), and drivers sign up to transport the dogs and cats on different "legs" of the journey.
Dozens of people might be involved in the transfer of a single animal, or one driver might transfer several animals – a volunteer referred to it as an Underground Railroad of sorts for dogs and cats.
Prior to each transport, Brewer gets a "run sheet" with her pick up and drop off locations, and how many dogs and/or cats will be along for the ride. Even though the drivers don't get to spend much time with their four-legged friends on the journey – each leg is about an hour – that's still plenty of time to make a connection.
"I fall in love every single transport," said Brewer, 59, who adopted two Chihuahuas – Tio and Papi – that she drove during one of her transports. Tio and Papi are just two of her six dogs, and she also has two cats.
"All of them (on the transports) are just so sweet and so grateful," Brewer continued. "They get in the car with you and you can see them realize they're safe – many of them let out an audible sigh. You can tell that they know the bad is behind them and it's good from here on out. A lot of them will curl up and go to sleep, keeping a paw on my leg or even climbing in my lap."
Crestwood resident Janet Hanewinkel and her husband Jack, who have been volunteer drivers for the nonprofit for nearly a decade, echoed those sentiments. The couple usually drives a leg from St. Louis to Columbia, Missouri, about once a month.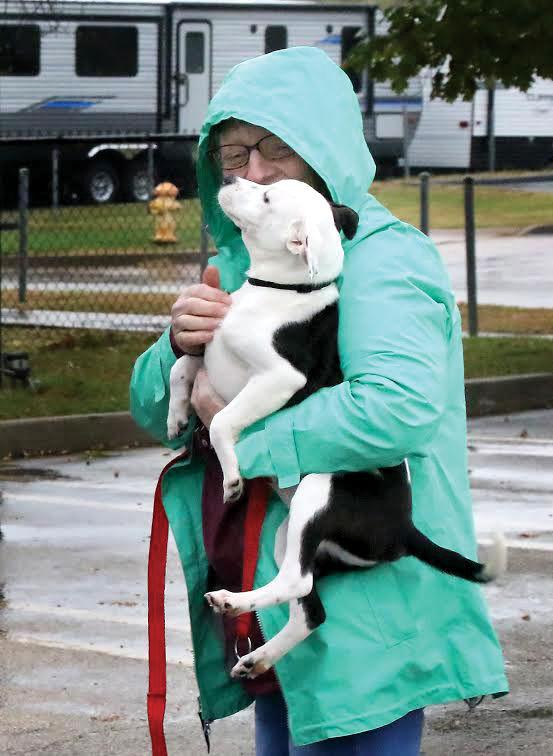 "You get to spend such a short amount of time with them, but it's so wonderful," Janet Hanewinkel, 59, said. "Each of them has their own story."
There was a Great Pyrenees named Frank, a Terrier mix named Bailey who was "just about the cutest little thing you've ever seen," a pregnant dog who gave birth on the next leg, a 125-pound Cane Corso named Yukon who was "the gentlest, kindest soul ever," another dog who curled up and went to sleep on Yukon, and countless others, Janet Hanewinkel recalled.
"It's really rewarding because it's only a couple hours out of our Saturday, but look how many lives we've saved," she said.
In 2018, the Bootheel Paws Express transported over 1,100 animals and is on track to transport that many, if not more, again this year.
Drivers Wanted
The number of animals the Bootheel Paws Express can transport depends on the number of drivers who volunteer.
"Drivers are the lifeline for these dogs and cats," Janet Hanewinkel said.
Brewer reiterated that and stressed the nonprofit's need for drivers, noting each leg of a transport is typically 60 to 90 minutes.
"We always need more drivers," she said. "This is something that is so important – and it's so easy. You don't have to have a truck or an SUV, just a car. Even if you can take one or two dogs, that helps. If you can't drive or do transfers, we always need fosters, too."
For more information about the Bootheel Paws Express or to volunteer with the organization, visit the organization's Facebook page or email bootheelpawsexpress@gmail.com.