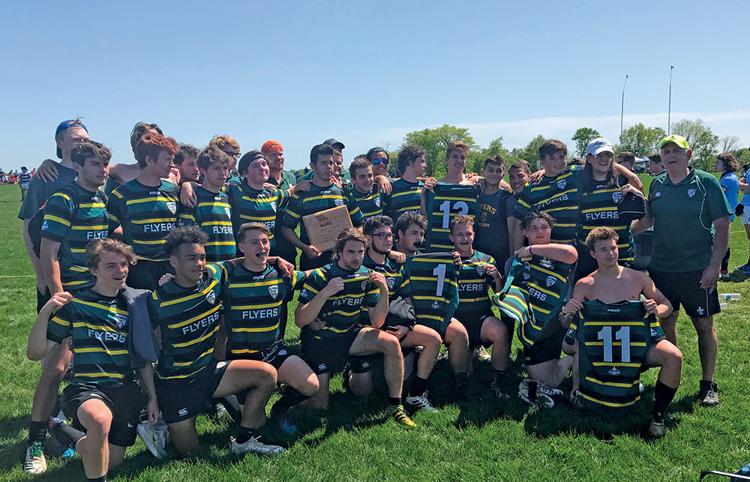 The Lindbergh Flyers rugby team won the 2019 Missouri High School Rugby Tier 2 state championship May 4 and 5 in Columbia.
Flyers rugby made the high school final four in 2018 in its first year of existence, and in the program's second year again reached the final four.
The Flyers went undefeated in 2019 conference play to qualify for state, then defeated Winnetonka High School from Kansas City 67-0 in Saturday's semifinal. Lindbergh advanced to the championship match to face Francis Howell, who defeated Jefferson City 57-0 in its semifinal.
The Flyers were down 21-7 at halftime but dominated the second half, outscoring Howell 17-0 to take home a hard fought 24-21 victory and the Tier 2 state championship.
Lindbergh seniors Anthony Patrick and Cooper Florez led the comeback scoring second half tries, and senior Colin Jones added a conversion. JJ Stinson and Wyatt Critchlow were effective winning line out ball while Isaac Porter and team captain Jacob Gonzalez were powerful in the scrums.
"Howell put us on our heels in the first half and we needed to come out strong in the second half," said Lindbergh Coach Ron Laszewski. "We had confidence that our backs could do some damage, and our forwards did a great job winning possession for them. Fitness, fundamentals and a never quit attitude carried us through."
Laszewski said the team is graduating "a ton of seniors" this year and invites high school athletes from any sports background to join the team next season. Missouri Rugby classifies Lindbergh as an "open team," so athletes from other schools are also eligible to play for the Flyers. Contact Adam Pyke: adamjpyke@gmail.com to join the team.