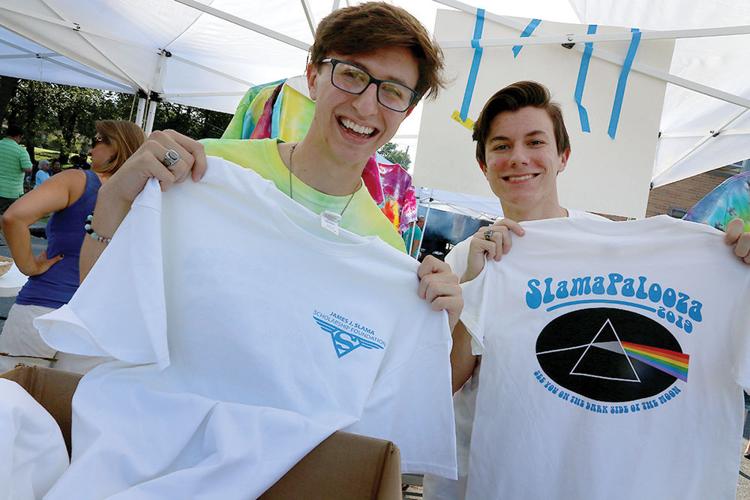 The first "Slamapalooza" held in memory of the late Jim Slama, a longtime dedicated volunteer in the Affton community, raised roughly $3,000 toward scholarships for students attending Catholic high schools in the area.
More than 250 people attended the event, which was held last weekend at the Holy Cross Academy/St. John Paul II campus. The festivities included an outdoor Mass, music, food and more.
The night raised funds for the James J. Slama Scholarship Foundation, which provides scholarships to Catholic high school students from St. John Paul II parish and Holy Cross Academy.
The fundraiser pushed the foundation to its goal of raising $10,000 for two $5,000 scholarships next year, according to Lisa Slama, president of the foundation and wife of the late Jim Slama.
Lisa Slama hopes the foundation will raise additional money to provide more scholarships each year. She said access to a Catholic high school education is a cause close to her heart, and was important to her husband, too.
Complete with music and bands playing several of Jim Slama's favorite songs such as "Dark Side of the Moon" by Pink Floyd, "Slamapalooza" was a fitting tribute to the man who was a longtime Affton Chamber of Commerce board member and dedicated community volunteer.
"It was a neat tribute not just to Jim, but what Jim represented – being a good neighbor, being generous and helping anybody out," Lisa Slama said. "Jim would have wanted people to come out, sit together and talk to someone – that's building community ... and that's exactly what we did."
Jim Slama, who died in June 2018, was a former sales associate with the Webster-Kirkwood Times, Inc.
For more information about the foundation, visit www.jjslamascholarshipfoundation.org.