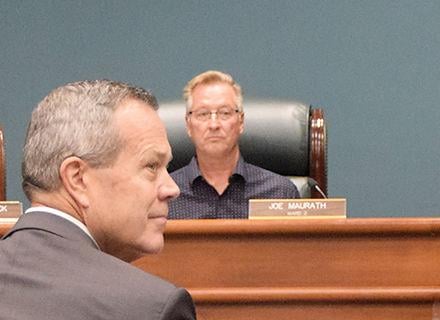 Fenton aldermen authorized hiring Clayton-based arbitrator Robert Jones of Curtis, Heinz, Garrett and O'Keefe, P.C., in a 5-2 vote on Sept. 26. Jones' role is to address an internal deadlock regarding a board voting procedure that left one board seat vacant and Ward 3 not fully represented since April 25.
Jones' opinion is being sought to provide impartial, nonbinding guidance for the board's impasse regarding the voting order in which this year's key board positions would be filled. His compensation was authorized at $250 per hour.
The two board members who voted against arbitration at the September meeting were Chris Clauss and Paul Seemayer.
Potential session dates already had been secured weeks ago from the arbitrator. So, board members grabbed Jones' Sept. 30 available slot, and presented their cases to him at Fenton City Hall during an evening public forum.
During Jones' opening remarks to board members, he said he had received and read confidential documents about the matter from three city officials. He also said he had reviewed board meeting minutes, South County Times newspaper articles, city codes and state statutes.
"Each person will be allowed to testify their narrative. There will be no cross-examination of each other. Any objections to statements, I will consider it as part of the arbitrator's decision. I do want to hear what everyone has to say," said Jones.
Mayor Bob Brasses said he felt then as he does now,
"My first order of business as mayor was placing an alderman in my ward seat. Our country was fought for and founded on the idea of representation, and I believe Fenton residents deserve that," he said.
"Normally we have eight aldermen available to decide who will be board president and liaisons. That's precedent. Having a full eight gives another possibility for someone to be placed in a leadership position," added Brasses.
Jones asked who was elected as the last, official board president and two liaisons, raising the question of whether those three individuals still could be serving in those capacities until their replacements were assured. However, Fenton city regulations dictate those positions are held for only one year after installation — which has long passed. Additionally, one of those former liaisons, Vera Glick, lost her bid for re-election in April, so is no longer a board member.
Board Member Chris Clauss said her posture is about a precedent of seating a new board followed immediately by electing the board president and liaisons. She said she didn't agree with changing that procedure without discussing it prior and securing board consensus to do so.
However, the only two previous times in Fenton history that reflected a similar ward vacancy resulting from a board member elected as mayor occurred in 1993 and 1995; one instance for which board members indicated the nominee was traveling and couldn't physically be approved on the same night the mayor was sworn in.
Board Member Richard Patton maintained the mayor exceeded his authority, particularly by calling a special meeting when he was still mayor-elect to recommend his nominee for the vacant seat. He also asserted Brasses usurped the board's authority, because special meetings are under his sole control, making the board "subordinate to mayor."
"We elected a mayor, not a king," added Patton.
Alderman Joe Maurath said this arbitration should be only about filling the vacancy, and discussing how to move past "the impasse of not electing a person to do the eighth alderman's job."
He said there can be no compromises to state laws.
"The real intent of the law is to get the vacancy filled as fast as possible. Anything past that eighth spot being filled is insignificant. There's a remedy to this situation by state statute, it only makes sense. Mayor Brasses attempted to do that expeditiously. This arbitration is about whether filling the vacancy has been followed correctly," he added.
Board Member Susan Jokerst said Mayor Brasses was exercising his legal right, just like previous mayors, in the sequence they deemed best for the city.
"And that right is being blocked. We're mandated to have eight, not seven, board members. The mayor was trying to perform his duty. It should be a full board to elect the officers," she said.
Alderman Brian Wisbrock said until he was seated as a new alderman on April 25, no one told him about any so-called precedent.
"We don't follow precedent in all other board decisions and in every single instance. We do what's relevant," he said.
Alderman Andrew Sobey Jr. said he respected Mayor Brasses' opinion, but just didn't share it.
"Without laws, there's chaos. We need to be consistent with precedent," he added.
Jones said he would render an opinion as quickly as possible, but did not commit to a specific date.
Meanwhile, board candidate filing opens Dec. 17, with the next general election scheduled for April 7, 2020.