Electric bikes are revolutionizing cycling for older adults, and thanks to Bill and Carla Sauerwein, the bikes with added pedal power are now available in St. Louis.
The Oakland couple opened Pedego St. Louis last month, and are already putting the joy back into biking for many older adults who didn't think they'd be able to enjoy cycling again.
Equipped with 250- to 500-watt motors, the pedal assist that Pedego bikes provide allow riders to go further and faster, and power up hills with less effort and more comfort. The electric bikes, which are already widely popular in states such as Florida and California, can cover up to 60 miles on a single battery charge.
All of that considered, one of the biggest draws is that they're just plain fun. They can be fun for everyone, but especially for older adults who thought their cycling days were behind them.
"When you talk to people who want to ride bikes, one of the common themes is older people who used to love to bike, but can't any more because it's too strenuous or too painful," Bill Sauerwein said. "You can stay on these longer, you can go further, you can ride pain free, and you don't have to lift your bike up onto the rack or trailer any more (to go ride somewhere else)."
It's for those exact reasons that Sappington resident Dave Anderson now owns an electric bike. Although Anderson, 80, cycled frequently when he was younger, it was becoming less enjoyable the past few years.
Climbing the hill on Hagemann Road to and from Holzer Park to bike there was particularly problematic from a physical standpoint. On more than one occasion, Anderson had to push his bike up the hill. And quite frankly, it also wasn't worth the hassle of racking his bike on the back of his car, driving a short distance to the park, and then having to rack the bike again to get back home.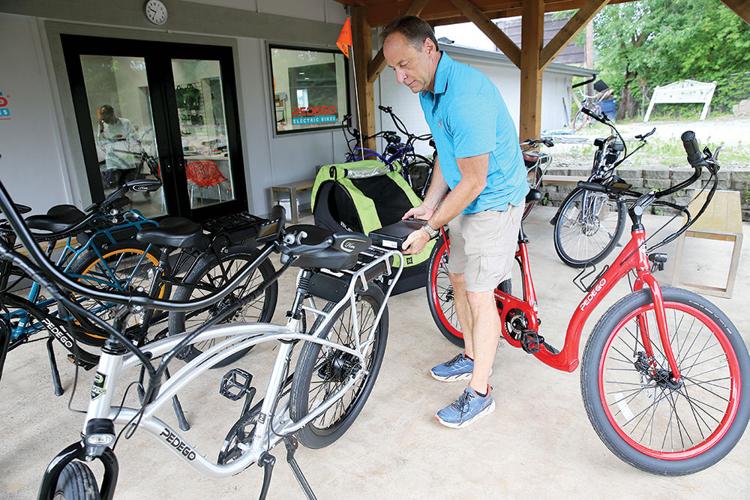 "It just wasn't worth the effort, and it wasn't fun anymore," he said.
But a new set of wheels with a little power has changed all of that because he can now ride to and from the park.
"Going up the hill on the Pedego was a joy ride," Anderson said. "I have a really great time zooming along at 20 mph and not working too hard. It's really fun."
Putting the joy back into cycling for those who may have lost it is one of the main reasons Bill Sauerwein wanted to bring the California-based Pedego electric bikes to the St. Louis region.
"Pedego has allowed me to renew my interest in cycling, and I wanted to bring it to St. Louis so other people can enjoy it like I do," Sauerwein said. "It's helping senior citizens and older people with arthritis, and knee and hip replacements, get back out on the bike, get some exercise and get outside."
Sauerwein, 56, once an avid cyclist, thought his biking days were over after two partial knee replacements, aching joints and arthritis. But he rediscovered the joy of cycling on a Pedego.
"I had stopped riding because I had too many aches and pains," said Sauerwein, a retired attorney who also served as mayor of Oakland from 1997-2001. "I thought I wouldn't be able to do it again because it made me so uncomfortable, but on the Pedego I can get on a bike and go 60 miles comfortably."
Sauerwein has several customers and clients who have similar stories, and the pedal-or-not bikes with a twist-and-go throttle allow riders to choose how much of an assist they want – or don't want.
"On these bikes you can pedal as hard as you want or as little as you want," he said, noting the electric bikes have varying levels of battery power and assistance. "You can adjust the pedal assist to get more exercise or more power. Typically we see people pedaling on the flats or downhills, but they might need or want to use some power on the hills or if there's a headwind."
Sauerwein said while most people are skeptical of the bikes before taking one for a test ride, all of their anxiety goes away once they get on two (motorized) wheels.
"Most everybody who comes here approaches it with a little skepticism and hesitancy because they haven't been on a bike for so long," he said. "But then they take it for a test ride and they come back with a big smile on their faces. They're usually surprised by the amount of fun they had and how far they went. Once you get one, you'll love it."
Pedego St. Louis
Located at 801 S. Holmes in Oakland at Big Bend and Interstate 44, adjacent to the Gravois Greenway (Grant's Trail), Pedego St. Louis offers rentals, sales and service of Pedego electric bikes. Its location allows cyclists easy access to Grant's Trail, which connects to a variety of bike path networks in the St. Louis region. Hours are Tuesday through Saturday, 10 a.m. to 6 p.m., and Sunday, 10 a.m. to noon. The shop is closed Monday. Free test rides are available. The most popular Pedego models range in price from roughly $2,800 to $3,200.
Grand Opening
Join Pedego St. Louis for its grand opening celebration on Saturday, July 13, noon to 3 p.m., at the shop, 801 S. Holmes. There will be live music, food, free test rides, a group ride, giveaways and specials. For more information, visit www.pedegoelectricbikes.com/dealers/st-louis or call (314) 698-2433.