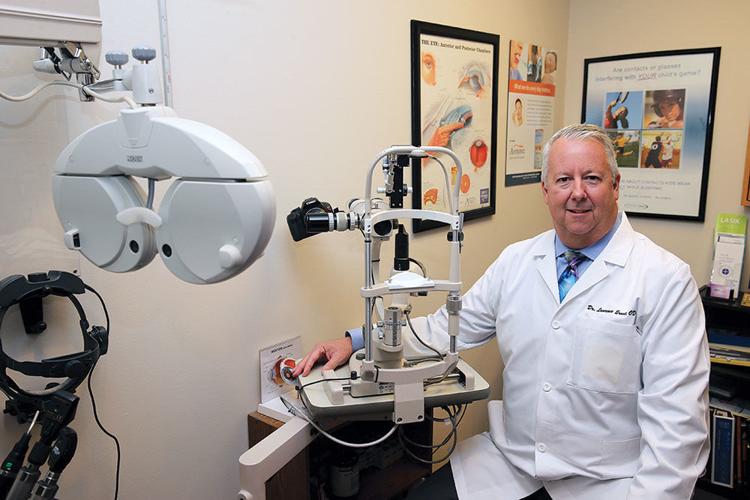 Rosen Optometry is pleased to welcome Dr. Lawrence Ernst to its practice.
Dr. Ernst was born and raised in St. Louis and is a graduate of De Smet High School, the University of Missouri-Columbia and the University of Missouri St. Louis College of Optometry. A member of the American Optometric Association, Missouri Optometric Association and the St. Louis Optometric Society, Dr. Ernst started practicing in Warrenton, Mo., in 1990 and ran it successfully for 24 years.
"We are very excited that he has now chosen to join our team at Rosen Optometry," said Dr. Steve Rosen.
Dr. Ernst thoroughly enjoys practicing optometry with special interest in the treatment and management of eye disease, including cataracts, glaucoma, macular degeneration, dry eye and diabetic retinopathy.
He looks forward to getting to know each patient while providing the highest quality comprehensive eye care in the community where he grew up.
"With new treatments for medical conditions, especially dry eye, innovations in contact lenses and state-of-the-art equipment and technology, Dr. Ernst will join us in helping our patients receive all the advances we can offer in eye care today," said Dr. Rosen.
"Today's consumers want their eyewear to meet all their lifestyle needs and we offer many types of frames, lens styles and materials to individualize each pair of glasses," Dr. Karen Rosen added. "Dr. Ernst shares our determination that our patients should have eyewear that is high quality, gives them the best vision correction that meets their needs and lets them express themselves.
"In his spare time, Dr Ernst enjoys hunting, fishing and golfing and, of course, has just the right eyewear for all his activities," she said.
Rosen Optometry is a member of Vision Source, is open six days a week and has evening hours. The practice accepts most insurance plans and new patients are welcome!

17 Ronnie's Plaza • 314-843-2020