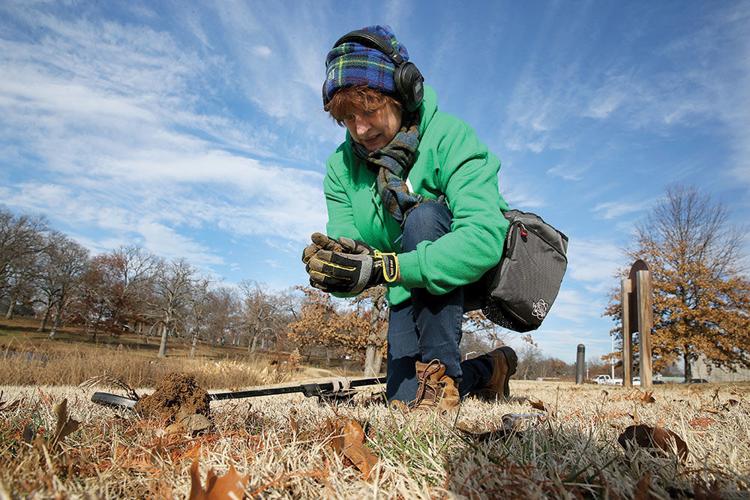 Metal detector hobbyists are not just a bunch of nerds clinging to childhood fantasies of unearthing buried treasure. That's the friendly message of Susannah Kriegshauser, who heads the Gateway Metal Detecting Club (GMDC).
Hobbyists dig up pennies, nickels and dimes for charitable causes. They donate many of their "historic finds" to local museums. They also help panicked people find their lost keepsakes, items ranging from car keys to cell phones to class rings and wedding rings.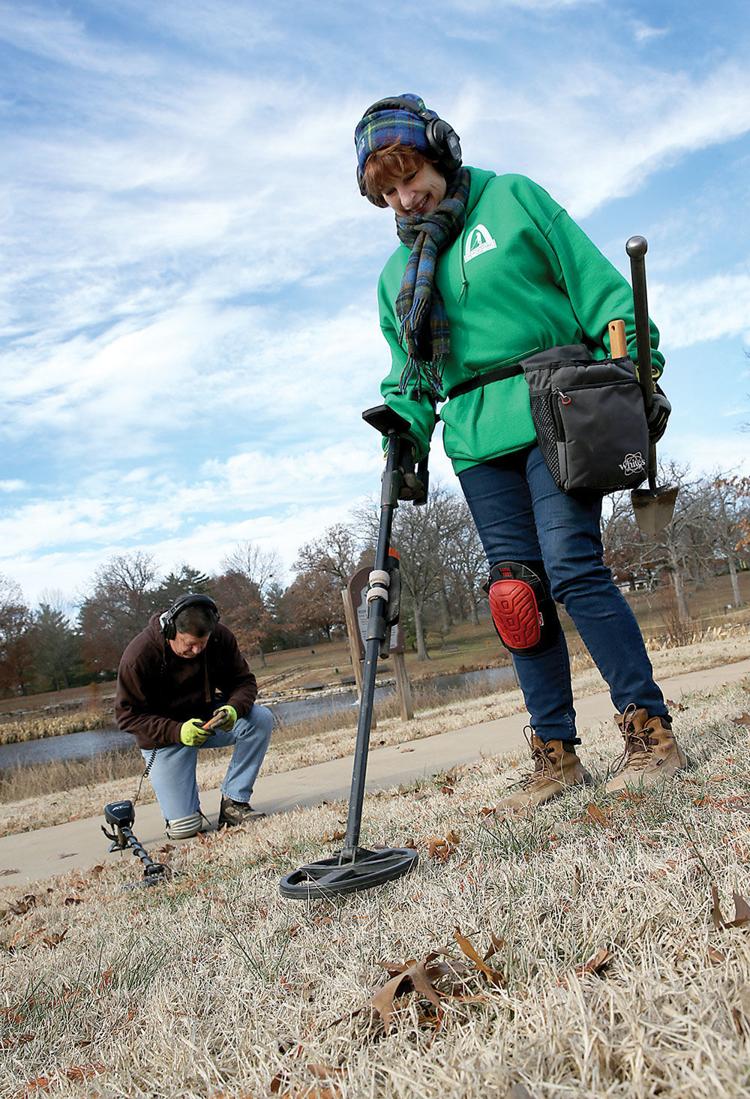 The club meets the first Tuesday of the month in space provided by the Missouri Civil War Museum in Jefferson Barracks Park. At its Dec. 4 meeting, the club presented a check to Mark Trout of the museum in gratitude for meeting space and for help in identifying Civil War items unearthed by members.
"From the beginning, when I started the club, I worked to get rid of the nerdy image of detector hobbyists," explained Kriegshauser. "I wanted to promote a family hobby with responsible members interested in truly giving back to the communities in which they live."
Most of the communities served by GMDC are south of Interstate 40, from Fenton to Affton, from Webster Groves to Oakville. GMDC helps out residents in these areas with its Community Assistance Team (CAT).
CAT assists residents in recovering items that have been lost in the outdoors. Its volunteers sweep the grounds with detection equipment to find missing jewelry, keys and more.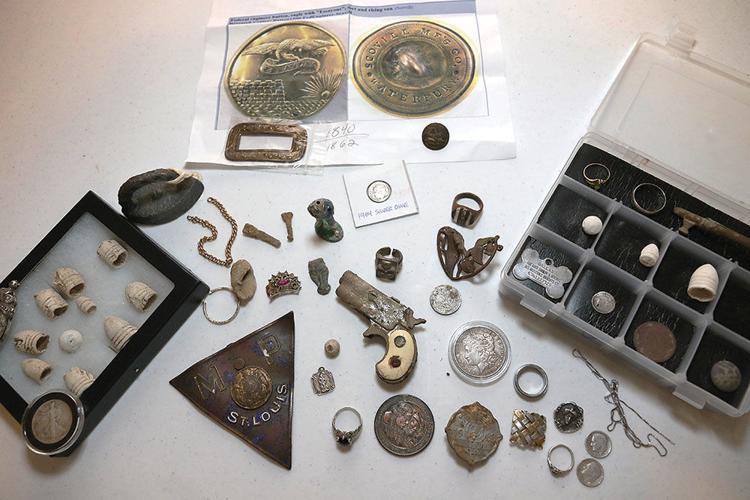 "We actually have about a 70 percent success rate at finding the lost items," said Kriegshauser. "We get contacted at detectinghistory@yahoo.com. We get a high volume of requests in June from distraught grooms hoping to find a wedding ring after wedding parties."
Rich Bereswill, treasurer for GMDC, said members try to reunite people with lost treasures, even if they are not on a specific CAT mission.
"I've found lots of rings and been able to return them to the owners over the years," said the South County resident. "I still have a Notre Dame University ring with engraved initials that I have been trying to return to the owner.
"Of course, GMDC is much more than a lost-and-found operation," said Bereswill. "I belong to it for all the camaraderie, and teaching others how to do it, and sharing the thrill of finding unique historic items."
The club sponsors monthly hunts at places like Kirkwood Park, Hidden Valley Ski Resort or the Wildwood Historical Museum grounds. The club always gets permission to hunt. At "Finds of the Month" meeting sessions, members share their discoveries.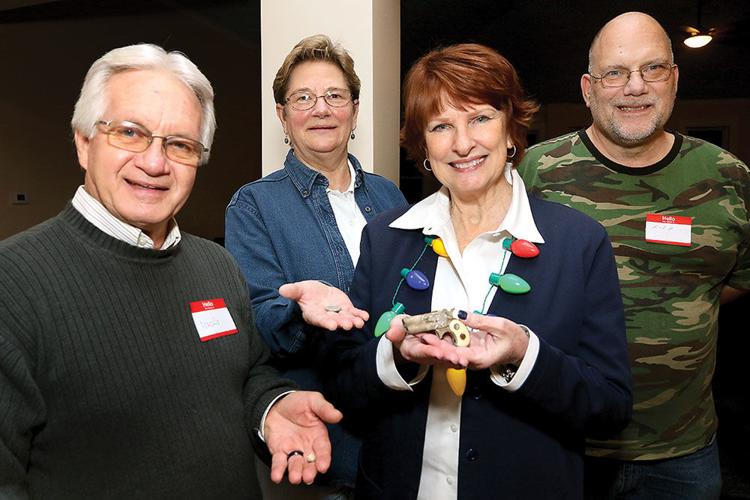 GMDC Club History
Kriegshauser said she started the club in January 2015, but she has been a hobbyist for almost four decades.
"I actually did love all the tales of buried treasure when I was a kid," said Kriegshauser. "I started using my first detector in Bee Tree Park in 1980. There was a lot more to find back then because fewer people were into the hobby. I learned it by trial and error.
"Years later, after my husband passed, I followed my dream and went to England to learn from professionals," said Kriegshauser. "I went to northeast England where King Edward was rumored to have lost some of the Crown Jewels. But detecting is very regulated over there. The English want to protect their historical artifacts."
Kriegshauser has traveled to England five more times for her hobby. She began giving informal lessons in detecting and later began giving classes at St. Louis County libraries in 2010. Her students urged her to start a club. She did.
"I keep busy with the hobby, club and lessons," said Kriegshauser. "I have condensed a week of learning into about four hours. There's a lot to know about equipment now, but the main thing I teach is patience, patience, patience."
Kriegshauser urges students to begin hunting in their backyard; then graduate to a park; then head to a location with some history – and study what kind of activities took place there in the past. Also, get permissions when needed, or face the consequences.
"You cannot detect at Jefferson Barracks Cemetery at all," she said. "It's owned and protected by the federal government and it's a felony to detect there. There are other protected parks to know about in the area.
"Tower Grove and Lafayette parks in the city are also places you will get arrested with your metal detector," said Kriegshauser. "You have to be careful at any place that uses the words 'history' or 'historical.' Follow the law."
Equipment Needs
Kriegshauser started her hobby with a basic "beep and dig" device. It gave off an audio signal when a metal item was detected. If the item was below the surface, it was then time to dig carefully. Digging can be effected with a screw- driver or a small pick.
According to Kriegshauser, her first "beep and dig" device had a price tag of $129. Now, there are gold detectors with audio signals and visual displays that can cost up to $10,000 or more.
"Equipment used to be simple and heavy and clunky. Over the years, it has become lighter and much more sensitive and sophisticated," Kriegshauser said. "There is ground-penetrating 'radar' that gives you a range of sounds that will help you determine just what is being detected below the surface.
Kriegshauser said that a "newbie," someone with fewer than 50 or 100 hours at detecting, can get by with a $300 detector. A good professional model is going to be in the range of $1,500 to $2,000.
In the final analysis, seasoned GMDC members contend it's not the equipment you bring to the detector hobby, but the attitude you bring to this hobby that will determine success.
If you expect to find Captain Kidd's treasures and some gold doubloons, it's likely your detection equipment will be up on eBay or at a garage sale in a matter of weeks. If you're interested in a little history, education and fresh air, this hobby has its own rewards.
For additional information about the Gateway Metal Detecting Club, its website address is located at: www.gatewaymetaldetectingclub.com.