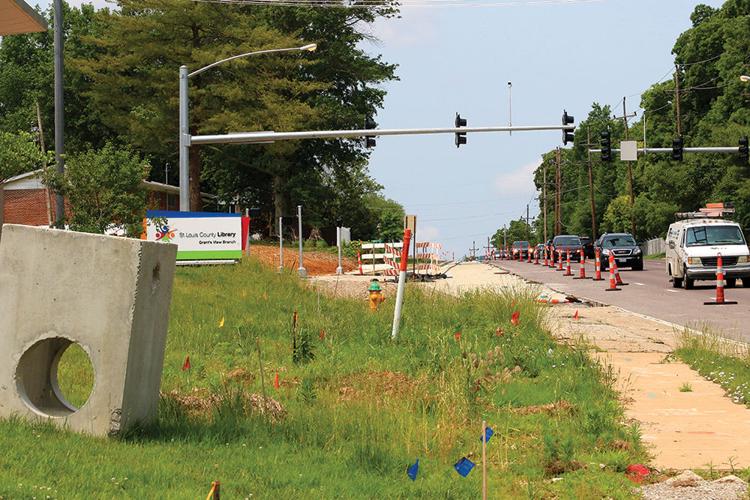 The surprise discovery of an underground concrete wall, owned by Missouri American Water Company, has caused further delays to the redesign project at Musick and Gravois roads.
The L-shaped wall, which protects a large water line, was discovered by a St. Louis County contractor in April. The wall is beneath the ground at the southeast corner of Musick and Gravois.
"Water company officials have conceded that they should have alerted us to the existence of the wall," said David Wrone with the St. Louis County Departments of Transportation and Public Works. "Unfortunately, the discovery of the structure required us to immediately suspend work on our project, and embark on a redesign process that involves both the water company and MoDOT — the latter agency maintaining Gravois."
In his statement, Wrone said the county is finalizing a new design, and hopes to complete the project by late summer.
"In the interim, we expect to partially reopen Musick sometime in June, and allow 'right in' and 'right out' traffic – meaning that eastbound motorists on Gravois will be able to turn right onto Musick, and northbound Musick drivers will be able to turn right (east) onto Gravois," Wrone said.
Wrone said that while this is not a complete fix, it will help reduce cut-through traffic on the residential streets immediately west of Musick.
"We are acutely aware of the inconvenience and stress these repeated delays have meant for area residents and drivers, and very sincerely regret that we weren't able to get this project completed on time," Wrone stated.
Road improvements at the intersection of Musick and Gravois roads were slated to be completed by the end of 2018. The project hit a delay in February when workers discovered AT&T cable buried along Gravois. The cable affected the original design plans and had to be dug up and relocated.
Once the $1.1 million project is completed, there will be left and right turn lanes from Musick onto Gravois, and a left turn lane from westbound Gravois onto Musick. There will also be a new entrance into the Grant's View Library. Improved sight distance over the hill on Musick will be created by lowering it.