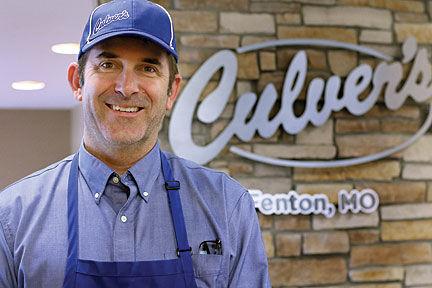 Where there's custard being served for Fenton community events or fundraisers, there's likely to be Ken Dickinson.
Besides being the smiling leader of the Culver's at 1024 Bowles Ave. in Fenton, Dickinson received Fenton's 2018 John Fabick Community Service Award. Named after longtime Fenton business leader John Fabick, founder of the 100-year-old Fabick Cat company, the annual award honors service-minded residents and volunteers.
Dickinson was selected by Fenton aldermen Oct. 4, and will be presented a plaque at the Oct. 25 board meeting.
"Fenton is a big small town, and a great community. It's a good mix of country and county. I love that there's the Bluffs with all the shopping you could want, yet a mile away, you can be canoeing on the Meramec," Dickinson said. "Over the years I've gotten to know many people and families. Several of my employees have married and have kids in the community."
Culver's is a privately owned and operated casual, fast food restaurant chain that operates primarily in the Midwestern United States. Dickinson also owns and operates the Culver's at South Lindbergh and 4140 Rusty Road in south St. Louis County.
He said he wouldn't be in business and able to handle what he does for community efforts without his team.
"They're the backbone of everything we do, and by far the most important part of my operation. Over the years, I've been lucky to employ many members of the same families, and I've gotten to know their parents as well," he added.
Fenton resident Deborah Abbott said she nominated Dickinson due to his generosity.
"Ken consistently provides custard to the local National Night Out, Scouting organizations and other special interest groups. He steps up to donate to whatever cause asks for his help," Abbott wrote in the nomination form.
She said Dickinson frequently hosts sports teams and other groups for fundraisers at the restaurant.
Dickinson grew up and went to high school in Kirkwood. However, his family made their living in the Wisconsin Dells tourist business since before he was born, so he considers the Dells home as well.
"My family owns and operates the Wisconsin Opry, a country music theater. When I got into Culver's, I had moved full time to Wisconsin. I might have stayed there and opened a store, but at the time, Wisconsin was saturated and Culver's told me to look elsewhere," said Dickinson, who has worked with Culver's now for 18 years.
"Coming back to St. Louis was an easy decision. I now live a block from where I grew up, in a house that was the Wisconsin Hospitality Pavilion in the 1904 World's Fair," he added.
He said it's been wonderful to work in south St. Louis County because he's seeing people he's known for years.
"I also think Rockwood Summit is a great school system. For years, I've spoken to third and fourth grade students about advertising and economics," he said.
He said he specifically supports school PTOs, churches and sports teams.
"I love donating. Our share nights are a big part of our giving back to the community. Fenton has been very supportive of Culver's, and I'm happy to give back anyway I can," he said.
When not working, Dickinson enjoys playing his fiddle, hiking and spending time with his wife and four boys. Dickinson is also a Fenton Area Chamber of Commerce member.
"Fenton has it all: great parks, shopping and strong community. I moved to Kirkwood before I had selected Fenton as my restaurant site, otherwise, I'd be living in Fenton. But I spend enough time in Fenton to call it my second hometown," said Dickinson.