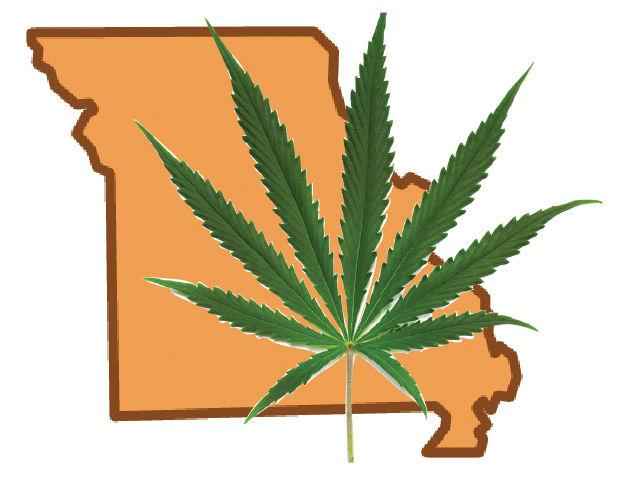 From Kirkwood to Crestwood, from Fenton to Webster Groves, city officials are trying to figure out their place in the fastest growing industry in the U.S. That industry would be cannabis – once known as weed, pot or Mary Jane.
Legal weed generated $10.4 billion in sales in the U.S. in 2018. Legal sales in Missouri were at zero, but that will change quickly now that the state is the 33rd in the nation to legalize sales for medicinal purposes. Look for an acceleration from zero to about $250 million in sales by 2024 in Missouri.
Local city councils and boards have been grappling with zoning issues: where to put marijuana dispensaries. Some officials want them in light-industrial corners of their towns. Others want them placed smack dab in the middle of main street.
"If you're talking about the greenhouses for marijuana, yes, they should be in that light industrial area," said Gayle Smith Mercier, a partner with the law firm of Thompson Coburn LLP. "If you're talking about a dispensary, it's smart to have them located in the retail area of downtown close to parking.
"Cities will benefit from the sales taxes," said Mercier. "Sales taxes need to be a consideration, but this is not about greed. It's about serving the kind of customers who will be wanting legal, medical marijuana, who will not want to buy it in some out-of-the-way location."
Mercier and other members of Thompson Coburn's new Cannabis Legal Services Team say that city officials need to get used to the idea that marijuana is now a legit business. And states that approve medical marijuana will predictably approve recreational marijuana within a few years of the medicinal stamp of approval.
Missouri voters approved sale of marijuana for medicinal purposes in November after 62% of them said "yes" to Amendment 2 on the midterm election ballot. Missouri's Department of Health and Senior Services (DHSS) was then tasked with preparing medical marijuana facility applications.
Licensing in December
DHSS will begin formally accepting medical marijuana facility applications on Aug. 3 through Aug. 17, although it has already received pre-filed application fees from people who want to open at least 137 businesses that will grow or sell marijuana in the St. Louis region.
DHSS has posted an interactive map online showing, by county, where prospective cultivation, dispensary and infused product manufacturing facilities have had pre-filed application fees submitted. Because the official application process doesn't begin until August, there is no guarantee these numbers will represent where actual proposed facilities will be positioned.
"Although these numbers are not at all final, we hope this information will give potential applicants, as well as cities and counties, some perspective on the field of applicants in their respective areas," said Lyndall Fraker, director of DHSS Section for Medical Marijuana Regulation.
The number of dispensaries allowed in each Missouri county is determined by U.S. Congressional District. The 1st and 2nd districts cover much of the St. Louis region, with the 2nd district encompassing much of the Times readership area. At least 50 dispensaries are expected to be located in the St. Louis metro area.
The process to gain entry into the highly-regulated industry in Missouri is intensely competitive. Thompson Coburn's Cannabis Legal Services Team said applications must be totally transparent and highly detailed.
Among the necessary details are security measures, energy requirements for greenhouses, odor control and economic viability. Applicants need hundreds of thousands of dollars in cash to operate. The state expects to be licensing businesses in December.
"Applications are going to be scored by regulators in the selection process," said Spenser Owens, a member of the Thompson Coburn cannabis group. "An applicant needs to anticipate everything. You don't want to have your license pulled after receiving one.
"You don't want to be having conversations with the state about what you are doing, after you are up and running and have a license," Owens said.
For those who are more interested in being a dispensary customer, rather than an operator, it is not too early to talk with a physician. The state is already accepting applications from people who want to use marijuana to treat a number of qualifying medical conditions.
Not Totally Legit?
Although Thompson Coburn's expert cannabis team maintains that the industry is now "legit" in Missouri, the attorneys do concede there is one major snag — pot is still considered an illegal controlled substance at the federal level.
Mercier and Owens said landlords are going to be cautious, if not a bit queasy, about renting space to dispensary operators. Building contractors also need to be concerned. Banks will want to be low profile about their dealings with dispensaries or ancillary businesses.
Nevertheless, Mercier and Owens said a big cloud was lifted from the U.S. marijuana industry when Jeff Sessions left his post as U.S. Attorney General with the Trump Administration. During his short tenure, Sessions attempted to rescind the Obama-era policy of a "hands-off stance" on enforcement of U.S. laws in states with legalized pot.
The cannabis community loathed Sessions for his dictum that "good people don't smoke marijuana." Comments by Sessions sparked an exodus from investment in marijuana for a time.
The legal cloud over the U.S. marijuana industry has suppressed company valuations. U.S. companies have been valued at 10 times product sales. Canadian companies, which are not operating under the U.S. legal cloud, are valued at 50 times sales.
With so many states now legalizing medicinal and recreational marijuana, it's doubtful the clock can be set back to an era of drug enforcement that Sessions valued. A sure sign of that is the billions of dollars U.S. cigarette and beer companies are willing to invest in the pot industry.