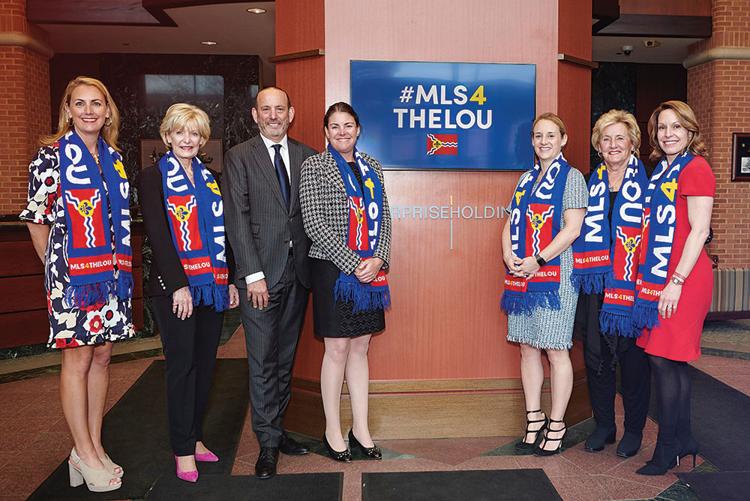 Undertaking ambitious projects is nothing new for Carolyn Kindle Betz. She has been using that expertise to lead the way on an exciting campaign to bring a Major League Soccer (MLS) team, majority-owned by women, to St. Louis.
As president of the Enterprise Holdings Foundation and chair of the Gateway Arch Park Foundation board, Kindle Betz has a passion for St. Louis culture and community, along with the financial know-how to undertake the massive project that's been titled "MLS4TheLou."
The MLS announced plans this spring to expand into a 30-team league, and St. Louis is a front-runner to be one of the three new teams introduced in the next few years.
The most distinguishing factor of the MLS4TheLou campaign is that it is on pace to be the first women-majority-owned club in MLS history – as well as one of the first few women-owned professional sports organizations in general.
MLS4TheLou recently released a first look at the proposed MLS stadium to be built in the Downtown West District in St. Louis.
"Over the last six months, we've visited numerous MLS stadiums to review designs and learn best practices in order to be as thoughtful as possible to our proposed stadium here in St. Louis," said Kindle Betz. "While they're still a work-in-progress, we're excited to finally give fans a glimpse at our proposed stadium.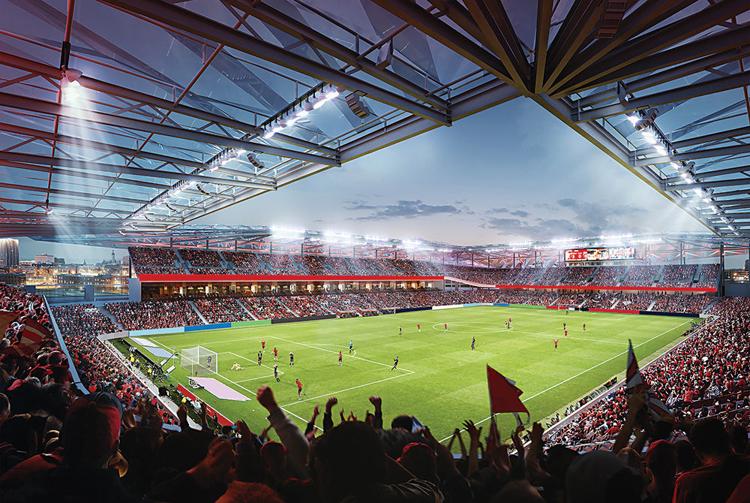 "I am so proud of how far we've come," Kindle Betz said in a post on the group's Twitter page. "Our city and our fans deserve this."
The ownership group consists mostly of the Taylor family, founders of Enterprise Holdings, along with World Wide Technology CEO Jim Kavanaugh. Kavanaugh is a former professional soccer player who brought in the St. Louis FC USL team. He was also part of the last attempt to bring an MLS team to St. Louis.
There have been previous attempts to bring an MLS team to St. Louis, but none of these have succeeded. Kindle Betz's campaign is distinguishable in several ways from previous campaigns, and it is shaping up to end differently than past campaigns as well.
The MLS has said it likes the MLS4TheLou proposal. MLS Commissioner Don Garber visited St. Louis in March to tour, meet the owners and potential corporate sponsors, and hear the ownership group's pitch.
St. Louis has a longstanding, rich history with soccer and the high level of talent that comes from the area. The city has produced World Cup players, NCAA national men's soccer championships, has a strong youth club presence with top soccer prospects, and a passionate St. Louis FC (Football Club) following.
The ownership group is unique in that 100 percent of its owners are based in the campaign's home city. It also contains seven multigenerational female owners.
The campaign is different than competing cities' campaigns in other ways, which is why it stands out so prominently.
First, it is mostly privately funded and won't request city-wide tax revenue or Tax Increment Financing; the new team would bring more revenue to the city and take less from the city.
Second, the stadium would be in the heart of the city, next to historic Union Station.
These elements were created by St. Louisans who have the well-being of the city in mind. Both the Taylor and Kavanaugh families continually give back to the St. Louis community, and have won many philanthropy awards.
Kindle-Betz, granddaughter of Enterprise founder Jack Taylor, and the rest of the Taylor family have donated hundreds of millions of dollars to various St. Louis-based charities and institutions over the years.
The women-led ownership group wasn't intended that way, but as Kindle Betz gathered together smart and successful members of the Taylor family to be a part of MLS4TheLou, the group seemingly assembled itself as a predominantly female-led group.
In her quest to bring Major League Soccer to St. Louis, Kindle Betz has changed the playing field both for St. Louis and for women in the sports ownership world.
A failed campaign to bring the MLS to St. Louis has been revived by St. Louis businesswomen. Seeing MLS4TheLou all the way through would be a huge boost as women press on in the world of sports and business.