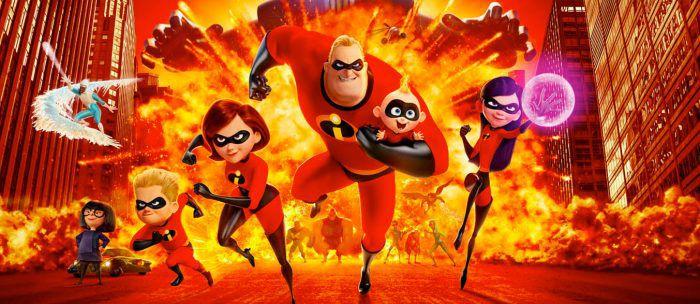 THE PLOT:
"Supers" are now outlawed. That doesn't stop the Incredibles from trying to do the right thing when The Underminer attacks the city. Although his plot is foiled, the Incredibles don't get their man. Instead, they get a night in jail.
Unemployed and two weeks away from being homeless, the Incredibles are contacted by the head of Devtech, Winston Deavor (Bob Odenkirk).
Promising to help re-establish Supers as legal citizens, he begins a marketing campaign with Elastigirl (Holly Hunter) in the lead. Mr. Incredible (Craig T. Nelson) stays home with the kids. As both super parents work to establish themselves in their new roles, villain Screenslaver begins a campaign of control and manipulation that will jeopardize not only the Incredibles, but every Super on Earth.
Kent's Take:
After 14 years the same lovable family plus additional Supers, wow audiences who quickly fall in step with an extraordinary family with ordinary problems.
Balancing laughs with drama, we follow two parallel stories. One of Elastigirl fighting to provide for her family while using her determination to turn the tide of public sentiment. In the meantime, Mr. Incredible fights to help his family in salvaging Violet's blossoming relationship, to keep Dash's grades up and develope a routine for the multi-powered Jack Jack.
Themes of family unity, changing gender roles within a family and society, ring true. A perfect example is when Elastigirl explains that she must help her family by leaving it and legalize Supers by breaking the law.
Writer/director Brad Bird uses tight, natural dialogue to define the Incredibles through their problems and how they address them. This normalcy goes a long way in helping the audience relate to the family and ultimately rooting for them. Add perfect pacing, plenty of genuine laughs, new Supers and the adorable Jack Jack and you have the making of an outstanding sequel.
The Screenslaver is a good villain. He tries to point out and punish society for its laziness and poor decision-making regarding our interaction with one another. His strength as a character comes in the fact that his message is absolutely correct, but his means by which he tries to get his message across is evil and demented – perfect!
As this narrative escalates so do the stakes. When the chips are down, what appears? Our themes surface to drive home the climax.
"The Incredibles 2" was worth the wait as this Incredible family must use their super powers to be just like you and me.
Bonus Features:
• The Coolest Guy in Show Business - In this partially illustrated documentary, Samuel L. Jackson reflects how his childhood and love of comics shaped his passion for film and imaginative storytelling.
• 2 SuperScene Breakdowns - Casual commentary-style pieces looking at specific scenes in the film (The Racoon Fight and Mrs. Incredible) through a particular creative focus like action choreography, set design or story.
Blu-Ray & Digital:
• All-New "Auntie Edna" Mini-Movie - When Bob Parr visits super-suit designer Edna Mode looking for help with his high-energy toddler Jack-Jack, Edna pulls an all-nighter designing a suit to harness the baby's seemingly limitless powers.
• 10 Deleted Scenes With Introductions - Suburban Escape, Kari Revisited, Return of the Supers, Cherwed Out, Late Audition, Slow Day, Frozone and Honey, Restaurant Robbery, Fashion Show and Security Breakdown.
• Super Stuff - From buildings and vehicles to costumes and props, every action movie requires a lot of really cool stuff. Meet the makers and learn what it takes to design and build such a uniquely incredible world.
• Heroes & Villians - A collection of mini-docs about the backstory and major design ideas behind the "Incredibles 2" characters – featuring voice actors, director Brad Bird, and Pixar artists talking about the many elements that make these characters feel real.
• Ralph Eggleston: Production Designer - This short piece explores the many ways a single production designer has influenced the look, feel and character of the Pixar universe, culminating in "Incredibles 2."
• Strong Coffee: A Lesson in Animation with Brad Bird - Brad Bird's passion for animation dates back to his childhood and mentorship under Disney's Milt Kahl, and that enthusiasm and powerful insight eminates from every film he's made. Take a deep dive into Brad's early years at Disney Animation Studios and his time at Pixar.
• Paths to Pixar: Everyday Heroes - At its heart, "Incredibles 2" is about family dynamics and the challenges of being a working parent. Meet the parents of Pixar as they discuss their persinal connections to the film and their experience with stretching to balance work and family.
• SuperBaby - A documentary/hip hop music video hybrid hosted by Frankie and paige from Disney Channel's Bizaardvark. This piece explores how Jack Jack came to life on screen – from design to special effects to animation – all set to a hot beat.
• Commentary - Get inside commentary from animators Alan Barillaro (supervising animator), Tony Fucile (supervising animator; story artist and character designer), Dave Mullins 9supervising animator) and Bret Parker (animation second nit and crowds supervisor).
• Theatrical Short: "Bao" - An aging Chinese mom suffering from empty nest syndrome get another chance at motherhood when one of her dumplings springs to life as a lively, giggly dumpling boy.
• Making "Bao" - Director Domee Shi shares her secret recipe for making an animated short – discussing how her rich cultural heritage, unique relationship with her mom, and her love of food all informed the making of the food-fantasy "Bao."
• Outtakes & Stories - Raccoon Fight Story, Evelyn Animation Outtakes, Puppet Animator Interview, Outtakes Goofy Arms Story and SuperBaby Music Video.
• Character Theme Songs, Vintage Toy Commercial TV Spots, Toolkit Montage and Global "Incredibles 2" Trailers
DVD:
• Theatrical Short: "Bao" & Commentary