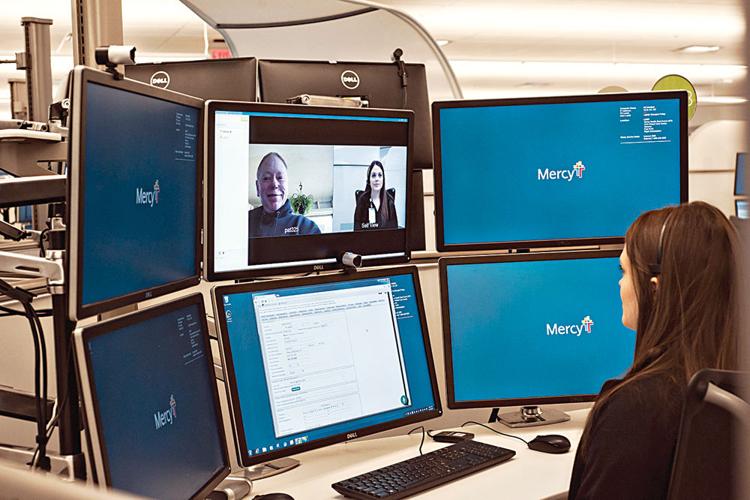 A statue of St. Anthony at the entrance of Mercy Hospital South offers comfort to those who know of his devotion to caring for the sick. The facility where he stands sentry continues his tradition, but with care that is now high-tech, online and virtual.
Even the process of finding a new doctor, or contacting a current health provider, is virtually as simple as three easy words: "Alexa, start Mercy."
Mercy recently launched what might be called a "Find a Doctor" feature through the use of Amazon Alexa, a voice-enabled search service through Amazon devices ranging from Echo, Echo Dot and Fire tablets.
From the comfort of their home, residents now have a hands-free way of finding a Mercy primary care provider, pediatrician or obstetrician/gynecologist (OB/GYN).
"It's now predicted that voice-activated searches may account for up to 50 percent of web browsing by 2020," said Dr. Marc Gunter, president of Mercy Clinic. "At Mercy, we realize that people are busy and the last thing they want to do is spend large amounts of time searching for health care services.
"Knowing this, we decided to introduce the Alexa skill so people can get the information they need quickly and easily with minimal interruption to their day," Gunter added.
The Mercy Alexa skill talks users through steps to find a nearby provider. It sends a text message and link to the profile page of a Mercy clinician to schedule an appointment. The voice-activated technology gives all the information needed, while the user performs other tasks, like making dinner or comforting a sick child.
"We are constantly looking for ways to improve the experience for our patients — before, during and after they visit our hospitals and clinics," said Gunter. "Offering this Mercy Alexa skill is just the beginning."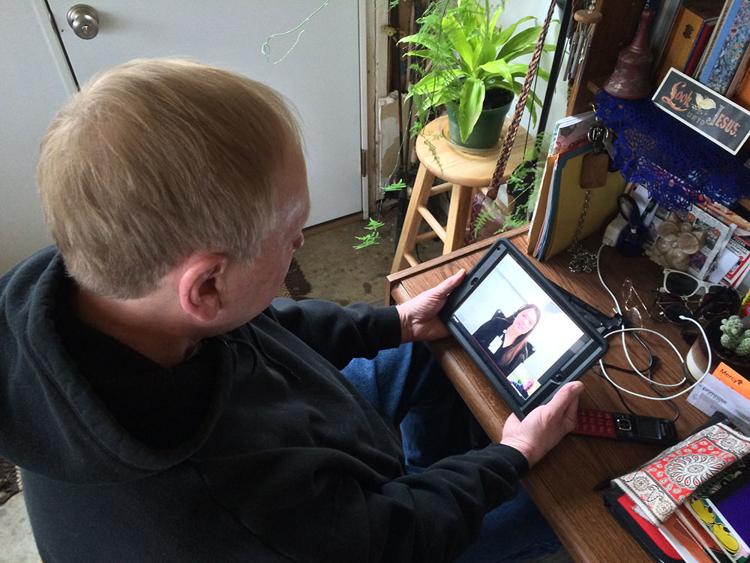 Tip of the Iceberg
The Alexa option is, indeed, just the tip of the iceberg when it comes to the millions of dollars being invested into a shift to virtual healthcare at Mercy.
Virtual healthcare often refers to "virtual visits" between patients and clinicians through tablet technology — the video and audio connectivity permits meetings to take place in real time, from virtually any location.
Virtual healthcare can also mean that a patient can interact with an off-site medical specialist via a high-definition conference hookup. It can also provide patients the opportunity to more easily find qualified second opinions online.
Dr. Jeff Ciaramita, president of Mercy Clinic South, explained that up to now, virtual healthcare has been used for check-ins, consultations, status reports — rather than for diagnosis or treatments. That's changing quickly.
Ciaramita said the virtual technology is evolving to deal with more serious conditions like congestive heart failure, chronic diabetes, chronic obstructive pulmonary disease and more.
"Baby boomers have seen a lot in their time when it comes to medical care," said Ciarmita. "Some may recall the doctor with the black bag making a home visit; then the change to having to visit a doctor or the hospital for periodic care. But, what is going to happen over the next five years is mind-boggling."
According to Ciaramita, the new virtual healthcare team approach is of great value in reducing medical costs at a time when those costs continue to skyrocket. More importantly, he said, the approach is of great value in improving the health and the lifestyle of patients.
The high-tech approach can mean less expense and less time spent traveling to clinics, doctor's offices and the hospital. It also can translate into a quicker and more accurate diagnosis with less time spent in a hospital bed.
"We are absolutely on the cutting edge at Mercy on using a 'virtual healthcare team' approach to deliver care," said Ciaramita. "We have done it quickly. We are getting national and international visits from medical experts who want to see what we are doing here and how we are doing it."
Not Cold, Not Robotic
Dr. Gavin Helton, president of clinical integration for Mercy Virtual, said that under virtual care, patients may be given a care kit tablet that allows a virtual team of more than 400 clinicians and physicians to keep a 'medical eye' on the Mercy patient.
The patient may start each day at home by taking his weight, pulse, oxygen levels and blood pressure on devices that link to the tablet. Those readings then alert the Mercy Virtual team to sudden changes so they can reach out to see what's happening with the patient.
The virtual team might tweak his medication or make simple suggestions, like drinking more water or resting for a bit. The patient in question might also have twice-a-week appointments with a Mercy Virtual caregiver, who can always be called upon for help.
Helton said with the new Mercy virtual health delivery system, care and treatment is no longer episodic. Instead, there is monitoring and available help on a 24-7 basis.
"Mercy's Virtual Care Center, in collaboration with a traditional care team, has decreased unnecessary hospitalization and emergency room visits by 50 percent," said Helton, "That's a huge improvement in these patients' quality of life. It means they're feeling better and doing much more of what they want to do."
Helton and Ciarimita emphasized that virtual care is neither cold nor robotic. They emphasized three points:
•Care kit tablets are easy to use and patients do not have to be technologically savvy. They are dedicated for medical care and useful to search for all kinds of health information.
• Patients do not lose their privacy by engaging in the two-way communication of medical information. All the data and security provisions of the HIPAA act apply and are followed.
• Medical personnel who work in the virtual center do not lose their bedside manner. In fact, they usually do both virtual and bedside assignments on a rotating basis.
"It's natural that there is concern and skepticism over change that is this dramatic," said Ciaramata. "But we are finding a high level of patient satisfaction with the virtual care approach – and their dignity is absolutely maintained."